Sport
Protester hilariously sums up Man United fans' feelings towards the Glazers with genius VAR sign
'Did VAR finally make a good call???'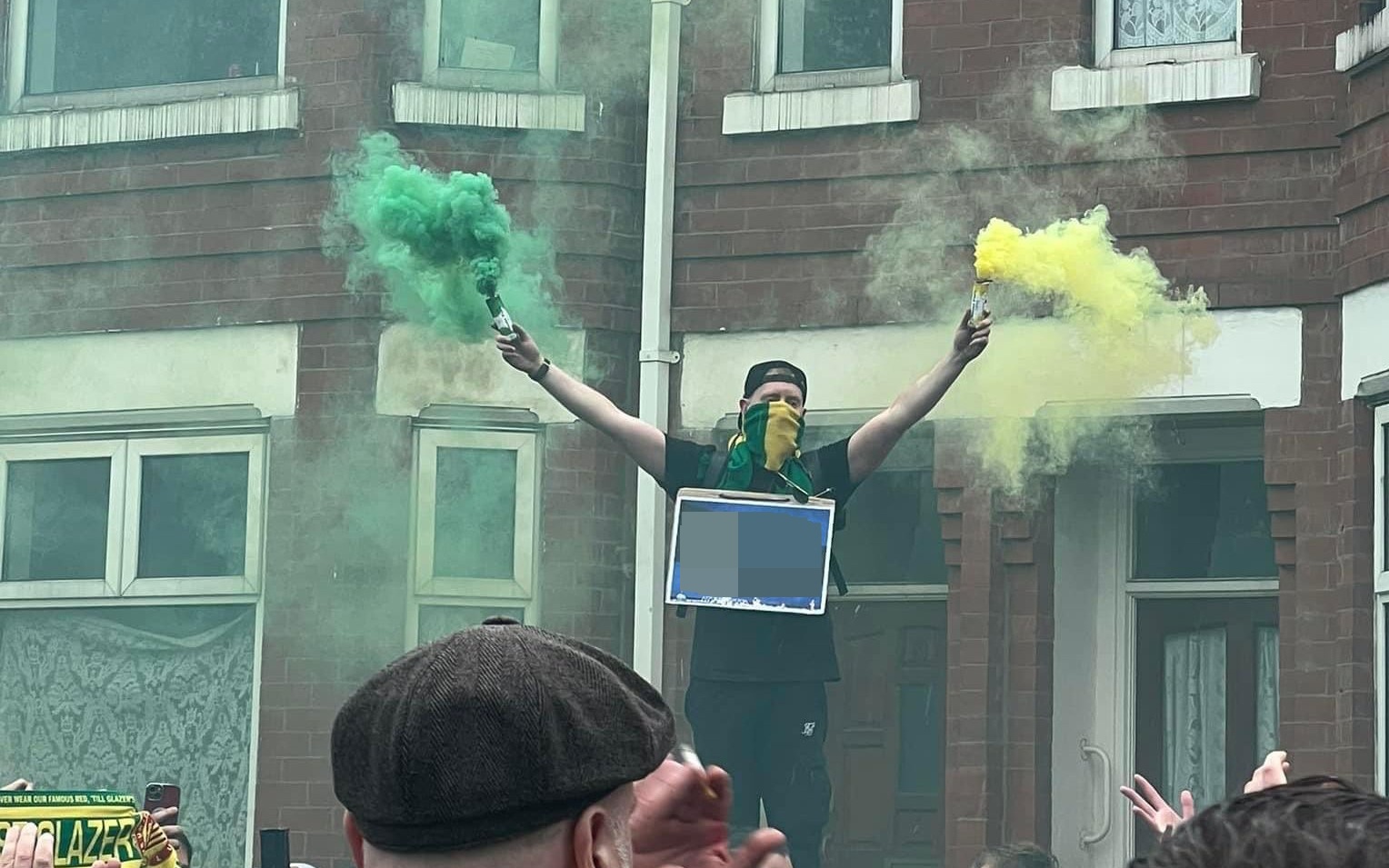 With Manchester United fans taking over sections of the city centre and streets leading up towards Old Trafford once again this weekend, one supporter's clever and comedic 'Glazers Out' sign protesting the club ownership has gone viral.
Whether you're a Red or not, it's hard to call this anything other than it is: hilarious.
As thousands of United fans descended on the ground ahead of their game against Aston Villa on Sunday, one man's manner of sending a message certainly caught the crowd's eye.
Joining many others masking his face with a 'Glazers Out' scarf and waving green and gold flares while atop a wall on Sir Matt Busby Way, the mystery man stood out from other supporters thanks to a VAR-themed protest sign reading, "VAR Decision: Glazers are c***s".
Say what you will about the language but at least he's to the point.
With the deadline for the final round of bidding for Manchester United having passed on Friday last week, the club's fans went out with a clear message: they've had enough of the Glazers and want a "full sale only" — the fear being that they could still secure investment while remaining in the picture.
That being said, after nearly two decades of ownership, supporters have had to get more and more creative when it comes to making their feelings known. Ingenuis, funny and crucially peaceful demonstration like this is the kind we can get behind.
His fellow protestors certainly seemed to approve, with plenty of comments on social media calling him "a legend" and quipping, "best use of VAR yet". He wasn't the only one who received praise online either, as even Erik ten Hag himself appeared to acknowledge the fans' continued grievances.
Read more:
While many have suggested that the manager may receive somewhat of a slap on the wrist for the incident, others have said that he was simply picking up a common club scarf from the pitch after a fan threw it to him.
Nevertheless, the Dutch coach has assured that the continued protests won't prove to be a distraction for the remainder of the season.
Speaking to media after the 1-0 win over Villa, ten Hag said: "We felt [the fans] were behind us, we have to focus to be successful, that's what fans expect, I'm sure when we give performances like we did all season the fans are behind us. There's a strong bond."
You can watch the highlights of Manchester United vs Aston Villa down below:
For all the latest news, events and goings on in Greater Manchester, subscribe to The Manc newsletter HERE.
Featured Image — @MufcWonItAll/The Manc Group