Sport
The brilliant explanation behind a barber giving a Man United fan a haircut at Wembley
Still utterly random but at least we have a reason now.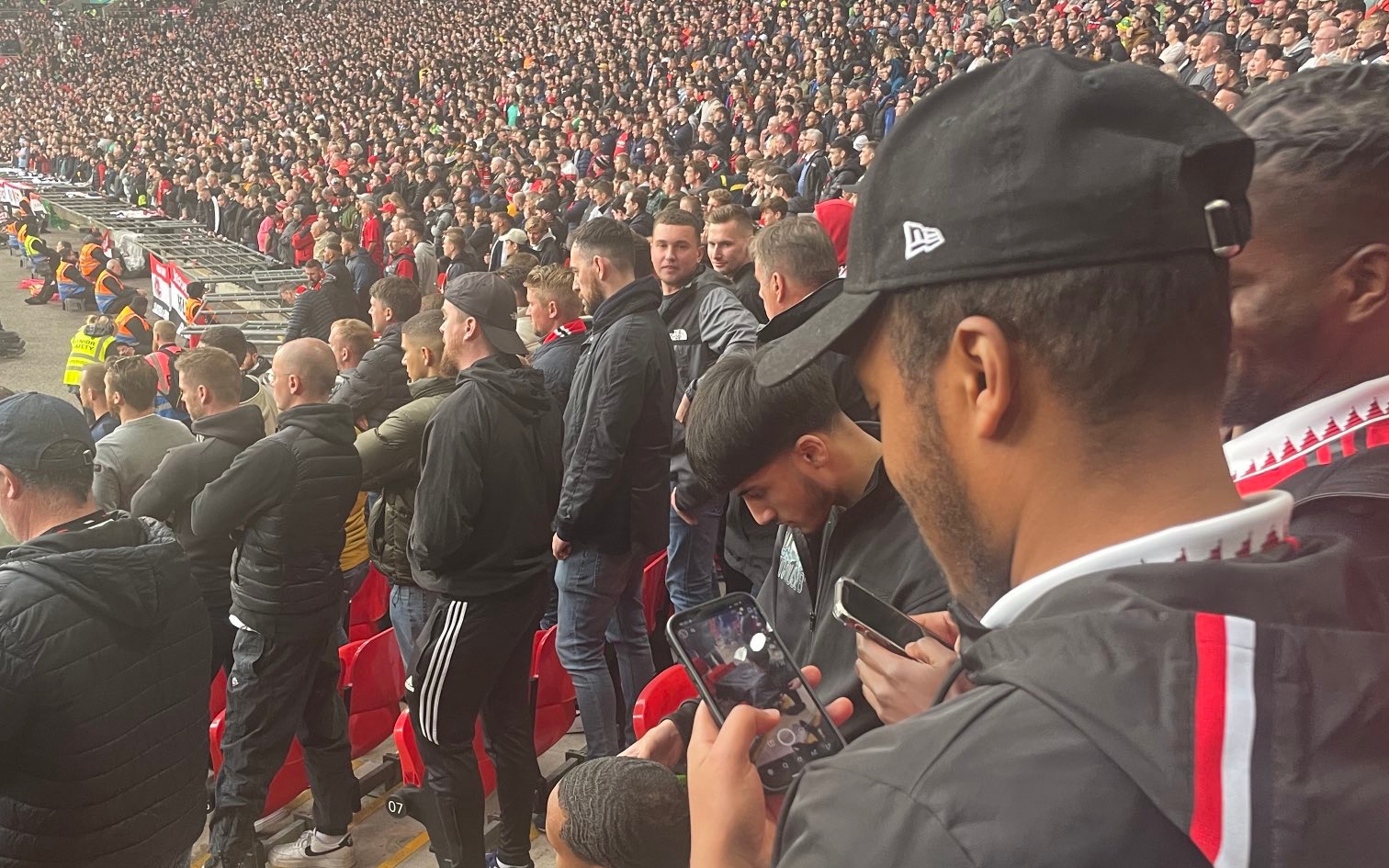 If you're a Manchester United fan, we're sure there were plenty of memorable scenes for you at the semi-final on Sunday, but nothing quite beats a barber giving someone a haircut in the middle of the game at Wembley.
In case you haven't seen the viral videos doing the rounds already — and for reasons that were entirely unknown to us until now — a United fan was spotted being treated to a full-on trim, hairdressing gown and everything, while the Red Devils were playing Brighton in the capital this weekend.
No, we're not joking: while both teams were vying for a place in the FA Cup final, one man was randomly receiving a haircut from his mate as supporters around them looked on in confusion and cracking up.
The prices at Wembley are already ridiculously steep, god knows how much the haircut package would come to.
Although we fully concede it's probably one of the oddest things ever captured in the crowd at a football match, there's actually a fairly clever albeit still undeniably funny reason behind it.
After looking closely at the branding on the gown itself and doing some digging, we not only found the barber responsible but soon stumbled upon his barbershop and grooming services' social media page.
Yes, this was a simple marketing stunt from the hairdresser and the company he works for — and we use the word 'simple' very lightly as we're sure it wasn't exactly straightforward getting a pair of clippers, scissors and all the rest of it into the stadium.
17-year-old barber Imad, who goes by @_5starcuts on Instagram, is based out of Hertfordshire and works out of a David Lloyds gym and spa. As a result of his comical bit of advertising, his bookings are said to have "tripled in the 12 hours" following the game. Genius.
Read more:
While many online branded it "attention-seeking" and just plain "weird behaviour", we think it's a clever little idea that has got thousands talking and evidently given the business huge exposure.
Not only did the teenage United fan go along to watch his team win a massive game, but the evidently creative young entrepreneur has also given his brand a massive boost with just one haircut.
To be honest, we're just glad to have finally made some sense out of it.
Moreover, it appears the fellow United fan who received the haircut from the business-savvy barber was plenty involved in the process too, as he recently shared an extended video of the viral Wembley trim.
For all the latest news, events and goings on in Greater Manchester, subscribe to The Manc newsletter HERE.
Featured Image — @penthousebarbers (via IG)/AKIVISON(via YouTube)/@UtdEIIis (via Twitter)