Sport
Manchester United fans are calling for Erling Haaland to be banned from the FA Cup final after swearing on live TV
We can't see it happening but Reds are convinced they have a credible case.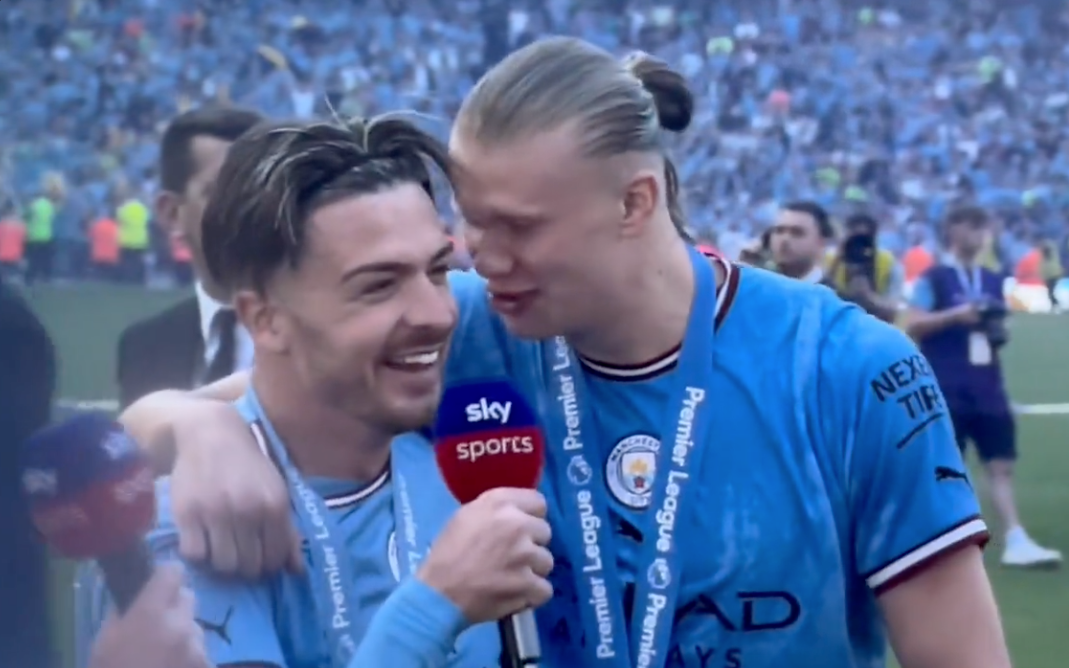 Manchester United fans might have had to swallow yet another league title for Man City, but they are still hoping to put a dent in their chances of winning the treble as they are now calling for Erling Haaland to be banned from the FA Cup final after swearing on live TV.
The celebrations after City's latest title win have already spawned plenty of memes in just a couple of days — Haaland rocking up to the title party in his pyjamas, cooking his own tea in a restaurant and running off to dance mid-interview just to name a few — but the star striker's little outburst on telly is causing a bit of a stir.
ln case you missed it, the 22-year-old ambushed Sky Sports whilst they were chatting to Jack Grealish after full-time to tell him, "I f***ing love you, you know that?"
As is usually the case with the big Norwegian personality, it was undeniably funny:
Now, we all know this was just a little bit of fun and isn't even the first time Haaland has sworn on TV, but aside from being flagged as inappropriate for a live broadcast pre-watershed, United fans watching on were almost immediately taken back to over a decade ago and Wayne Rooney.
The club's all-time leading goalscorer and England legend was hit with a two-match ban which saw his miss the 2011 FA Cup semi-final against Man City, no less, after shouting "f***ing come on!" down the camera following their 4-2 comeback against West Ham when Rooney scored a hattrick.
Despite leaving the fans, players and Sir Alex Ferguson outraged, the decision to suspend him was upheld following a failed appeal and United had to do without their then-in-form star man for the semi against City, which they went on to lose 1-0 after a Yaya Touré winner.
Naturally, although the controversial instance happened 12 years ago, many Reds are demanding that the same punishment be handed down to Haaland as a matter of parity, not to mention they'd do anything to see this year's record-breaking golden boot winner miss the FA Cup final.
Read more:
While it seems that the Football Association (FA) are unlikely to take the matter any further, with writer Martin Lipton reporting that Haaland "will not be probed over his use of the f-word live on Sky Sports on Sunday", it's fair to say that one half of Manchester has a pretty valid grievance.
Nevertheless, if reports are to be believed, "FA disciplinary chiefs do not believe any action is required and that there are no plans to investigate" — sorry, United fans.
Do you think it's only fair that he faces similar treatment or should a harsh decision be kept in the past where it belongs?
We're not saying that City necessarily need Haaland to take that step closer to the treble but it'd certainly help.
For all the latest news, events and goings on in Greater Manchester, subscribe to The Manc newsletter HERE.
Featured Image — Sky Sports/BBC Sport