Sport
Erling Haaland given 'deserved' guard of honour after breaking Premier League goals record
The Norwegian striker said he was "really happy and proud" of his achievement.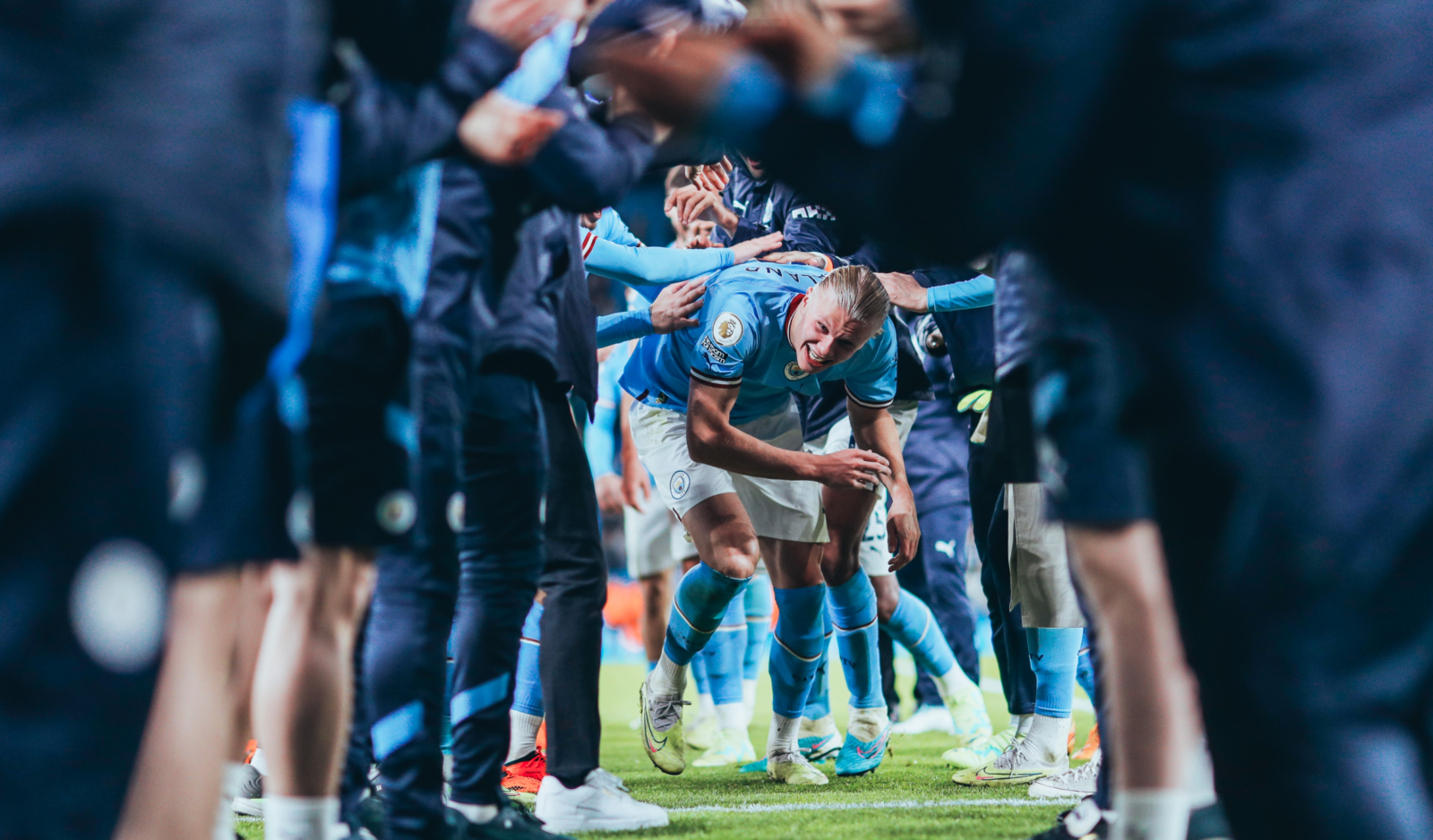 Erling Haaland's Manchester City teammates all crowded round to give him a "deserved" guard of honour after yesterday's Premier League victory.
The Sky Blues once again cemented their place at the top of the Premier League table after an emphatic win over relegation battlers West Ham at the Etihad Stadium last night, slotting three goals into the net in a 3-0 victory, and making it a total of 1,000 Premier League goals scored under current manager Pep Guardiola.
But, as has been the case in a lot of Manchester City matches this season, it's Norwegian superstar Erling Haaland who grabbed the headlines yet again, and even earned himself a guard of honour from his teammates and staff after the game.
And what exactly did he do to "deserve" this star treatment? Break another record, of course.
We all know by know that the 22-year-old striker is no stranger to goals, and setting countless new records with the amount of goals he scored – but many fans and pundits are arguing that last night's achievement is probably Haaland's most important to date, and one of the most significant in Premier League and football history.
As he smashed in Man City's second goal of the night in the 70th minute, that made it Haaland's 35th Premier League goal – which means he officially broke and set a new record for the most goals scored by one player in a single Premier League season.
He claimed the title from former Premier League all-time greats, Alan Shearer and Andy Cole – who each scored 34 goals back in the mid 90s.
Speaking to Sky Sports after the match, and reflecting on his new record, Haaland said he was "really happy and proud" of his individual achievements.
"It's a special night and a special moment," he added.
While he said that scoring the record-breaking goal "was a nice feeling", just like all his other goals, he did admit that the guard of honour wasn't the most pleasant experience, explaining: "Winning the game is also really important.
"But the guard of honour really hurt – they hit me hard on the back."
Manager Pep Guardiola also spoke about Haaland after the match, calling his achievements "unbelievable".
"It's unbelievable how many goals he has already scored," Pep told Sky Sports.
Read more:
"All the team is satisfied for that because he is a unique person, so special, and he deserved the guard of honour because it's an incredible milestone.
"Maybe one day he can break his own record."
Featured Image – Man City (via Twitter)