Sport
Rio Ferdinand posts defiant message of support after Real Madrid's Vinicius Jr suffers racist abuse
Despite being the victim of simply disgusting behaviour, he was the one punished.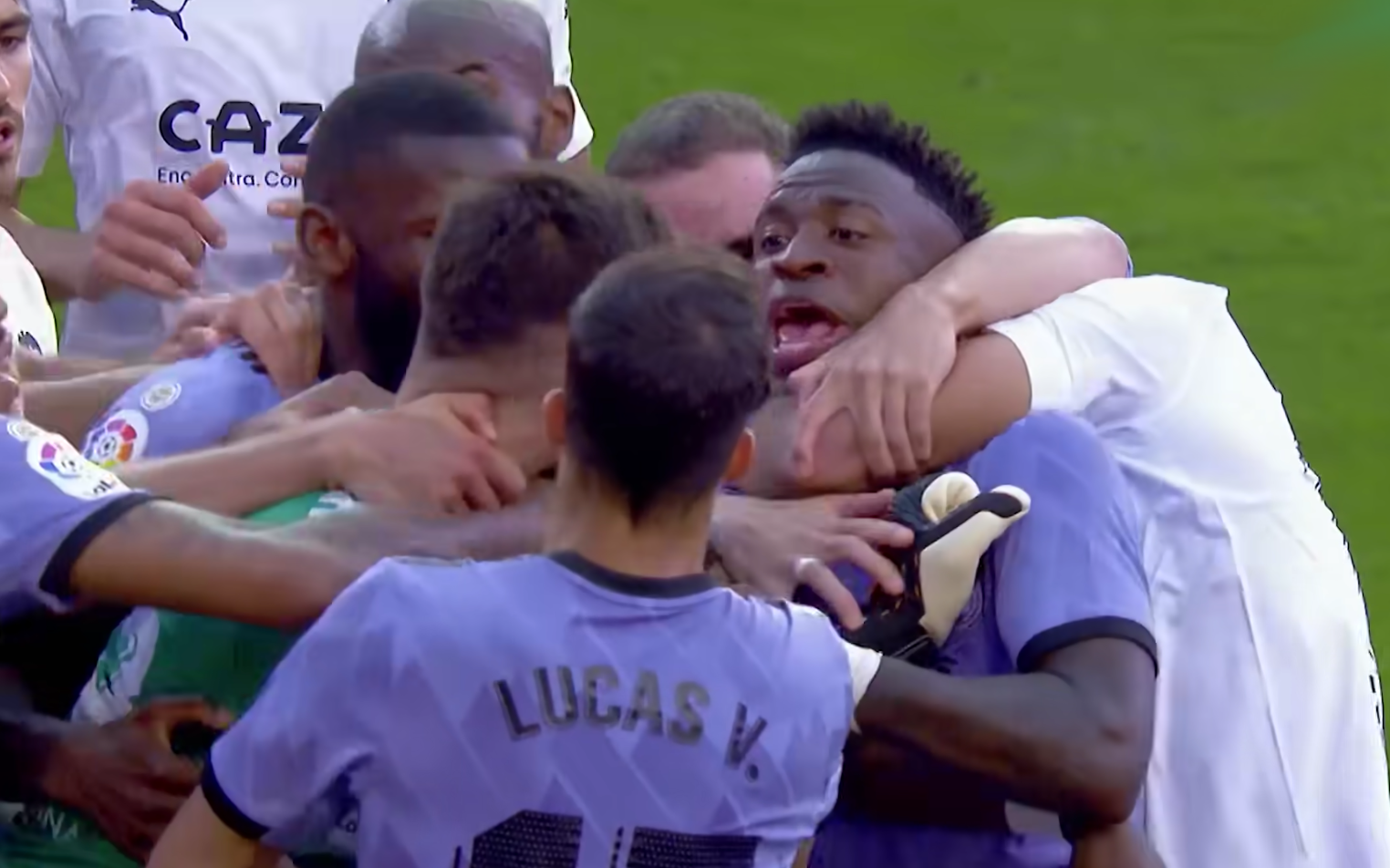 Rio Ferdinand took to Instagram to share a powerful and defiant message of support for Vinicius Jr after he was racially abused at the weekend.
The 22-year-old Real Madrid winger was sadly subjected to racist chants and abuse from a group of Valencia fans during their game against Los Blancos on Sunday, after which he went on to be sent off for an understandably emotional reaction which was judged to be 'violent conduct'.
After the young Brazilian reacted to the abuse pitchside, which had been simmering throughout the game, and tried to get the referee's attention, things boiled over with chaotic scenes ensuing with players from both sides getting involved in a huge grapple and people having to be separated.
Equally concerning was Vinicius Jr's treatment by Valencia's Hugo Duro, who effectively choked him by wrapping his arm around his neck. Following the incident, Ferdinand shared an emotional message expressing his "disgust" at the behaviour and how it was handled, stating his solidarity with the footballer.
As you can see, beyond being obviously disappointed to see yet more racist abuse in La Liga and football in general, the former Manchester United defender called upon the league and other football authorities to do more to combat this continuing blight on the game.
"Rio began the post by writing: Bro you need protecting….who is protecting Vini Jr in Spain??
He receives a red card after being choked and receiving racial abuse during the game….wtf.
"How many times do we need to see this young man subjected to this s***?? I see pain, I see disgust, I see him needing help… and the authorities don't do s*** to help him.
"People need to stand together and demand more from the authorities that run our game. No one deserves this, yet you are allowing it. There needs to be a unified approach to this otherwise it will be swept under the carpet AGAIN." Tagging dozens of accounts he urged everyone to "stand together loud and proud."
Read more:
As for Vini Jr himself, he shared a deeply saddening statement on Instagram, writing: " It wasn't the first time, not the second and not the third. Racism is normal in La Liga. The competition thinks it's normal, so does the Federation and the opponents encourage it.
"The championship that once belonged to Ronaldinho, Ronaldo, Cristiano and Messi, today belongs to the racists. A beautiful nation, which welcomed me and I love, but which is projecting an image of a racist country the image to the rest of the world world.
"Sorry for the Spaniards who do not agree, but today, in Brazil, Spain is known as a country of racists. And unfortunately, with everything that happens on a weekly basis, I have no way to defend myself. I'm strong and will go to the end against the racists even though that day seems far away.
We stand with Vinicius Jr and all victims of racism — let's kick racism out of football forever.
You can the horrific incident in full down below:
For all the latest news, events and goings on in Greater Manchester, subscribe to The Manc newsletter HERE.
Featured Image — Rio Ferdinand (via Instagram)/Optus Sport (via YouTube)