Sport
Manchester United's collapse against Sevilla comes at an even greater cost: more injuries and suspensions
Two back in, three straight out.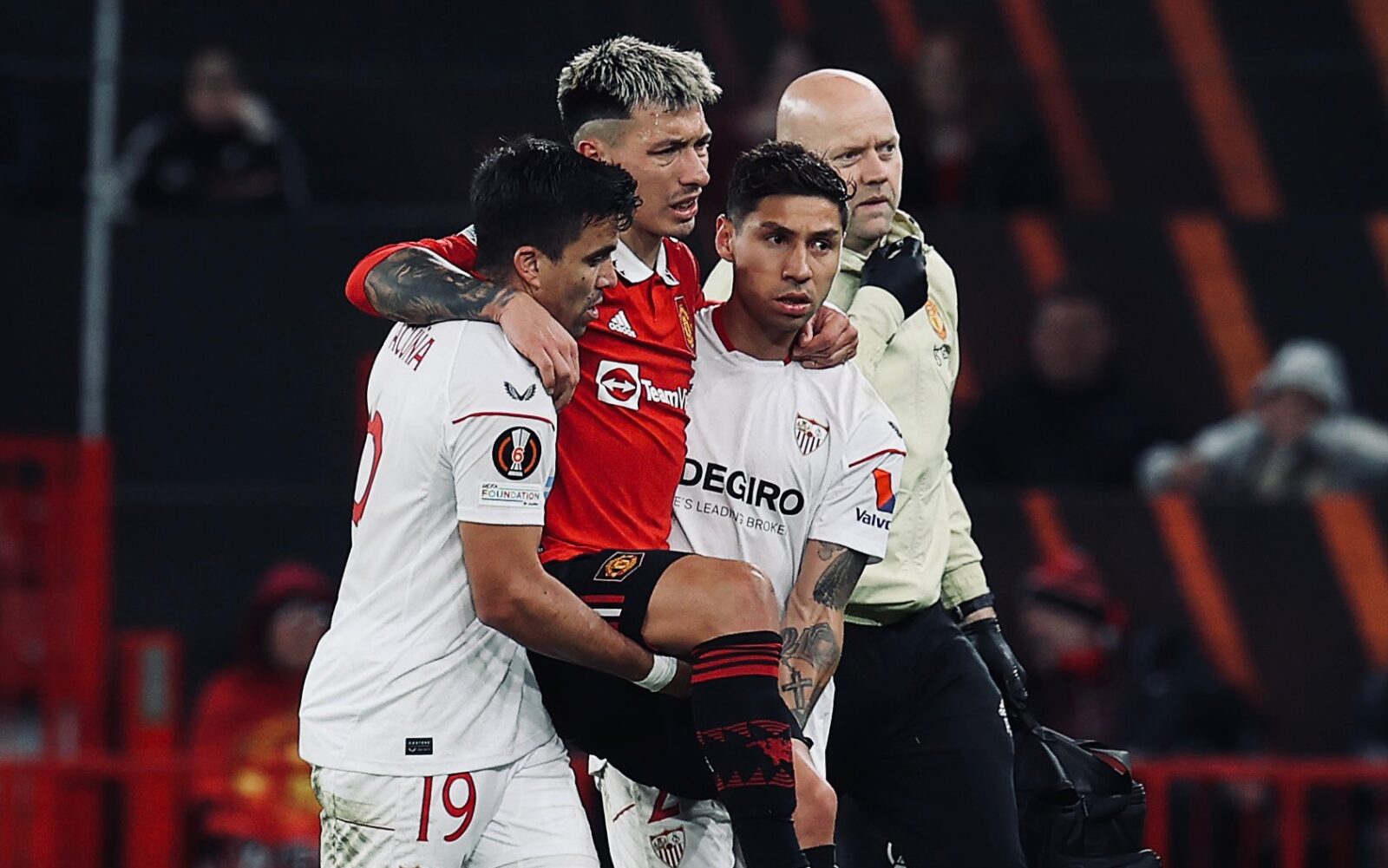 In the opening 20 minutes against Sevilla, Manchester United looked to be playing some of the most fluid football under Erik ten Hag yet and it seemed like the tie might already be over in the first leg.
However, following a dramatic display of complacency, a lack of concentration and admittedly some misfortune, a game that United should have buried by three or four goals somehow became a 2-2 draw in the dying minutes: a huge blow that was only worsened by even more injuries and further suspensions.
While Raphaël Varane also came off injured at half-time, the biggest blow came when fellow centre-half and one of the signings of the season, Lisandro Martínez, suddenly pulled up following an injury to his foot/ankle.
The World Cup winner looked to be in serious discomfort after planting his foot, having to be carried off the pitch by his Argentina teammates and leaving the ground not only in tears but on crutches, leaving United without both of their first-choice centre-backs.
The initial signs seem to suggest that Varane's injury is no way near as severe as his teammate's — simply a recurring issue following a recent knock — ten Hag admitted that although Martínez's isn't his Achilles as feared, "it doesn't look good" and the team will now have to wait for a full diagnosis.
Either way, it looks like fan-favourite and key player Licha could be out for a significant amount of time and during a crucial period for the club, with the FA Cup semi-final just over a week away.
Moreover, despite the return of Casemiro following his second red-card suspension and Christian Eriksen following a long-term injury, the centre-back pairing now join the likes of Marcus Rashford and Luke Shaw on the injury list — again two key players, none more so than the in-form number 10.
As injuries and a big FA Cup game weren't worrying enough for United, the squad have now also created their own mess by giving themselves everything to do in the second leg against Sevilla if they still have designs on winning a second Europa League — and those injured aren't the only ones who'll miss it:
Read more:
As you can see, in a rather ridiculous decision by the referee — which was only amplified by Erik Lamela's narrow escape from a red card for stamping on Casemiro's leg — Bruno Fernandes received a booking for turning his back on a shot which ended up striking his arm and was judged to be handball.
Despite his furious protests, his yellow card now sees him suspended for the second leg away in Seville on 20 April, which also happens to land just three days before the semi against Brighton.
So yeah, it's going to be a tough couple of weeks for the Red Devils.
You can watch the highlights of Manchester United vs Sevilla down below:
For all the latest news, events and goings on in Greater Manchester, subscribe to The Manc newsletter HERE.
Featured Image — Manchester United/Sevilla (via Twitter)