What's On
2023 Manchester Marathon Guide: all you need to know for the big day
This Sunday is going to be special, whether you're running or watching on from the sidelines.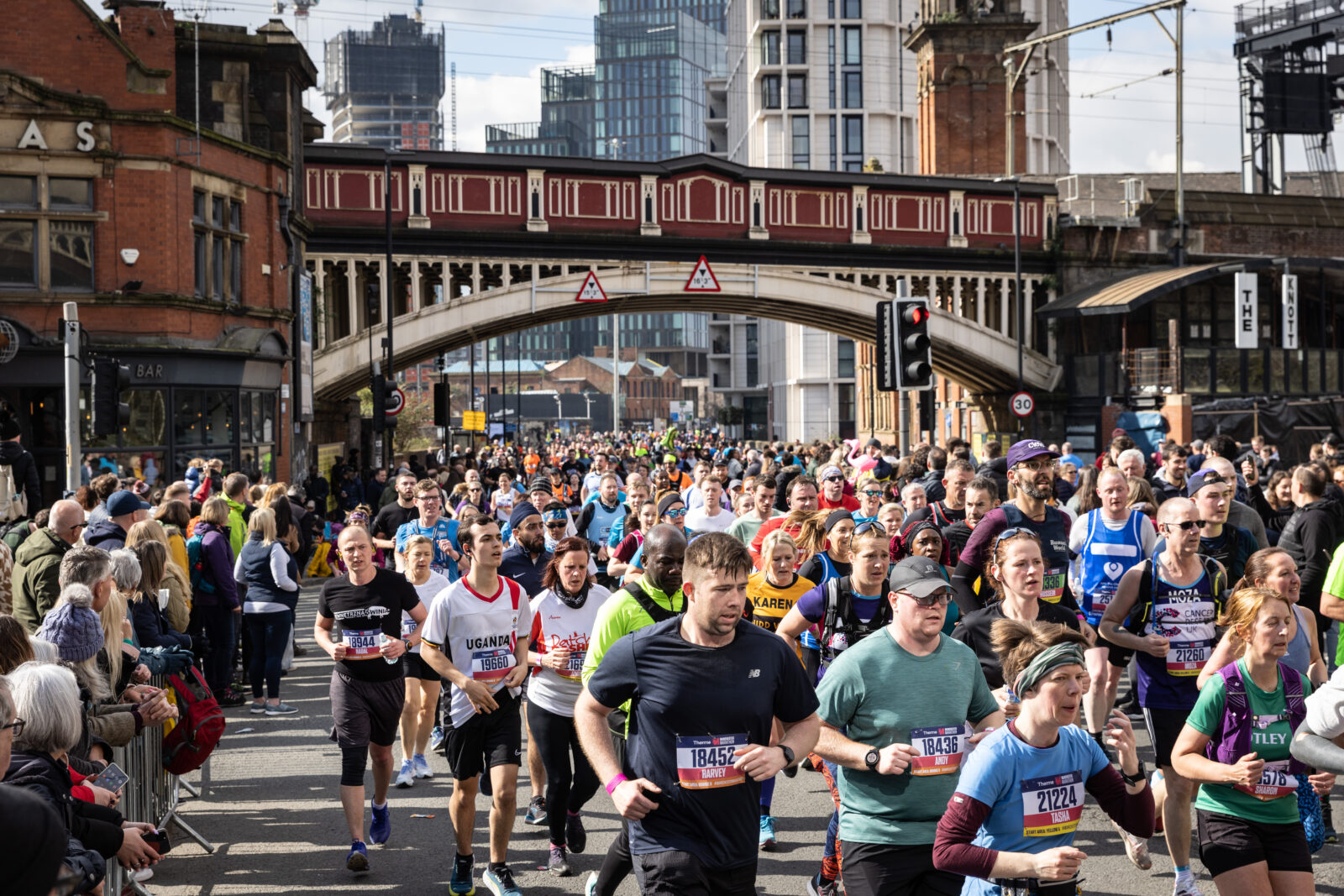 The Manchester Marathon rocks up to the city centre and surrounding areas once again this weekend and we genuinely can't wait.
More importantly, given that it's not only one of the city's biggest events of the year but the second-largest marathon in the UK after London and the fourth largest in Europe, there's going to be plenty happening on the day and in the lead-up.
With that in mind, we thought we'd give a quick run-through of everything you can expect come Sunday. Whether you're taking part or simply turning up to cheer on the runners from the sidelines, we want to make sure you know where to be and when, as well as how to make the most of the day.
How about we start with what time it all kicks off?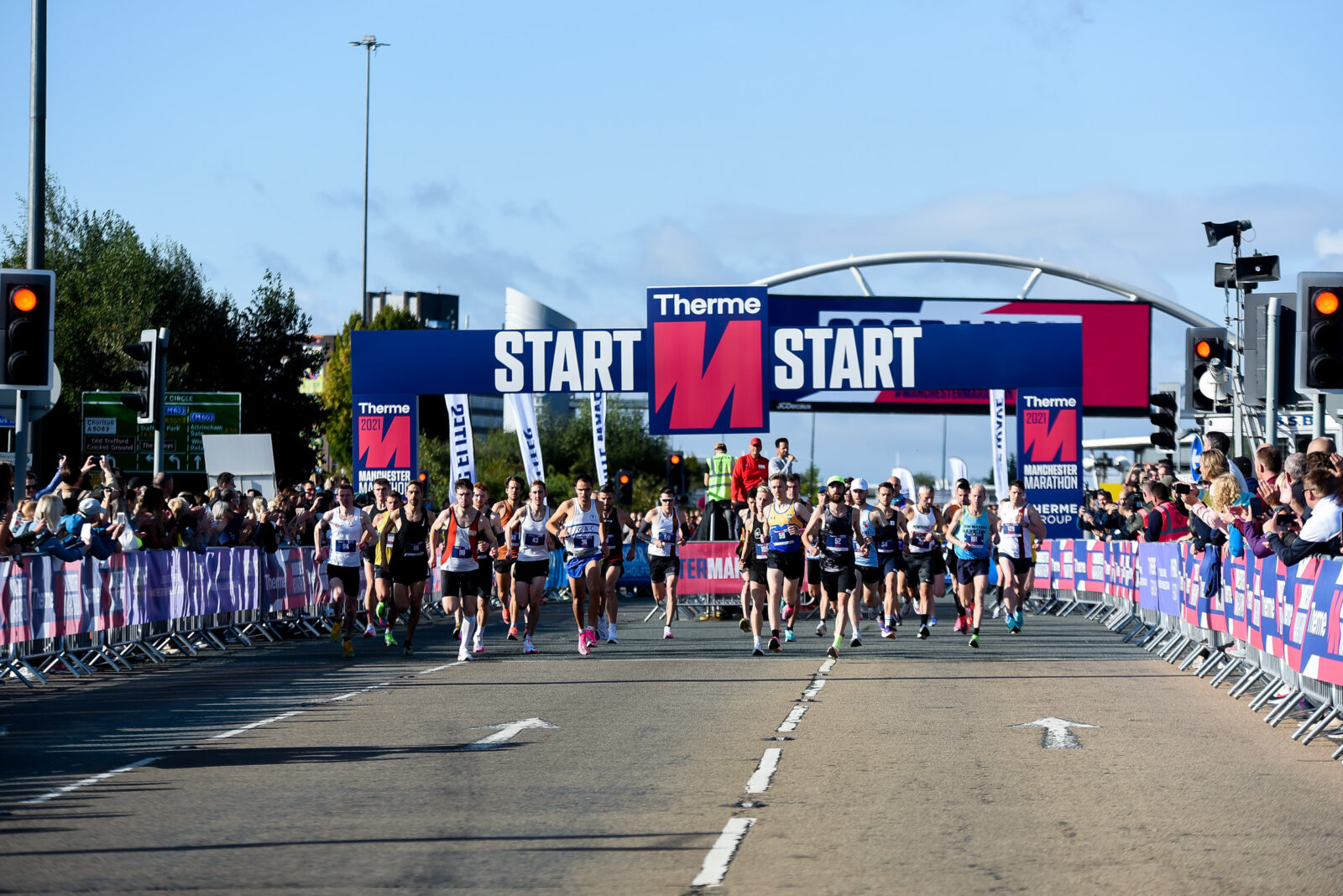 2023 Manchester Marathon Timetable
It doesn't matter what wave you're in or what level of capability you are, we do things at our own peace around here, and with more than 28,000 people registered to take part on Sunday, 16 April, you can expect some serious numbers lining the streets of Greater Manchester to show their support.
That being said, if you want to know where you need to be either as a participant or as a punter, we've got your covered.
Here are this year's Manchester Marathon start times in full: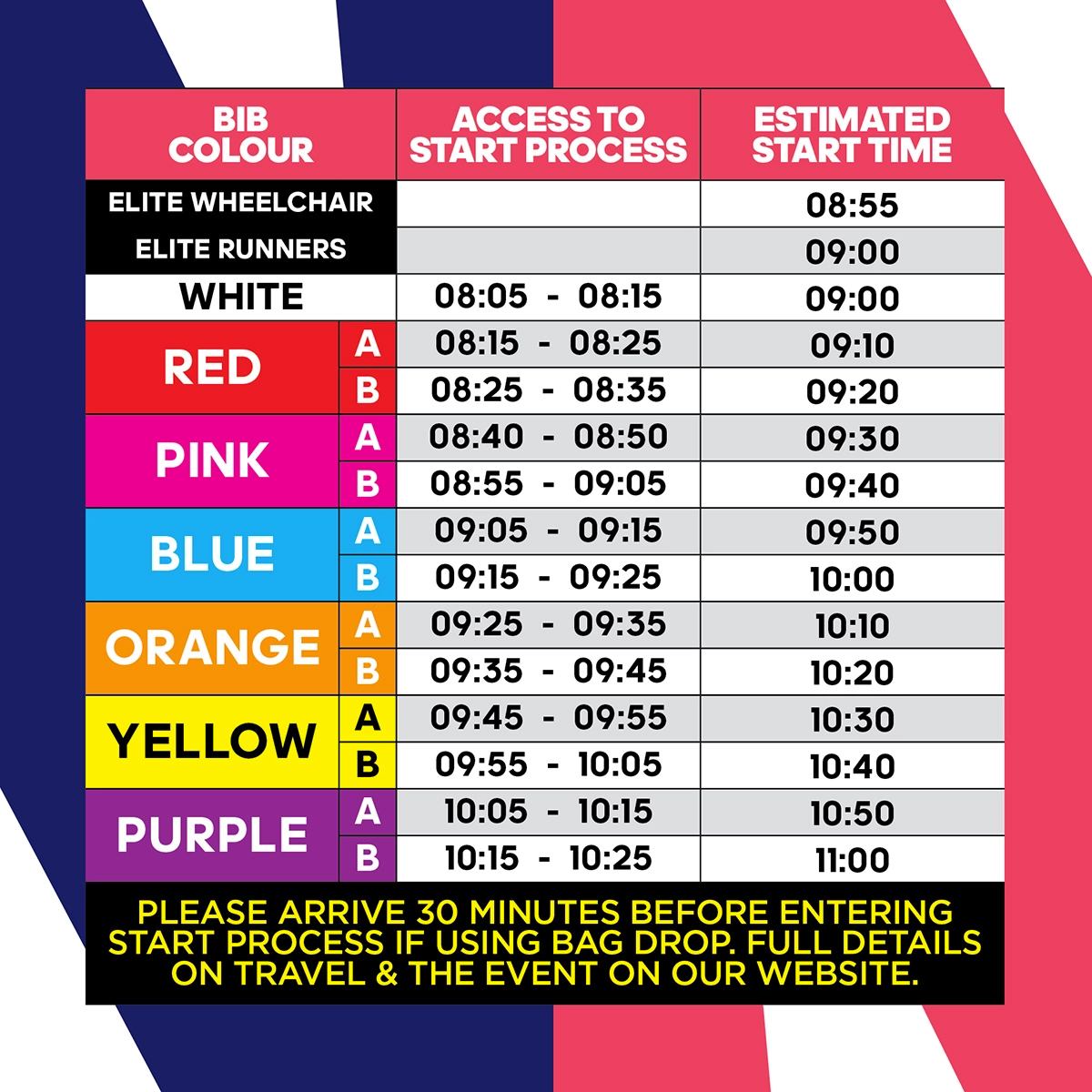 Manchester Marathon Route
Onto the Manchester Marathon Route for 2023 itself and for those of you running it for the first time, you'll be pleased to know it's also the UK's flattest major marathon — though we're sure plenty of you knew that already.
Virtually the same as last year's route only with a few slight tweaks to some of the turns, the run will see you start under the Trafford Arch, heading through the likes of Hulme on your way into the city centre and back down past Old Trafford, towards Stretford; then Sale, Timperely; all the way down to Altrincham before looping round to Baguley and Sale Moor, onto Chorlton-cum-Hardy and back to Old Trafford.
We feel it always helps to visualise the route, so it's a good job the organisers have thought of that too:
Travel advice
Now, as you all know, several major roads running throughout the city and surrounding areas will be closed for prolonged periods on the day of the big run and whether you're a local or travelling in from elsewhere, it's worth knowing where you can be and where's best to avoid too.
Lucky for you, Transport for Greater Manchester (TfGM) have plenty of useful travel advice for competitors, spectators and everyone else in the area this weekend, just simply check out their website.
For starters, it's worth noting that public transport around Manchester and Trafford will be very busy before, during and after the race, with several bus services set to be diverted and even those not directly impacted by the marathon route may still be affected by displaced traffic and congestion.
It goes without saying that there will also be a significant number of road closures throughout Sunday as well. However, once again, the wonderful organisers have you covered; you can see the full list of closures HERE and they have even put together an interactive map for you to check what's shut when:
People are also being advised to leave their cars at home where possible to avoid the busy roads, or to at least use the free park-and-ride services on the way into Manchester and travel to their destinations via our city's wonderful tram network.
Metrolink will be operating a six-minute frequency on the Altrincham line with more double trams and increased capacity along various other lines too. That being said, services are expected to be extremely busy throughout the day, so if you can travel flexibly, the predicted quietest time to travel is after 4pm.
Once you've tapped on and tapped off, most fan corners, cheer zones and regular spots for supporters to gather together should only be a short walk away from your chosen tram stop.
Event Village, Entertainment and the Post-Race Party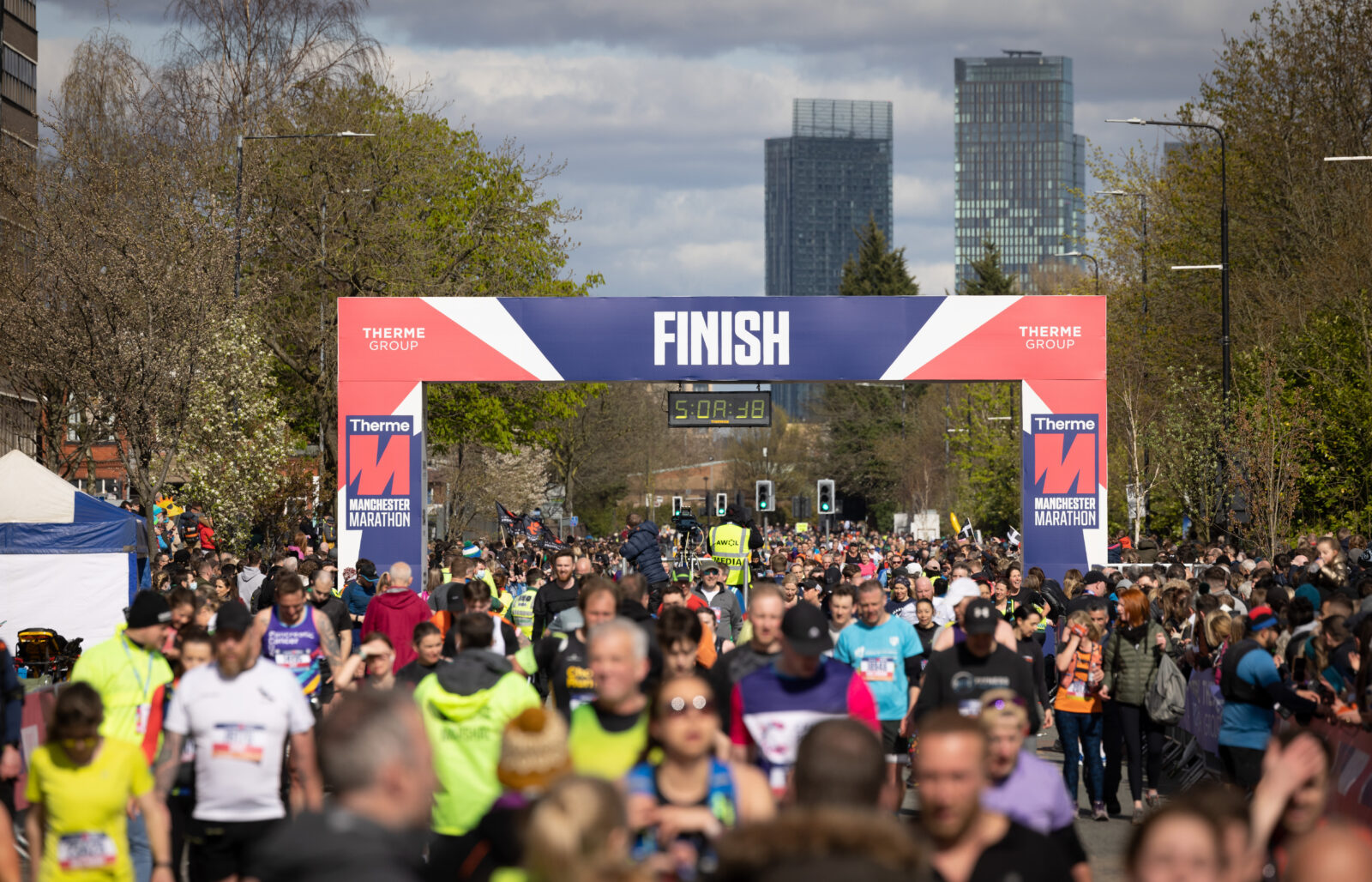 Last but not least, aside from the incredible graft all of the wonderful runners are all going to put in over the 26.2 miles, marathon weekend is also about the fun, fanfare and festivities on show from start to finish and this year looks set to be bigger than ever.
Not only will those taking part being spurred on every step of the way by charitable organisations, choirs and live bands, as well as pumping music and cheer zones ran by groups from all over the UK at regular intervals, but this year's Event Village has everything you will need before and after the race.
Located around the Emirates Old Trafford cricket ground, Event Village is where you'll find the bag drop and running pack collection (available until 5pm Saturday, 15 April for anyone who did not receive their pack in the post), as well as food, drink, warm-down services, and where to pick up your post-race rewards, with plenty more music playing to celebrate your achievement.
For those staying in town for the event, the team have even put together a weekend guide to make sure you know where you can post up for the day, what's on in Manchester from Friday to Sunday, where to eat and much, much more.
Read more:
As for you racers, the only other thing you need to do is grab your well-earned finishers shirts and medals to wear with pride. Here's how they look this year: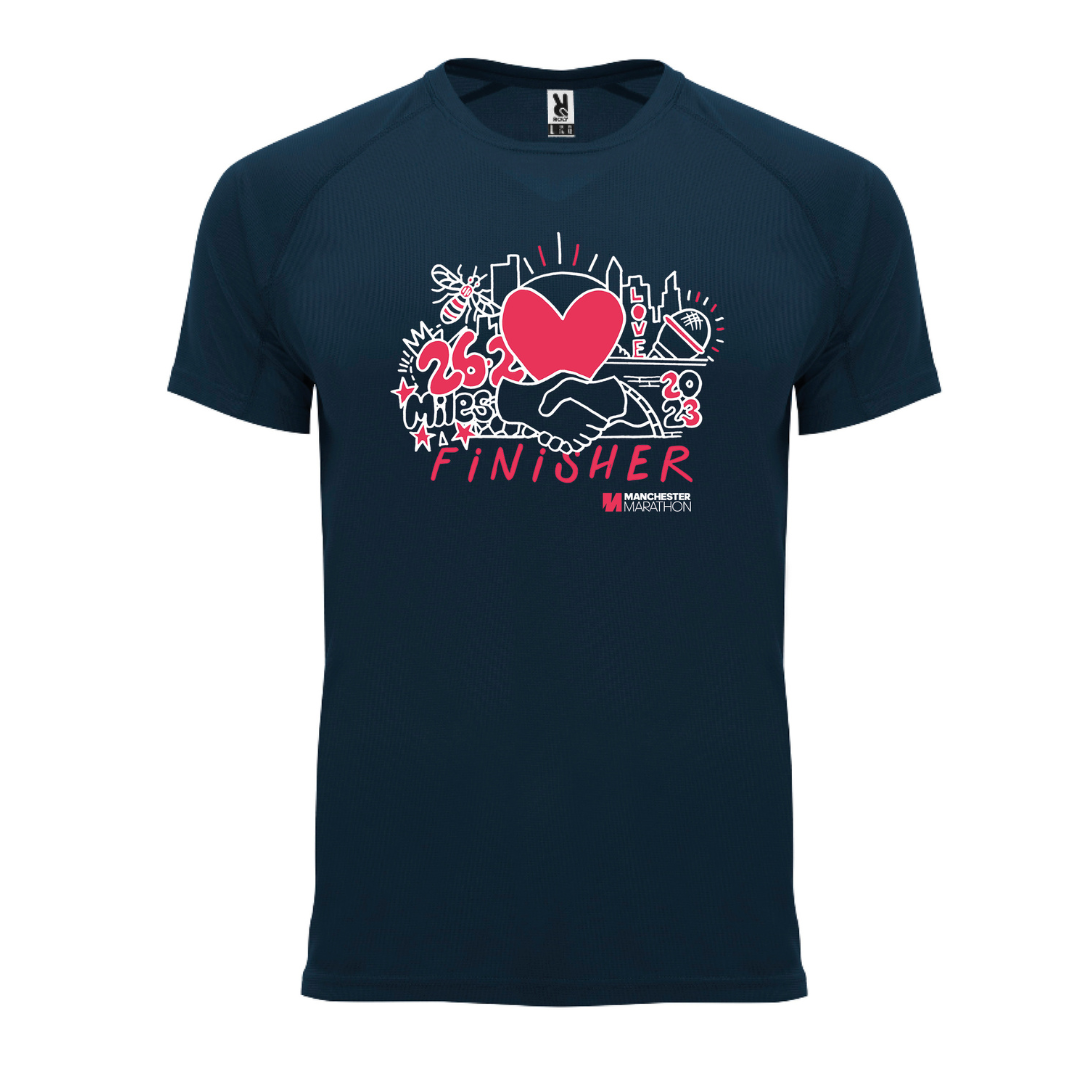 We wish everyone the very best of luck for the 2023 Manchester Marathon this Sunday, 16 April.
It's always a memorable day for the city and surrounding boroughs and we can't wait to see thousands of Mancunians, fellow Brits and indeed people from all around the world turn up for the action.
The Manc will be there cheering you on every step of the way, now go and smash it!
For all the latest news, events and goings on in Greater Manchester, subscribe to The Manc newsletter HERE.
Featured Image — 2023 Manchester Marathon