Sport
Manchester Laces' Helen Hardy honoured with massive mural painted on the Wembley steps
The pride of Manchester has been recognised outside English football's most iconic stadium.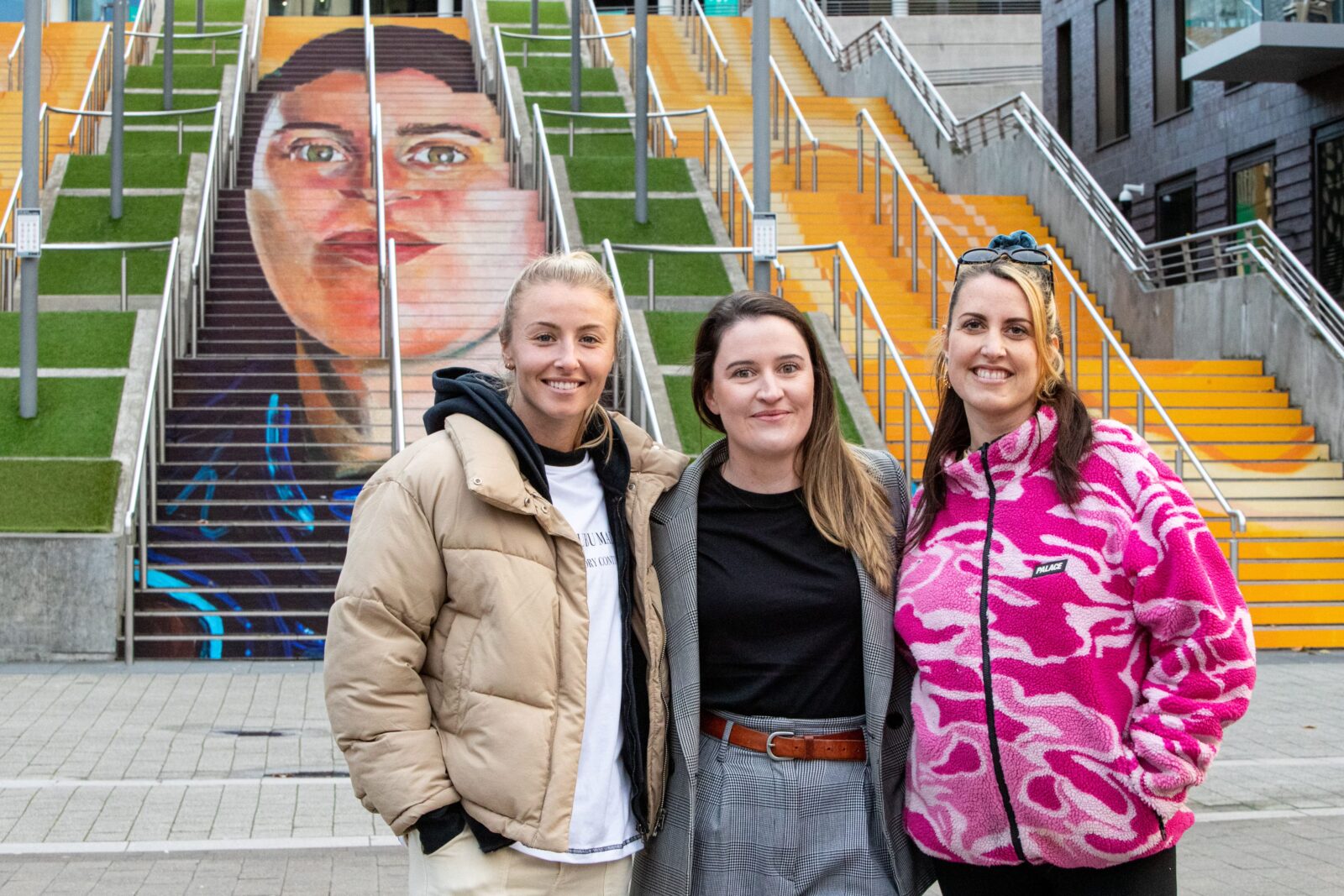 Manchester Laces founder Helen Hardy has been honoured in a giant mural painted on the steps of Wembley Stadium in London.
Championing both women's and non-binary football since the organisation was created back in 2021, Helen Hardy has been at the forefront of inclusivity in Mancunian and British sport, in general, reminding everyone that football is game for everyone.
To celebrate her incredible contribution, the National Lottery's Good Causes scheme unveiled the massive piece of art stretching across the legendary Wembley steps.
England Women's captain Leah Williamson even turned up to show her support.
Channelling the pride flag's rainbow palette, the mural is realised in vibrant technicolour — as are the LGBTQIA+ inclusive club's already iconic kits.
Expressing her gratitude on social media, Hardy said, "It's been an absolute honour to have my face painted on the steps of Wembley. I can't quite believe it!" She also went on to thank the artist, Charlotte Archer (pictured right), who captured her likeness.
We can only applaud the pair of them.
In a relatively short space of time, Manchester Laces has going from strength to strength, setting up their own division (the Alternative Foootball League) and even expanded into London, with three different clubs located in the capital.
Their work in providing everyone a place to play across Greater Manchester and further afield has already been recognised by the likes of the National Football Museum and many more.
The first of its kind in the UK, this wonderful group of people is only getting bigger.
Speaking in an interview with The Independent following the reveal, Euro 2020-winning footballer Williamson said that Helen and Manchester Laces are "normalising what should already be normalised".
"That's why I love this campaign… because it's someone who doesn't even see themselves as a leader, Helen, deciding to pave the way and something she believes should be available and a space that she believes should be available for people to be able to positively impact the world a little bit."
The 25-year-old also went on to say of the women's national team: "I wouldn't want anyone to feel like it wasn't their game. We wanted to show that supporting England is an open invitation to be exactly who you want to be, because that's what we do too."
Read more:
Meanwhile, rather disappointingly, the England and Wales mens teams reneged on wearing the One Love armband at the 2022 World Cup under threat of punishment from Qatar.
The Lioness and Arsenal defender concluded by saying that while she'll "support England until the day [she dies]", people have been left "alienated in terms of the LGBTQ+ community" and believes that this year's tournament is fundamentally "wrong".
We can only echo her statement and reiterate our support for women's and non-binary football, as well as wonderful institutions like Manchester Laces.
For all the latest news, events and goings on in Greater Manchester, subscribe to The Manc newsletter HERE.
Featured Image — Helen Hardy/National Lottery Good Causes (via Twitter)