Sport
Manchester United fans shut down launch of new home shirt with protests outside megastore
While countless will have been sold online already, the green and gold brigade are taking this as an opportunity to reinforce their position.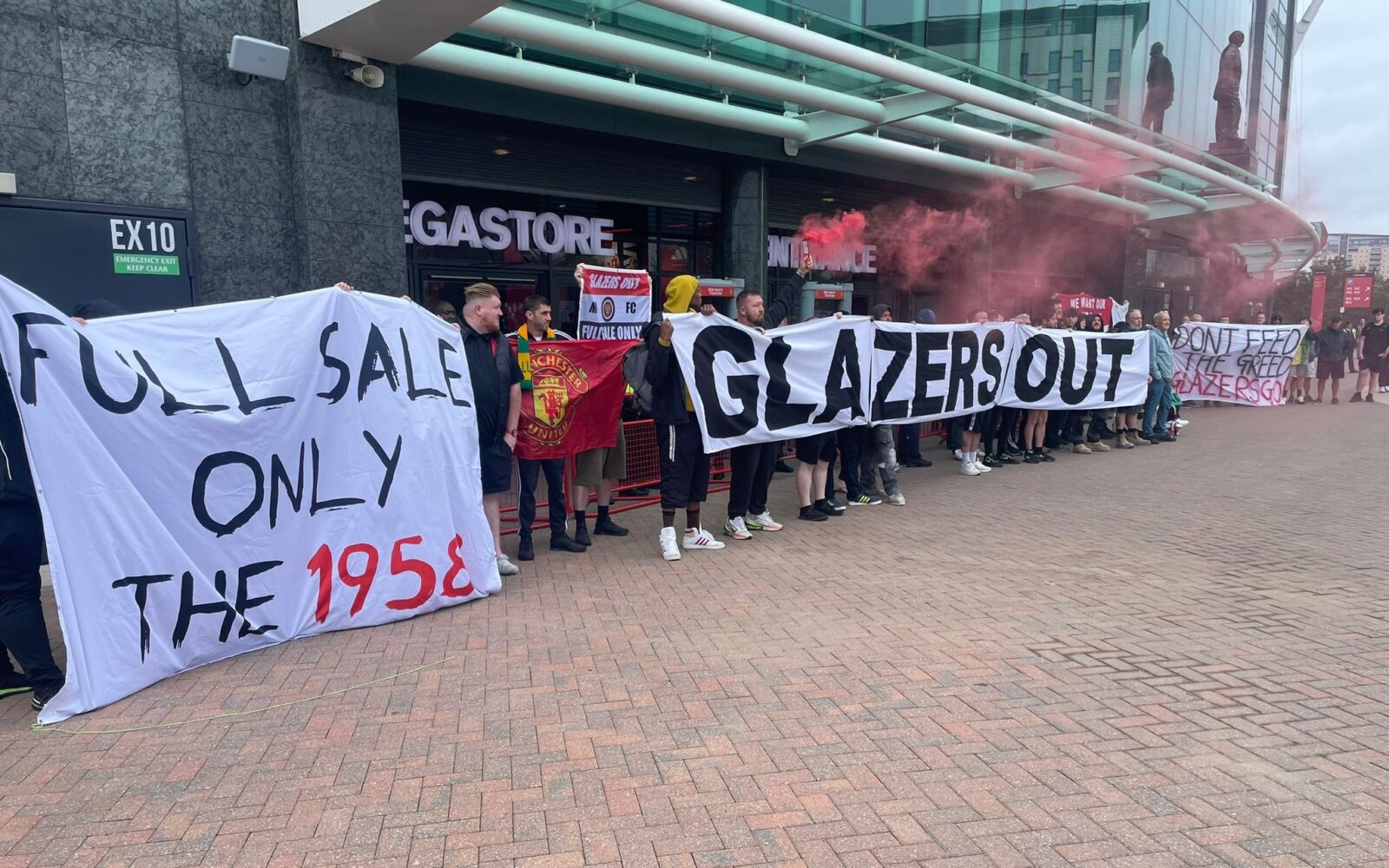 Manchester United fans have shut down sales of the new home shirt at the club's Old Trafford Megastore in protest of the Glazers.
The new home kit for the upcoming 2023/24 season was officially released online and in various shopping outlets across the UK on Tuesday morning, 27 June, but with the potential sale of the club still up in the air and looking to have reached an impasse, fans are making their feelings crystal clear.
Organising the legal and peaceful protest last week, The 1958 supporters' group asked fans not only to reinforce the 'Glazers Out' sentiment but to also boycott kit manufacturer Adidas as shirt sales are still pumping money into the owner's pockets.
With the Megastore opening at 10am, just half an hour after the new home shirt went live, it only took a sizeable group of United fans a minute to begin their protest and block the entrance to the main stadium shop.
Read more:
Obviously, thousands of shirts will have already been ordered online, but this group of supporters are making sure to reaffirm their position even in the off-season: 'green and gold until the club is sold' and when they say sold, they mean a 'full sale only'.
Although there are still two bidders in the race to buy Man United, Sheikh Jassim bin Hamad al-Thani and British billionaire Sir Jim Ratcliffe, news on the negotiations seems to have gone quiet and it remains unclear who is leading the race — to the point that even the Qatari prince has been left "fed up".
Moreover, while there are plenty of ethical concerns over Sheikh Jassim's world-record bid to buy the club, another sticking point for many Reds regarding Ratcliffe's bid is the suggestion that he might allow the Glazers to keep a minority share — an absolute deal-breaker for most fans.
The hope is that a takeover deal will be completed before the start of the new season but, in the meantime, United fans will keep banging the drum. Plus, it's not like they hadn't seen the new kit already:
For all the latest news, events and goings on in Greater Manchester, subscribe to The Manc newsletter HERE.
Featured Image — Manchester United/The 1958 (via Twitter)