Sport
New footage sheds light on Manchester City's touchline bust-up with Arsenal after 1-0 loss
That's back-to-back in the Premier League for Pep's side.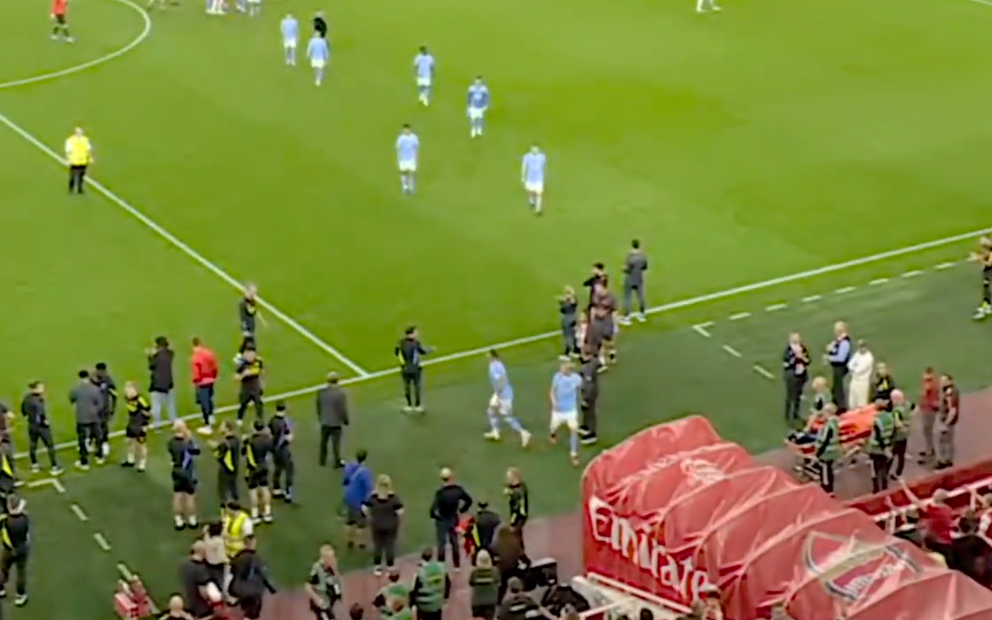 New footage from inside the Emirates Stadium has shed some more light on the bust-up between Kyle Walker, Erling Haaland and members of Arsenal's backroom staff following Manchester City's 1-0 defeat over the weekend.
Walker and Haaland were involved in a touchline spat with one of the Arsenal coaching staff as the teams were leaving the pitch on Sunday, the individual who has now been revealed to be set-piece coach Nicola Jover, a former Man City employee himself.
Despite the cameras catching glimpses of the argument, it was only later in the coverage of the post-match scenes that an angle showing the altercation from start to finish that viewers got a clearer picture of what happened.
While it is still unclear what words were exchanged by the immediate trio involved, the latest footage appears to show Jover reaching out for a handshake only for Walker to wave his arms in dismissal before growing frustrated and turning to confront the coach.
Once again, although it is not yet known what was said by Jover or Walker during the bust-up, there is presumably a trigger beyond the City fullback refusing to shake his former coach's hand, with Haaland also coming over to intervene before the fight escalates further.
As you can see in the clip, several other members from each team ultimately get involved before Walker, Haaland and others are shepherded down the tunnel.
Serving on the punditry panel, Gary Neville joked that players "don't like set-pieces on the training pitch full-stop, let alone the opposition set-piece coach having a go", whereas former Arsenal winger Theo Walcott suggested that City "are not used to losing" and that instead of their usual "professionalism", he believes "a nerve has been picked here".
It will be interesting to find out exactly what was said, whether this was simply emotions boiling over after a loss, or perhaps even a personal issue between a player and his old coach. Speaking to media after the game, manager Pep Guardiola confirmed he knows what happened but didn't want to divulge it.
Read more:
Shaking his head and simply adding, "They know it" — presumably referring to Walker and Haaland — Pep also went on to say that he understood the reaction from the Arsenal staff, suggesting that the incident predominantly arose as a result of his own players' reactions.
That's back-to-back wins for Arsenal against the Blues following the Community Shield victory at the start of this year's campaign but a first Premier League victory against his former club for Mikel Arteta since becoming a manager.
In fact, it was the Gunners' first league victory against City since 2015, before Guardiola had even arrived at the Etihad.
Nevertheless, the Catalan coach's post-match interview was filled with plenty more humour as well, clearly taking the defeat in stride and even brushing off the jokes that Arteta is a "mini-me" with a light-hearted comeback.
For all the latest news, events and goings on in Greater Manchester, subscribe to The Manc newsletter HERE.
Featured Image — Kyle Walker (via Instagram)/Sky Sports/Man City (via Twitter)