Sport
Nike issue statement on goalkeeper kit controversy after Mary Earps' World Cup final heroics
FIFA's Best Goalkeeper, a European champion, Golden Glove winner and England's hero — but she still can't have a shirt.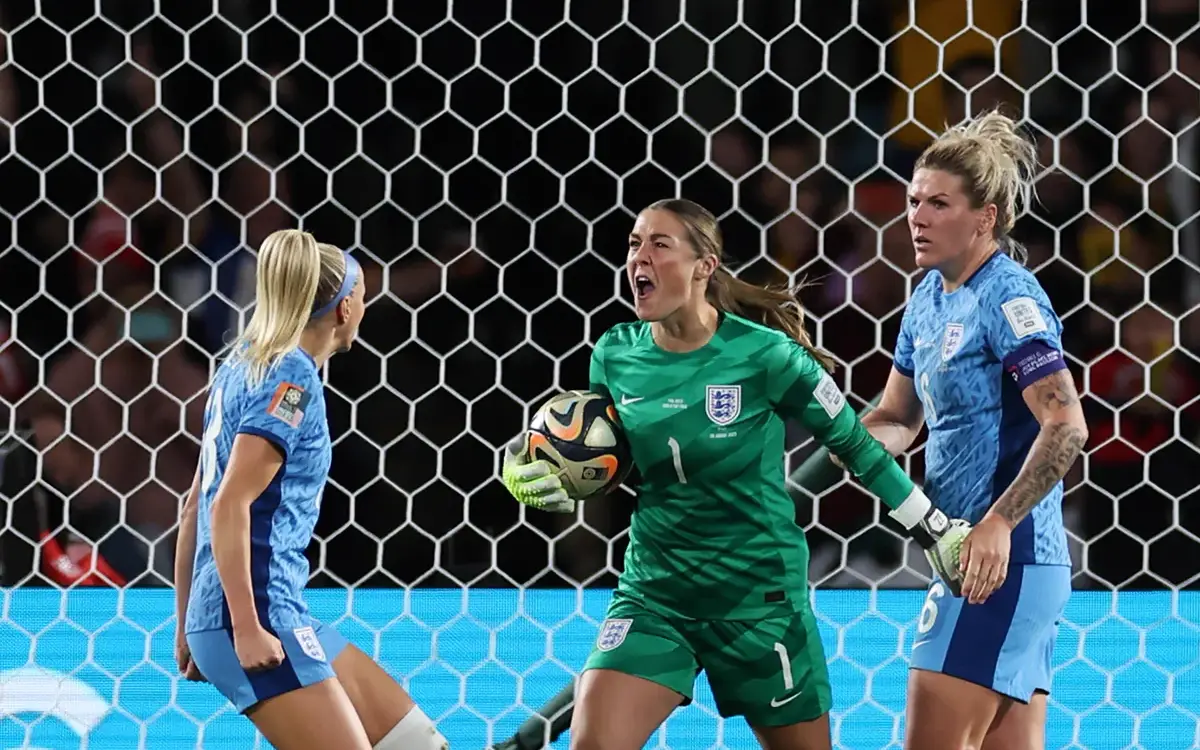 Nike has issued a statement addressing the ongoing goalkeeper kit controversy after the brand refused to sell replica shirts of Mary Earps' kit and other female shot-stoppers for the Women's World Cup this year.
2023's tournament might now be over, with the Lionesses just narrowly missing out on lifting the trophy in their first-ever World Cup final, but the public outcry for the sporting giant to stock and sell women's keeper kits this year is ringing out clearer than ever.
Earlier this year, England women's star and Manchester United's no. 1 Mary Earps called out Nike for once again choosing not to produce women's goalkeeper kits after insisting that she was told progress would be made following the same issue during Euro 2022.
Up until now, the company has refused to comment on the situation publicly but following Earps' heroic penalty save in the final and having won the Golden Glove, they have finally broken their silence — and it hasn't exactly gone down that well…
Issuing the update on Sunday, the statement read: "Nike is committed to women's football and we're excited by the passion around this year's tournament and the incredible win by the Lionesses to make it into the final.
"We are proudly offering the best of Nike innovation and services to our federation partners and hundreds of athletes. We hear and understand the desire for a retail version of a goalkeeper jersey and we are working towards solutions for future tournaments, in partnership with Fifa and the federations.
"The fact that there's a conversation on this topic is testament to the continued passion and energy around the women's game and we believe that's encouraging."
However, the reaction has very much been a case of "not good enough", with people commenting, "This really is the most pointless statement by Nike", "They should have just said 'we fucked up, we are sorry'" and one person even quipping: "So committed to women's football, Nike didn't even bother to spellcheck its statement".
If you didn't believe there were already countless people all over the country clamouring for a Mary Earps shirt, you can make no mistake about it after this incredible moment:
Read more:
The truth is, Lionesses shirt sales went through the roof ahead of the final and indeed throughout the tournament, not to mention Earps' sadly non-existent kit being one of the most searched for online over the past few months.
As the 30-year-old said at the time, "I can't really sugar-coat this in any way, so I am not going to try. It is hugely disappointing and very hurtful", adding, "What you're saying is that goalkeeping isn't important but you can be a striker if you want."
It goes without saying that there are so many men, women and kids alike that would give anything to be able to wear their favourite player's shirt and it is saddening to see Nike still failing to fix it, especially for all those little girls who admire players like Mary Earps and dream of growing up to become a goalkeeper.
That being said, it looks like Nike has clearly heard the feedback and may be looking to reconsider its 'financial strategy' in time for the next tournament. We can only hope they do the right thing sooner rather than later.
For all the latest news, events and goings on in Greater Manchester, subscribe to The Manc newsletter HERE.
Featured Image — Lionesses/FIFA Women's World Cup (via Twitter)