Sport
Pep Guardiola explains why he took off record-breaking Haaland before he had the chance to smash another
The big, blonde freak of nature reached another record last night, but he was only one goal away from an even bigger one.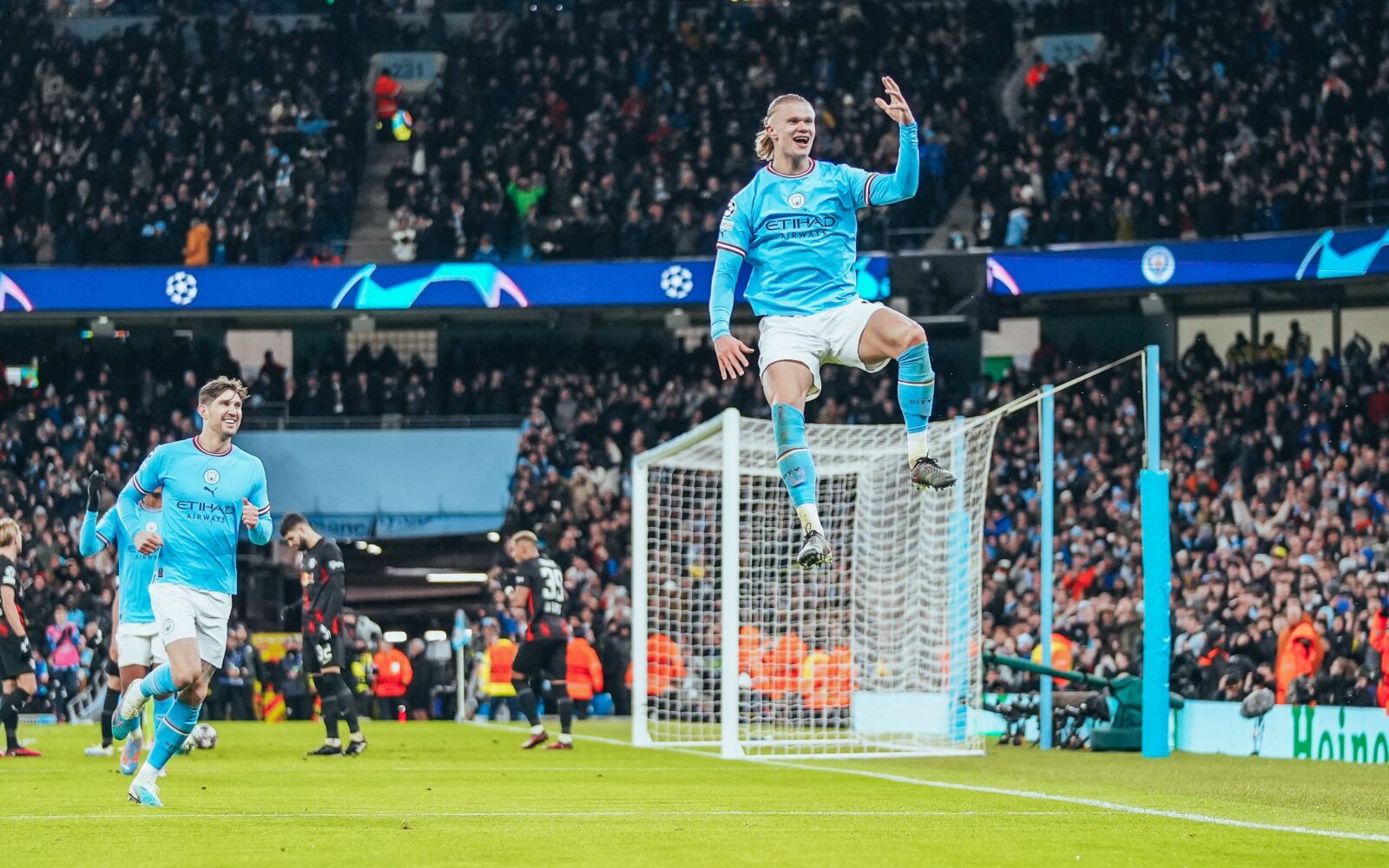 Manchester City manager Pep Guardiola has explained why he chose to substitute Erling Haaland following their 7-0 obliteration of RB Leipzig in the Champions League on Tuesday night.
The Sky Blues slotted seven goals past the Bundesliga side to progress to the quarter-finals of the one competition that has eluded Pep since he arrived in Manchester, with Haaland grabbing a first-half hattrick and then another two all in the space of 35 minutes. Sheesh.
Even before finishing five, Haaland's hattrick saw him break the record for the youngest player to reach 30 goals in the Champions League (22 years, 236 days), beating fellow young phenomenon Kylian Mbappe by 116 days. However, his manager chose to sub him off before he could reach another.
Speaking to media afterwards, Pep explained that beyond giving him a rest or making sure he didn't pick an unnecessary injury, he chose to withdraw Haaland because the game was over and he wanted "[them] to play", as well to avoid any unreasonable criticism given the ridiculous bar he has set himself.
The 52-year-old went on to explain that while his numerous hattricks this season and now five goals in one game are obviously thrilling, "the problem is every time we don't score two or three he will be criticised. This is the reality.", insists Pep.
Unfortunately for City fans and neutrals alike watching on in disbelief, if Haaland had stayed on and scored just one more — a double hattrick (silly that they were even considering these phrases) — he would have beaten Lionel Messi and Luiz Adriano's record for most goals in a single UCL match.
Alas, it wasn't to be and while many joked that the Spaniard was protecting Messi's record by not letting his star man score six (Pep insisting he had no idea of the stat), even he quipped that "if he achieves this milestone at 22, 23, it will be boring his life. He wouldn't have a target to reach in the future."
The goals began to dry up after the Norwegian number nine was hooked off and one thing's for sure, he certainly didn't want to be taken off, noting to BT Sport that he told Pep when he went off, "I would love to score a double hattrick, but what can we do? I have to go".
Ah well, he still managed to reach multiple milestones on the night. As well as becoming the youngest to reach 30 UCL goals, he also did it in the fewest amount of games in history (25), beating Ruud van Nistelrooy who did it in 30.
As if that wasn't enough, his fifth goal also saw him well surpass Tommy Johnson for the most goals scored by a City player in a single season (38), not to mention the only player to ever score that amount in the Champions League for the club and just third player to ever do so in the tournament.
Truly unbelievable stuff.
Now on 39 goals and five assists in just 36 games across all competition this season, our early season prediction of Haaland scoring more than 50 goals now seems almost too conservative. The better question is how many records will he end up breaking before the year is out?
Read more:
Man City now progress into the Champions League quarter-final yet again with the draw set for 11am on Friday, 17 March. They could face any one of the following teams:
Chelsea
Benfica
Milan
Bayern Munich
Inter
Napoli/Frankfurt
Real Madrid/Liverpool
Guardiola was once again asked if he thinks his side can finally win their first Champions League, having admitted earlier in the week that he will be judged by many "as a failure" if he does not win it.
In a rather unusual moment, Pep said that even winning wouldn't make up for the time his "idol" Julia Roberts came to Manchester and watched United over City in 2016. Guess he's just a really big Pretty Woman fan?…
You can watch his full press conference HERE.
For all the latest news, events and goings on in Greater Manchester, subscribe to The Manc newsletter HERE.
Featured Image — Manchester City/BT Sport (via Twitter)/Beanyman Sports (via YouTube)