Sport
Pep Guardiola calls on Manchester City fans to step up ahead of 'final' against Arsenal
This year's Premier League champions could effectively be decided this week.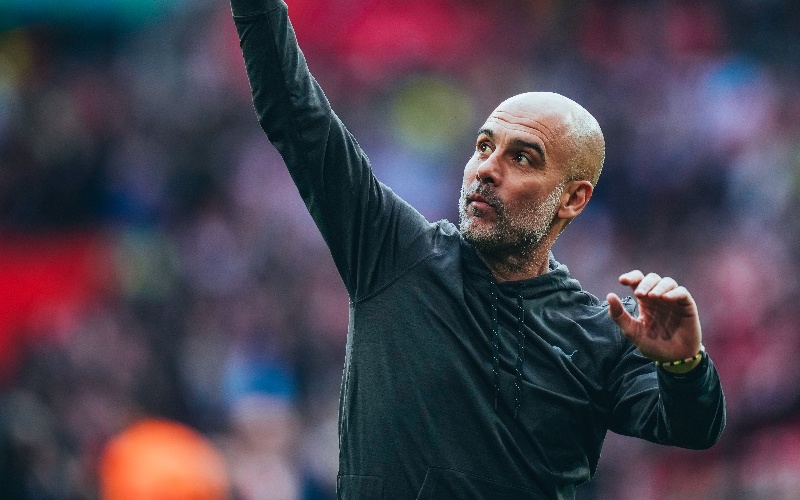 Pep Guardiola has issued a plea to Manchester City fans ahead of the club's massive midweek fixture against Arsenal, urging them to turn up in their droves and make plenty of noise.
After their comfortable win in the FA Cup semi-final on Saturday, a victory that sealed a Manchester Derby final for the first time in history, the City coach's mind was already on the next game as his side are set to take on the league leaders on Wednesday.
With Arsenal still sat at the top of the table and playing some of the best football they've enjoyed in years, it is very much a potentially title-deciding match and certainly one of the biggest games of the season.
The reality is not lost on Pep either, as he spent a large chunk of the post-match press conference after the Sheffield game talking about "momentum" and how the fans need to play their part, having previously taken a slight dig at the supporters earlier in the season.
The 52-year-old told media, "Of course the momentum is key, it doesn't matter if you play every three or four days if you are winning.
"It's really important the 'final' we have on Wednesday – it is a final – against a team who has been the best team in England so far, they are five points ahead of us. Hopefully, all of Manchester that day will be blue and they can come to support us.
"We need incredible noise from the first minute to the last as I know which opponent we are going to play against. Even though they [drew] the last three games, the way they play is difficult to stop. You have to read exactly what you have to do but it's a massively important game for us."
He went on to add that "if [City] win it's a step to getting it completely in our hands. The Premier League is 11 months, working, working. We have this opportunity and we want to take it. Hopefully, the whole of the Etihad will be full three hours before."
Read more:
With Pep going up against fellow Spanish coach and his former protégé, Mikel Arteta, there is also an element of the 'master and apprentice' narrative surrounding the game as well, although City have beaten Arsenal in each of their three previous meetings this season across all competitions.
Pep went on to say of the friendship turned rivalry with his former assistant coach: "The relationship has changed because he's in London and I'm in Manchester, we don't see each other as often. He's busy and I'm busy — but the affection and respect I have with him will remain forever."
The question is, will Arteta manage to get one over on his old teacher when it counts?
You can see his press conference in full down below:
For all the latest news, events and goings on in Greater Manchester, subscribe to The Manc newsletter HERE.
Featured Image — Beanyman Sports (via YouTube)