Sport
Manchester United submit 'letter of interest' in 'next Haaland', Rasmus Højlund
He's just two years younger than Haaland and starting to attract a number of suitors.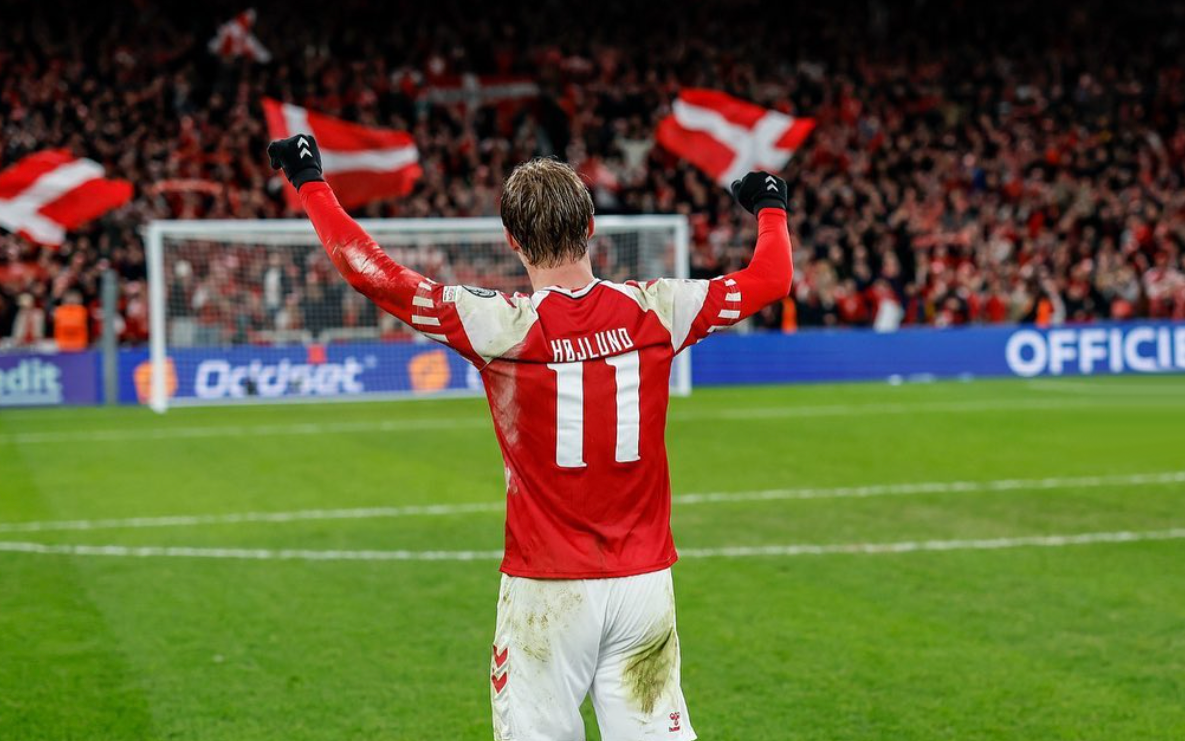 Manchester United have reportedly submitted a "letter of interest" in young Danish striker Rasmus Højlund, dubbed 'the next Haaland', as a number of clubs are said to have begun circling.
Rasmus Højlund is only 20 years old but has already started to attract the attention of United, Real Madrid, Bayern Munich and more this season, as the youngster looks like he could be one of the brightest new talents in world football.
The promising centre-forward currently plays his club football for Serie A side Atalanta after joining them last summer, registering eight goals and three assists in 28 appearances (just 16 starts), but it's also his performances for Denmark that have seen comparisons drawn to Erling Haaland.
Scoring five goals in just two games during the previous international break, one of which was an impressive hattrick against fellow Nordic nation Finland, both Danish and Italian press have teased that he could be 'the next Haaland' and it looks like United aren't wanting to miss out on this one.
As per Danish outlet B.T., "some of the biggest clubs in the world are courting" the in-demand Dane (as many as five thus far if rumours are to be believed) but United and Real Madrid are said to be the only two that "have concretely shown their interest in the form of a so-called letter of interest".
Nevertheless, whilst nothing firm has materialised as yet — with Højlund still without an agent and only likely to entertain another move once he has new representation — this preliminary approach has been described as a "clear indication that the two giants have big thoughts about the Danish golden boy".
According to the Mirror, it would seem that United now have a three-man shortlist when it comes to their search for a centre-forward, with Højlund said to be just behind the likes of Harry Kane and Napoli striker Victor Osimhen, both of which have been linked with moves to Old Trafford.
It's been suggested that his signature would cost around £60 million this summer, which might sound like a lot for someone still so young, but with 14 goals and six assists in 36 games across all competitions this season for Atlanta and former club Sturm Graz, you can see why clubs are interested.
Read more:
Moreover, it isn't just these impressive early stats that has seen him slapped with the 'Haaland 2.0' tag; hailing from a fellow Scandinavian country doesn't hurt and nor does a quick turn pace plus his six-foot-two stature — natural attributes that are only further complimented by his apparent finishing ability.
In fact, not only did his coach Gian Piero Gasperini say there are lots of similarities "especially in acceleration… low centre of gravity and an incredible stride frequency", but even Højlund himself has compared himself to the Norwegian striking sensation in the past.
Lastly, it's no secret that United are in need of a proper number nine and, equally, the forward said back in January that he "can't hide the fact that [he is] a huge Manchester United fan" and that a move "would be one of the biggest things for me".
Would you like to see 'the next Haaland' up front for United, Reds, or do you want a more proven talent?
For all the latest news, events and goings on in Greater Manchester, subscribe to The Manc newsletter HERE.
Featured Image — Rasmus Højlund/Erling Haaland (via Instagram)