Sport
Qatar declare massive attendances despite thousands of empty seats and stadium capacity
You might want to check your numbers there, chief.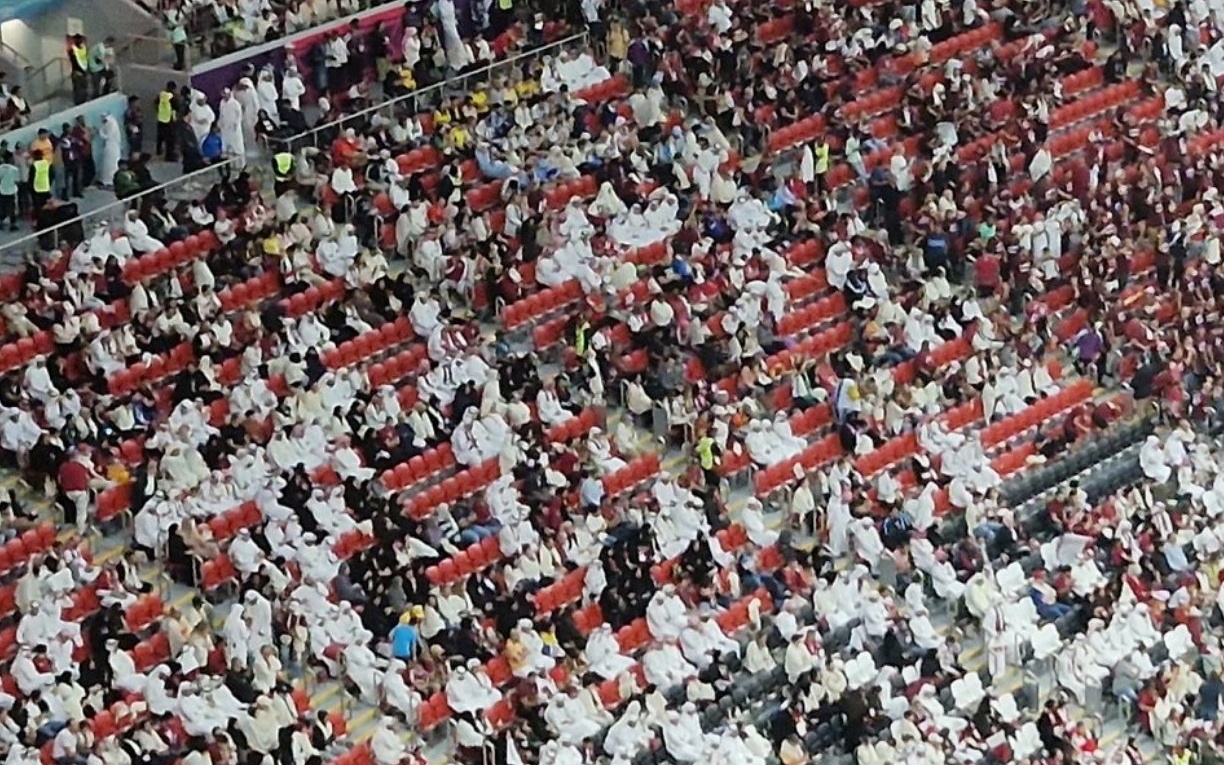 Qatar has announced some rather questionable attendance figures following the opening games of the 2022 World Cup, as it's clear that whoever's done the totting up doesn't understand maths.
The Gulf state confirmed their final attendance figures for the inaugural match between the host nation and winners Ecuador, professing that 67,372 people poured into the Al Bayt Stadium in Doha on Friday.
However, that would be quite an achievement considering the maximum capacity of 60,000. Hmmm…
Regardless of whatever Qatar are claiming to be their official numbers, it was clearly visible to anyone with eyes that thousands of seats were left empty during the game and even more so after half-time.
Countless numbers were seen flooding out of the stadium after the home side conceded two goals in the opening 31 minutes — well, three if you count the speculative offside call that saw Enner Valencia's tournament-opening goal ruled out. He should have had a hat trick.
As if that wasn't enough, Qatar also looked to have fudged the numbers for England's 6-1 win against Iran on Monday, stating that the total attendance was 45,334. However, once again, this clearly isn't an accurate number given the stadium can only hold a max of 40,000.
In fact, it would seem that they've pretty much exceeded the stadium limit with every single match attendance so far:
Qatar vs Ecuador – 67,372 (Stadium capacity: 60,000)
England vs Iran – 45,334 (Stadium capacity: 40,000)
Senegal vs Netherlands – 41,721 (Stadium capacity: 40,000)
USA vs Wales – 43,418 (Stadium capacity: 40,000)
Despite a clear effort to stretch the truth when it comes to attendances, journalist Melissa Reddy also highlighted other fan struggles, telling Sky Sports that many fans could not access the stadium due to problems with the ticketing app and were being advised to arrive as early as four hours before kick-off.
Read more:
As she went on to explain, the "mixed crowd" that did turn up – even if they were part of the mass exodus or not – "weren't really interested" in the game and it was clear that many didn't have an allegiance to either team.
Qatar has already been accused of paying 'fake fans' to come and pose as supporters of various nations both inside the stadiums and parading outside the grounds.
While FIFA has denied the claims, with president Gianni Infantino suggesting that the allegations reflect the "racism" underlying much of the debate surrounding Qatar 2022, it's clear
For all the latest news, events and goings on in Greater Manchester, subscribe to The Manc newsletter HERE.
Featured Image — BBC Sport/Palácio do Planalto (via Flickr)