Trending
Hilarious moment Kevin Sinfield is caught having a wee on live TV during ultra marathon challenge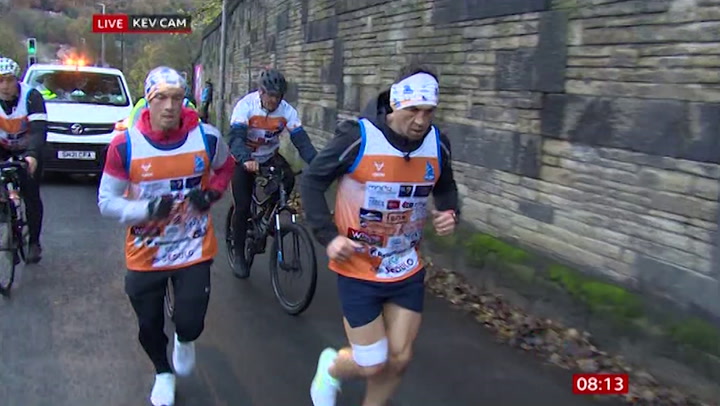 Kevin Sinfield has been hailed as a "true hero" after completing a seven-day ultra marathon challenge and raising over £2 million for charity in the process.
The former professional rugby player – who captained Leeds Rhinos in the Super League for 18 years from 1997-2015, and now acts as the defence coach for Leicester Tigers – absolutely smashed it out the park by running seven ultra marathons in seven days in order to raise as much money as possible in aid of a host of motor neurone disease (MND) charities.
The challenge – which again is aid of his best pal and former teammate Rob Burrow, who was diagnosed with MND in late 2019 – saw Sinfield set off from Murrayfield in Edinburgh on Sunday 13 November, and run over 60km a day each day in order to reach his final destination in time.
He crossed the finish line at his final destination at Old Trafford during the Rugby League World Cup final on Saturday 19 November, and was greeted by a roaring standing ovation from a near full-capacity crowd inside the Manchester stadium.
Speaking to the crowd at Old Trafford as he crossed the finish line on Saturday, Kevin said: "It's all about friendship and the love for Rob. Everyone probably feels the same way about Rob as I do, he is an absolute champion."
But despite this monumental achievement, the Oldham-born legend showed he's still human.
In a hilarious moment that's been going viral on social media over the weekend, TV cameras following Sinfield during his challenge saw him stopping at the side of the road for a quick wee, and it went out live on BBC Breakfast.
Presenters Charlie Stayt and Rachel Burden were understandably caught off guard and proceeded to crack up with laughter.
"We have a camera on board a bike which is following," Charlie told BBC Breakfast viewers, "We set him off every morning and we don't really know how it works apart from…" and then, just as he said those words, Kevin took a toilet break right in front of the live cameras.
"Ah, brilliant timing, well done Charlie," Rachel added as the pair laughed off the unfortunate moment.
As mentioned, Sinfield took up the challenge in honour of his former Leeds Rhinos teammate and pal Rob Burrow, and the pair were seen sharing an emotional moment as Sinfield passed through Headingley in Leeds on the sixth day of his challenge.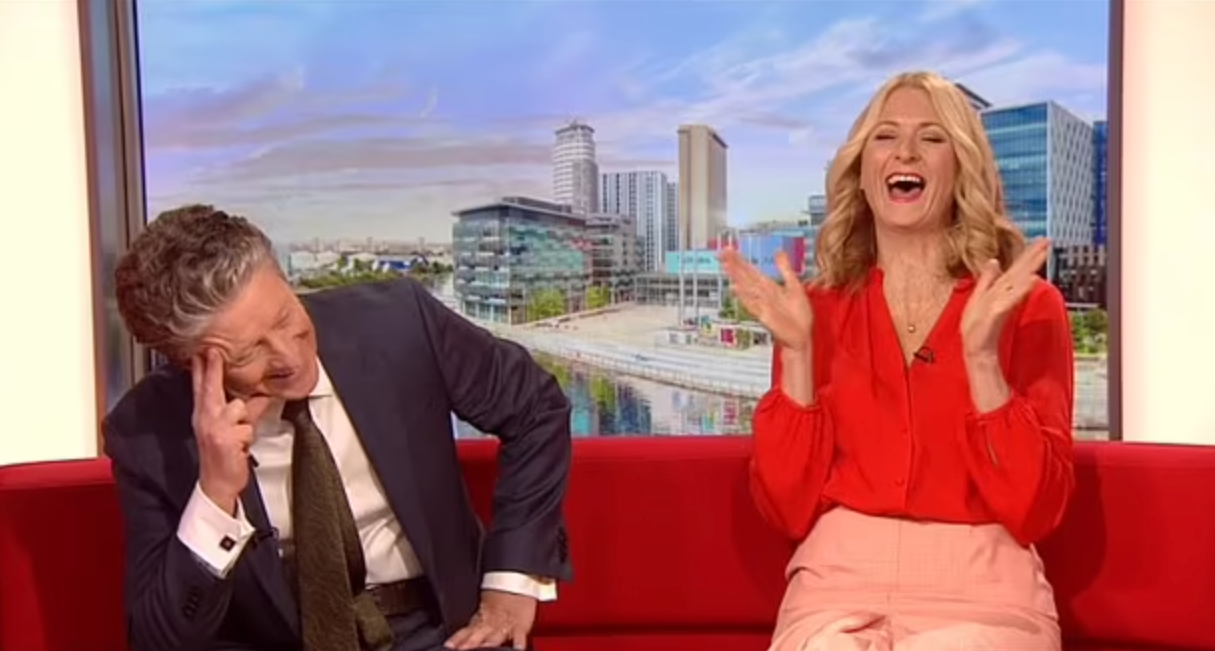 Sinfield's aim with this challenge was to raise £777,777 for people living with MND, which would be split between Motor Neurone Disease Association, Leeds Hospitals Charity, The Darby Rimmer MND Foundation, My Name'5 Doddie Foundation and MND Scotland.
Read more:
He has since raised over £2 million and counting.
Featured Image – BBC Breakfast