Sport
Ronaldo calls out ten Hag, Rooney and United board in explosive Piers Morgan interview
'I think the fans should know the truth.'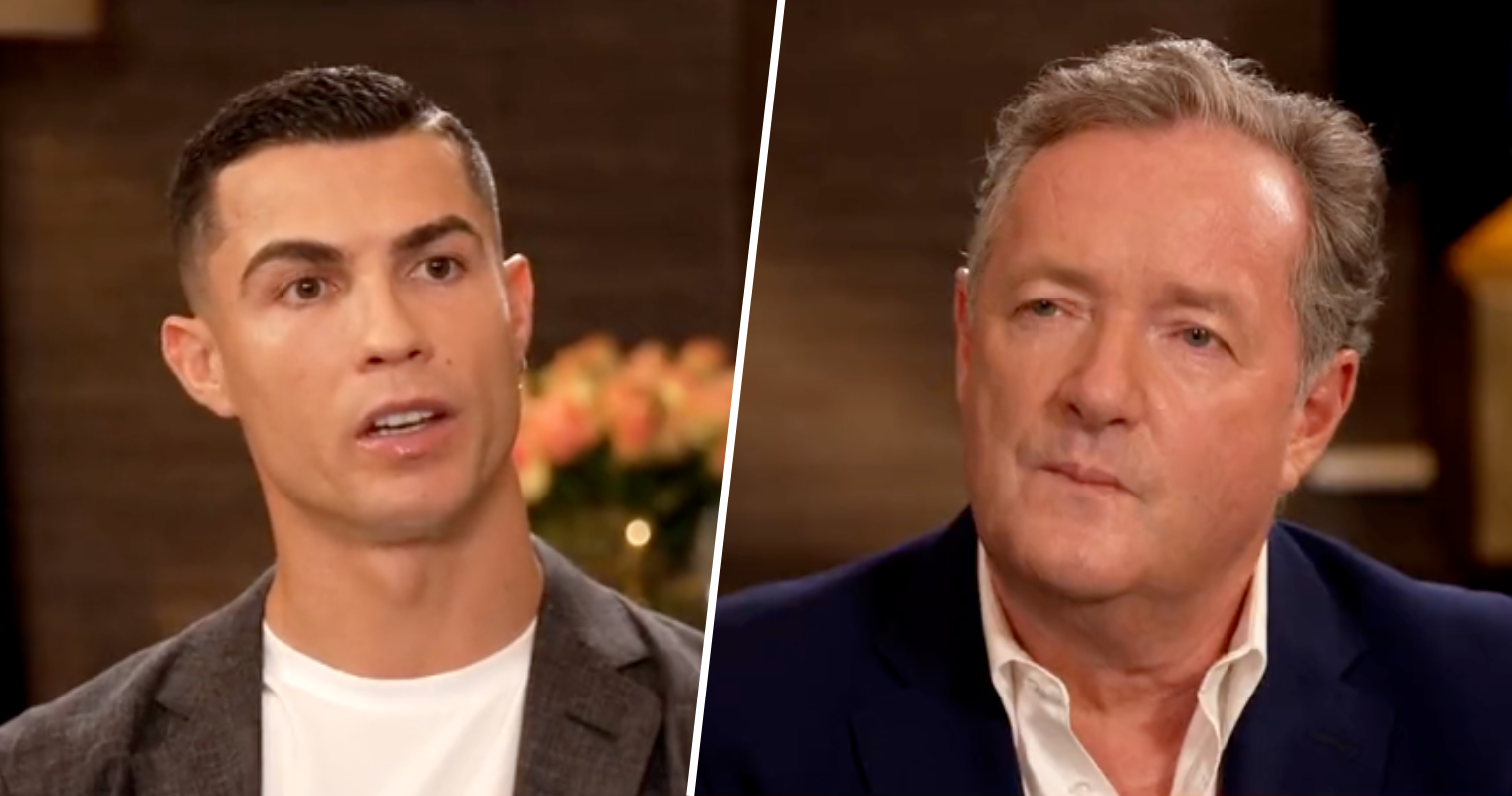 The situation with Cristiano Ronaldo has been a dark cloud lingering over Manchester United all season and parts of last year too, but that's nothing compared to this latest downpour.
Man United's number seven and long-standing club legend has put his legacy in further jeopardy by deciding to do an exclusive interview with Piers Morgan for TalkTV, in which he didn't hold back his opinions on both current and previous coaches, as well past and present teammates.
Speaking on Piers Morgan Uncensored, the 37-year-old started by diagnosing what many fans would tend to agree with: that there has been "no evolution in the club" since the days of Sir Alex Ferguson.
Ronaldo went on to suggest that everything from the gym facilities to "the technology, the kitchen" and various other pieces of "infrastructure".
The all-time leading international and club goalscorer went on to question why the club previously brought in Ralf Rangnick as both a sporting director and interim manager, arguing that "he's not even a coach", adding: "how are you going to be the boss of Manchester United? I'd never even heard of him".
Regardless of his feelings, it is worth reminding that the German has indeed coached more than a dozen different teams in his career — currently employed as the manager of the Austrian national team — and is regularly credited for developing popular 'Gegenpressing' tactics used by Jurgen Klopp, for instance.
Furthermore, the Portuguese icon went on to drag his current coach Erik ten Hag, stating: "I don't have respect for him because he doesn't show respect for me. If you don't have respect for me, I'm never gonna have respect for you." Ronaldo has been dropped by ten Hag on multiple occasions.
Ronaldo was reportedly told he would not be in the squad for Sunday's match against Fulham on Thursday, according to Sky reporter Kaveh Solhekol, with his comments no doubt taking some of the shine off thrilling stoppage time win.
Clearly lining up the interview in the days leading up to their next Premier League fixture, he went on to say that he feels "betrayed" by the club and that figures were looking to force him out, including ten Hag himself.
Read more:
Going off on somewhat of a tangent, Ronaldo even took aim at his former teammate and attacking partner, Wayne Rooney, after the club's leading goalscorer said last week that CR7 risks becoming an "unwanted distraction" at United.
Apparently, Ronaldo hasn't appreciated Rooney's comments in recent weeks and months, responding by saying: "I don't know why he criticises me so badly… probably because he finished his career and I'm still playing at a high level. I'm not going to say that I'm looking better than him. Which is true…"
Calling into talkSPORT the morning after, Morgan revealed he had been asking the broadcaster to do an interview for some time and despite its controversial nature, "he feels he should be doing this".
He even went on to tip him for a surprise move to Arsenal who are currently top of the league.
Meanwhile, United have said they will not be officially responding to Ronaldo's Piers Morgan interview but Sky understands that teammates, coaches and various other staff members are disappointed that the veteran professional would "disrespect" the club in this way.
Nevertheless, Ronaldo believes "the fans should know the truth" and that he only wants "the best for the club", insisting that "they're always on my side". We dare say he may have fewer supporters on his side after this one.
Put it this way, this saga is far from over.
For all the latest news, events and goings on in Greater Manchester, subscribe to The Manc newsletter HERE.
Featured Image — Piers Morgan Uncensored (via Twitter)