Sport
Russian supporters waving Putin flags and wearing 'Z' war symbols questioned by police at Australian Open
They weren't just cheering on their countryman, they were blatantly declaring their support for Putin's war.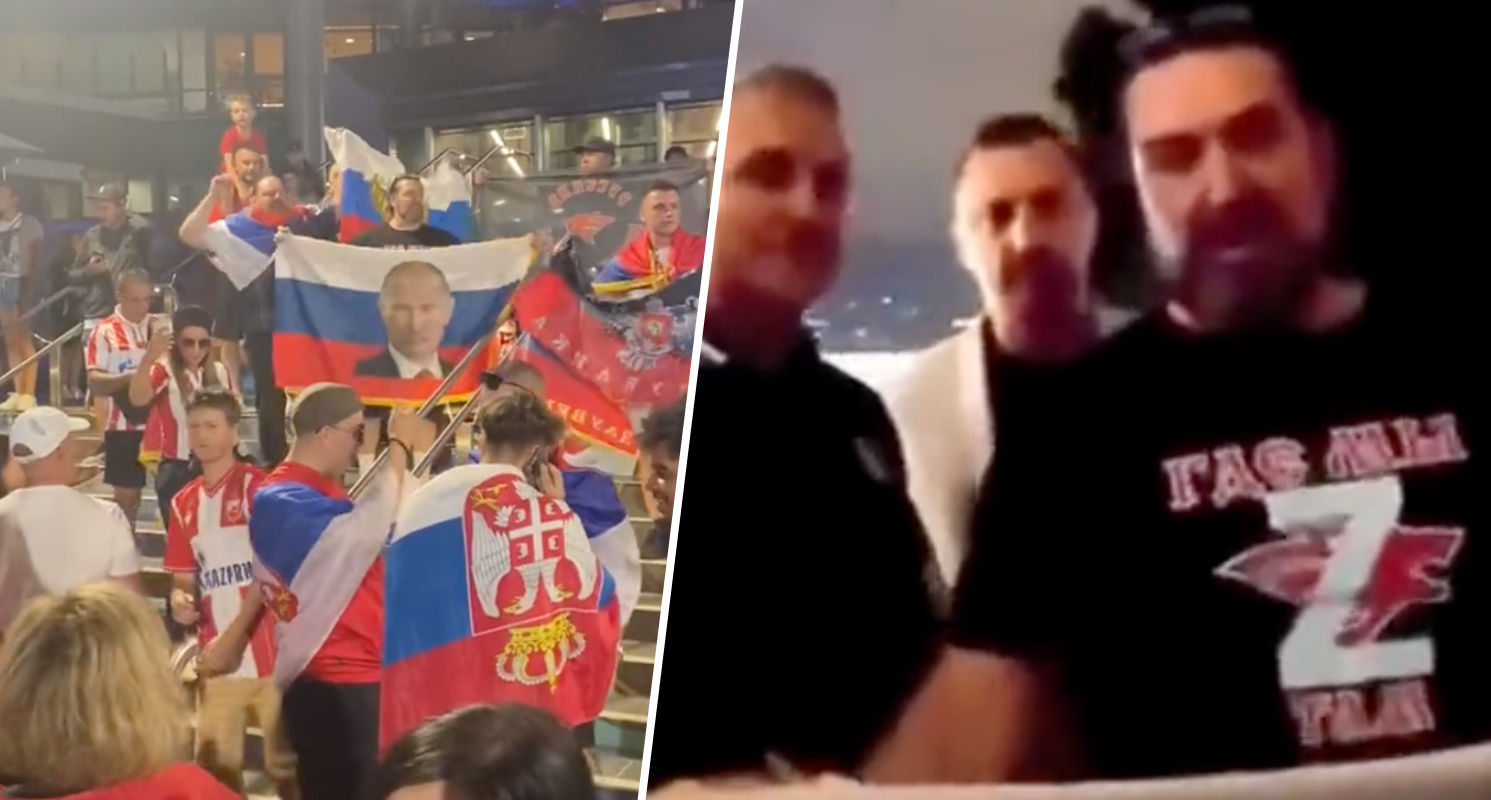 A number of Russian supporters attending the Australian Open were spotted waving pro-Putin flags and wearing 'Z' war symbols during Novak Djokovic's match on Wednesday evening.
Spotted in the crowd whilst watching Djokovic's quarter-final tie against Russian tennis player Andrey Rublev, the group of fans cheering on Rublev are now said to have been questioned by local police following the stunt as a further investigation is expected to be carried out.
The nine-time tournament winner might have seen off the world number six seed in straight sets to progress to the penultimate round of the major, but the controversy that the pro-war display has caused is understandably all anyone can focus on.
You can see a significant number of Russian fans chanting "Putin!" with their flags in the stands below, as well as another man clearly flaunting the 'Z' symbol — synonymous with the invasion of Ukraine.
According to a statement issued by Tennis Australia, four men were questioned by local authorities in Melbourne after they revealed their pro-Putin emblems and reportedly threatened security guards inside the Rod Laver Arena then they were asked to remove them.
Victoria Police have now confirmed that while charges were made, the group of supporters were quickly ejected, with Australian Open organisers reassuring that they will "continue to work closely with event security and law enforcement agencies."
To make matters worse, Djokovic's father, Srđan, was later seen posing with what appears to be the same group of fans and images of Vladimir Putin outside the stadium.
The Serbian has not long put his own controversy behind him after being deported from the country due to covid regulations and his anti-vax stance last year. This surely won't help.
Read more:
The Russian invasion has been an ongoing issue at the Open, with Russian and Belarusian players now having to compete under a neutral flag.
This comes after spectators had initially been allowed to bring any flag into the arena with them. However, following the incident, certain Russian flags are now prohibited and security guards have been provided with pamphlets in order for them to check for approved national emblems.
Elsewhere, Ukrainian president Volodymyr Zelenskyy was both surprised and relieved to find out that Germany has confirmed they will be sending Leopard 2 tanks to bolster his country's defences, which he only learned whilst in the middle of an interview with Sky News' Kay Burley.
We are now approaching a year since the Russian invasion began, with Putin's campaign having run for 11 months and 3 days.
For all the latest news, events and goings on in Greater Manchester, subscribe to The Manc newsletter HERE.
Featured Image — 7NEWSAustralia/@tumcarayol (via Twitter)