Sport
Sale Sharks launch brand-new wellbeing programme with children's mental health charity
As the saying goes, start them early.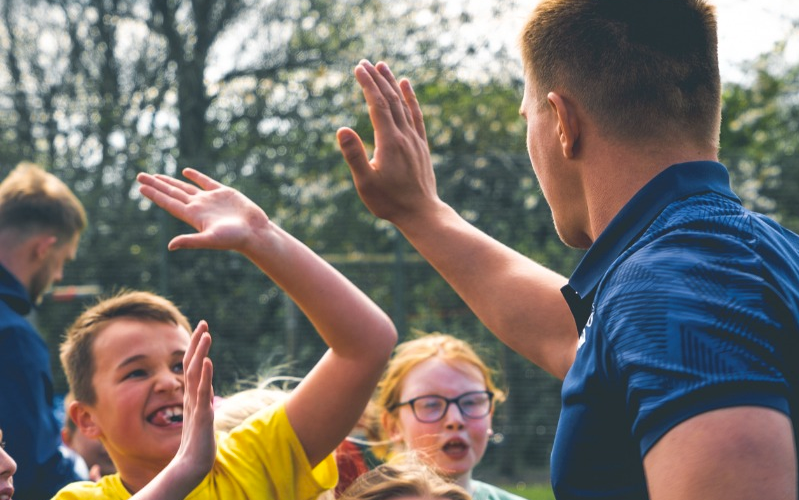 Sale Sharks rugby club have launched a brand-new mental health and wellbeing programme in partnership with children's charity, Place2Be.
The Manchester-based team do plenty of work around local communities and their latest initiative is targeting primary school kids around Greater Manchester.
Kicking off the 'Try2Connect' campaign last week with a special event at Ellenbrook Community Primary School in Worsley, several Sale Sharks got involved with the launch and got both learn about and help teach them about 'the five ways to wellbeing'.
The likes of Joe Carpenter, Georgie Perris-Redding, Molly Wright and Sharks star Ben Curry, who has been a Place2Be Champion for a number of years now, all went along to join in with the sessions and play a bit of tag rugby. Wholesome stuff.
As explained in the full announcement, Try2Connect is about promoting wellbeing and positive mental health practices from an early age, starting in the school setting in the hope that children will take the important knowledge out into the world as they grow up.
Comprising of various classroom workshops designed around the aforementioned 'five ways to wellbeing', as well as more active stuff like tag rugby and other multi-sport sessions — all of which are still designed to incorporate the themes explored during lessons — the programme is set to run for the next six weeks.
Alongside the two-hour weekly sessions in and out of the classroom, the project is also aimed at promoting longevity, with a 'Wellbeing Wall' tailored to the individuals being built in each school, with a total of 24 schools set to benefit from the scheme over the next 12 months.
Brilliant stuff, as is the work that Place2Be do day in, day out.
Read more:
Sale Sharks Co-Owner, Michelle Orange, said: "We're extremely proud to have partnered with Place2Be on the launch of Try2Connect, a programme which we hope will have a positive lasting impact on children across the region and is another symbol of our commitment to supporting mental health and wellbeing.
"Starting a new rugby season is a lot like starting a new school year in many ways, each bringing their own sense of anticipation and uncertainty, and it's important that we do what we can to encourage young people to talk about their feelings.
"We're all really excited about the difference we can make, using our sport to drive what is a crucial message." You love to see it, and you can find out more about Place2Be's vital work HERE.
With the Sharks set for a historic home semi-final against Leicester Tigers this coming weekend, it's great to see that they're still managing to put in just as much effort off the pitch as on it.
For all the latest news, events and goings on in Greater Manchester, subscribe to The Manc newsletter HERE.
Featured Image — Sale Sharks (via Twitter)/Place2Be