Sponsored
Manchester City and PUMA are encouraging fans to recycle their old garments for a new campaign
We'd love to see even more clubs doing this.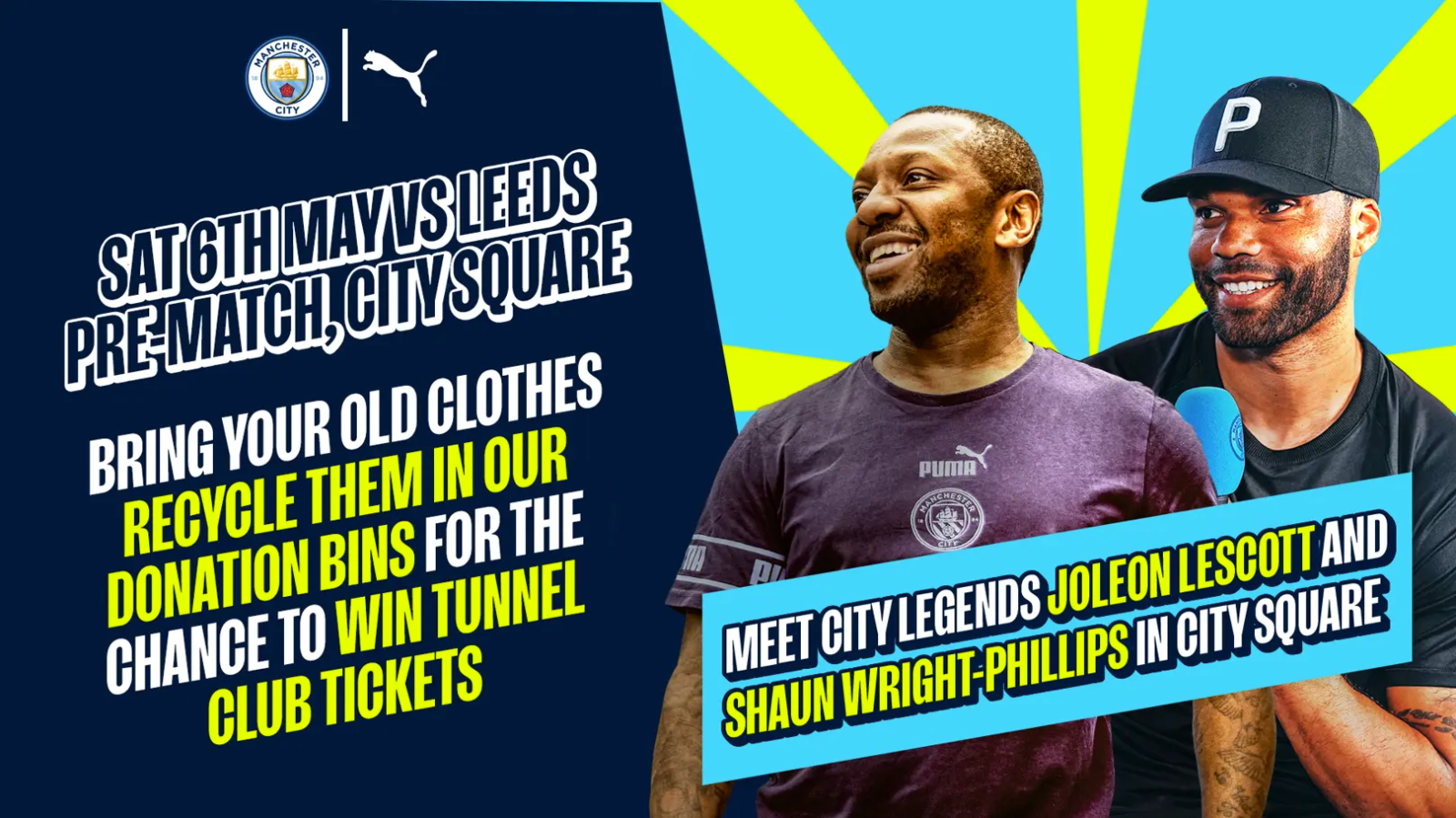 Manchester City are urging fans to bring their old clothes to the Etihad Stadium against Leeds United on Saturday, 6 May as part of PUMA's RE:FIBRE campaign to reduce waste.
Announcing their 'RE:FIBRE' campaign in partnership with the sportswear brand last month, Man City are encouraging supporters to bring along any old items of clothing to City Square before the Leeds game, where club legends Joleon Lescott and Shaun Wright-Phillips will be on hand to recycle them.
As well as meeting Joleon and Shaun, if fans donate they'll be in with a chance of winning City goodies like Tunnel Club tickets for next season — all whilst doing some good for the planet.
If fans can't make it to the Leeds game, don't worry – you can still donate at the Manchester City stadium store any day of the week via PUMA's 'take-back bins'.
The rules for recycling old items are as follows:
They accept all apparel brands
Please only return freshly washed garments
They accept all types of clothing except for underwear, socks or swimwear
The best part is, all of the garments handed in will be upcycled and turned into something new rather than going in the bin.
As part of PUMA's latest efforts towards sustainability, they plan to increase their overall usage of recycled polyester (by weight) to 75% by 2025 across all apparel and accessories.
Their sustainable line of RE:FIBRE fabrics are made of at least 95% of recycled textiles and other used materials made of polyester, and important campaigns like this are helping transform clothing waste and other used materials into entirely new products. You love to see it.
You can find out more about Manchester City and Puma's RE:FIBRE initiative HERE.
Read more:
For all the latest news, events and goings on in Greater Manchester