Sport
The reason why Manchester United couldn't sell Rasmus Højlund shirts is pretty silly
We would have simply planned ahead.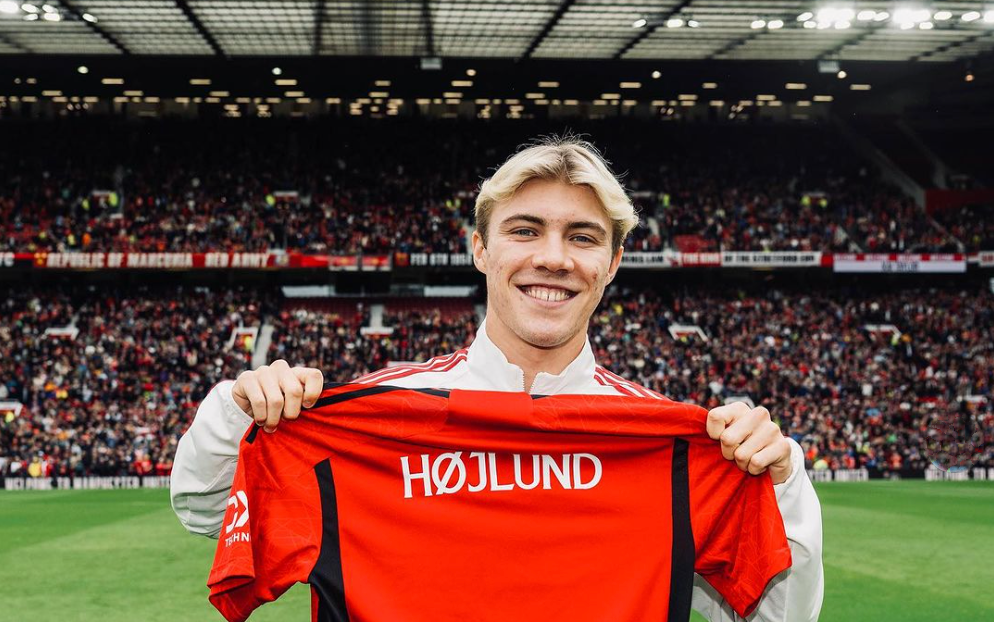 Rasmus Højlund has been at Old Trafford for over a month now but in a rather surprising commercial cock-up for a club as financially driven as Manchester United, they haven't been able to sell his official replica shirt at the stadium's Megastore until now.
Just think of all those shirt sales that have been scuppered.
The Dane was one of United's biggest signings of the summer, with the club having been in need of a player who can more regularly fill the role of a traditional number nine. Although that number still remains with injury-prone Antony Martial and the new boy has been given the recently vacated 11 shirt, it turns out it was the letters that were actually the problem.
Although his shirt number was only just announced on 3 September, even after the fact, fans still weren't quite able to purchase the kit for another reason. You'd think they would have thought ahead — it's not as if they didn't know he was coming…
As per a report by MailSport, the only reason Man United couldn't sell Rasmus Højlund replica shirts from the Megastore was that they literally didn't have the right letters: specifically, the 'ø' characters often found Danish and Norwegian names as well as Faroese and Southern Sámi words.
While other retailers around the country presumably had no problem selling shirts with his Premier League printing since there are several Scandinavian players with the same letter in their name — Martin Ødegaard and Pierre-Emile Højbjerg being two current ones that come to mind — it appears one of the biggest clubs in the world forgot to order them in-house.
We're sure a few people who were desperate just settled for a regular 'o' as well. Victor Lindelöf hasn't had an umlaut (ö) on his shirt in more than half a decade at the club now.
The 20-year-old striker's signing was reportedly agreed on 31 July, so it's not like they didn't have enough time to make sure the club shop was stocked up with the right letters and fonts.
Read more:
Unsurprisingly, many have mocked the club for what some fans have labelled an "embarrassing" and "amateur" gaffe, with one person slamming Old Trafford's in-house United Store for their "incompetence" after they were unable to purchase the kit for a relative's birthday present.
Responding to the outlet, the Man United have now assured that the øs have now been delivered so supporters can finally purchase an official Højlund shirt at the Megastore from this week onwards.
The new centre-forward made his debut in the late 3-1 loss to Arsenal last month. Despite failing to get on the scoresheet, plenty of fans are already getting excited by the youngster's attitude after a clip of him whipping up the crowd after Denmark's 1-0 win in a Euros qualifier went viral:
For all the latest news, events and goings on in Greater Manchester, subscribe to The Manc newsletter HERE.
Featured Image — Rasmus Højlund/Manchester United (via Instagram)