Sport
The Man City parade 2023 in images: a treble celebration in a thunderstorm
It might have been scored by thunder, lit by lightning and soaked in rain, but there was a Blue Moon hanging over Manchester on Monday night.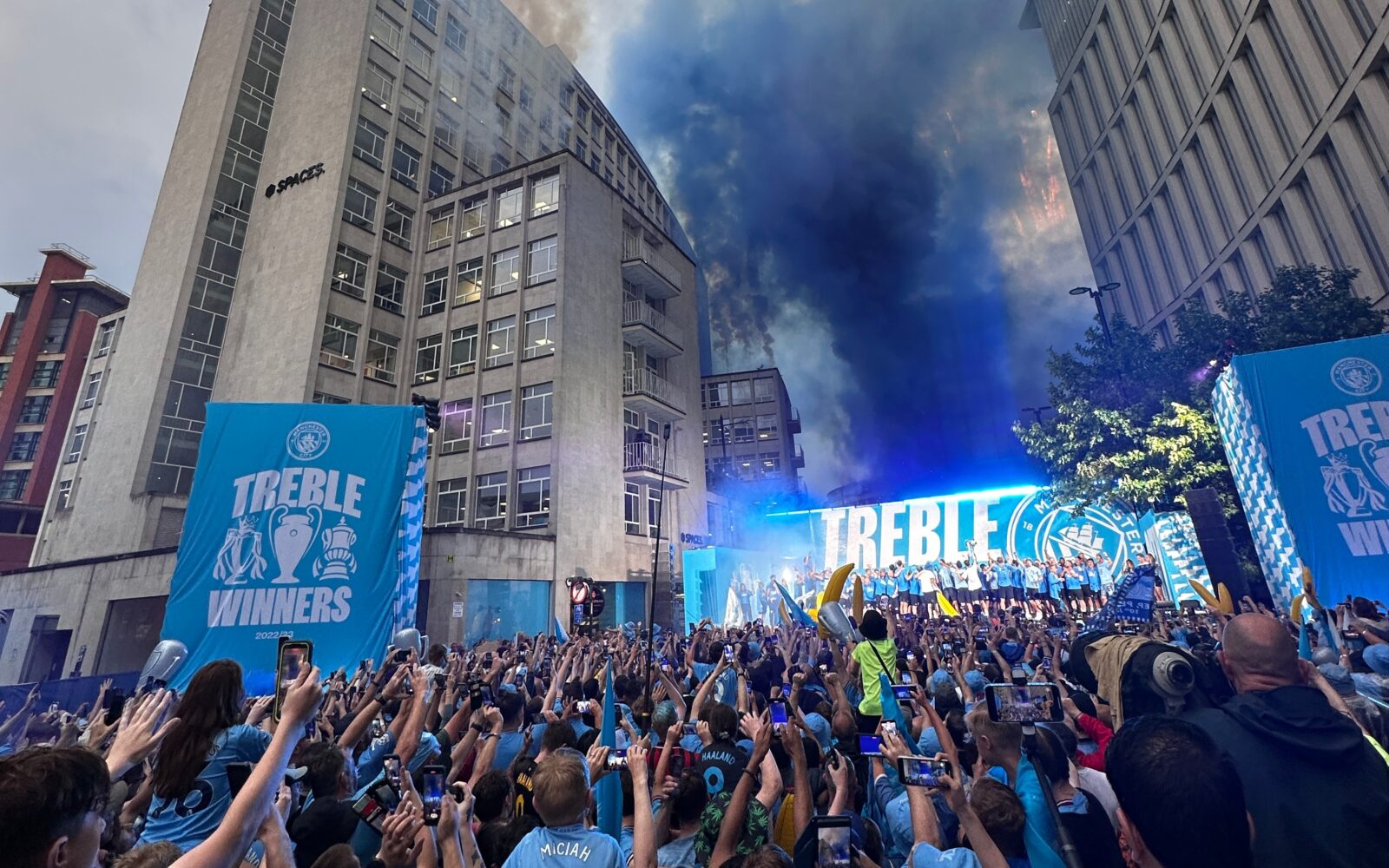 Man City's treble parade was always going to be an unforgettable one, but our wonderful city also chose to welcome back the boys in blue in the only way it knows how: with a heavy downpour of rain as thunderstorms spread across the region.
Nevertheless, the thunder, lightning and torrential showers didn't bother the City fans one bit, as thousands lined the streets of Manchester from Deansgate all the way to St Peter's Square and while plenty had the good sense to bring anoraks, ponchos and umbrellas, others just had their kits on.
Some didn't have a shirt on whatsoever — after all, it was a title parade in British summertime.
Even though the parade start itself had to be pushed back to around 7pm, with police, stewards and police horses escorting the open-top bus back underneath a bridge to keep out of the storm, the Cityzens weren't going anywhere. Once it got going, it was like no one even noticed the weather.
If anything, the weather only seemed to get heavier again once the open-top bus began rolling but, as you can clearly see, there wasn't a single soul who was letting the weather put them off.
Seeing everything from mums with little kids in prams and old boys who've been going to the game for decades, to people with their faces painted in full City colours and others wearing Haaland wigs, the fans were in strong spirit throughout.
As the treble parade bus drove further along Deansgate and towards the centre of town, the rows of City fans lining the streets let off flares and waved their sky blue flags as they chanted and sang along with the team — pretty sure there were at least 50 choruses of 'Johnny, Johnny Stones…'
Here's how it looked from a rooftop not far from Spinningfields:
As for those who gathered near the stage, people had been sprinting through the rain like they were in the middle of a counter-attack to get a spot as close to the front as they could.
Situated just before St Peters Square at the intersection around Oxford Road, Portland Street and Peter Street, a big blue stage fit for a bald king, his council and their three shiny new crown jewels sat waiting for them to arrive.
First dubbed 'Centurions' and now Treble Winners, Pep Guardiola and this Man City squad have become heroes amongst the blue half of Manchester, so it's no wonder supporters did whatever they could to get a glimpse of them in all their glory.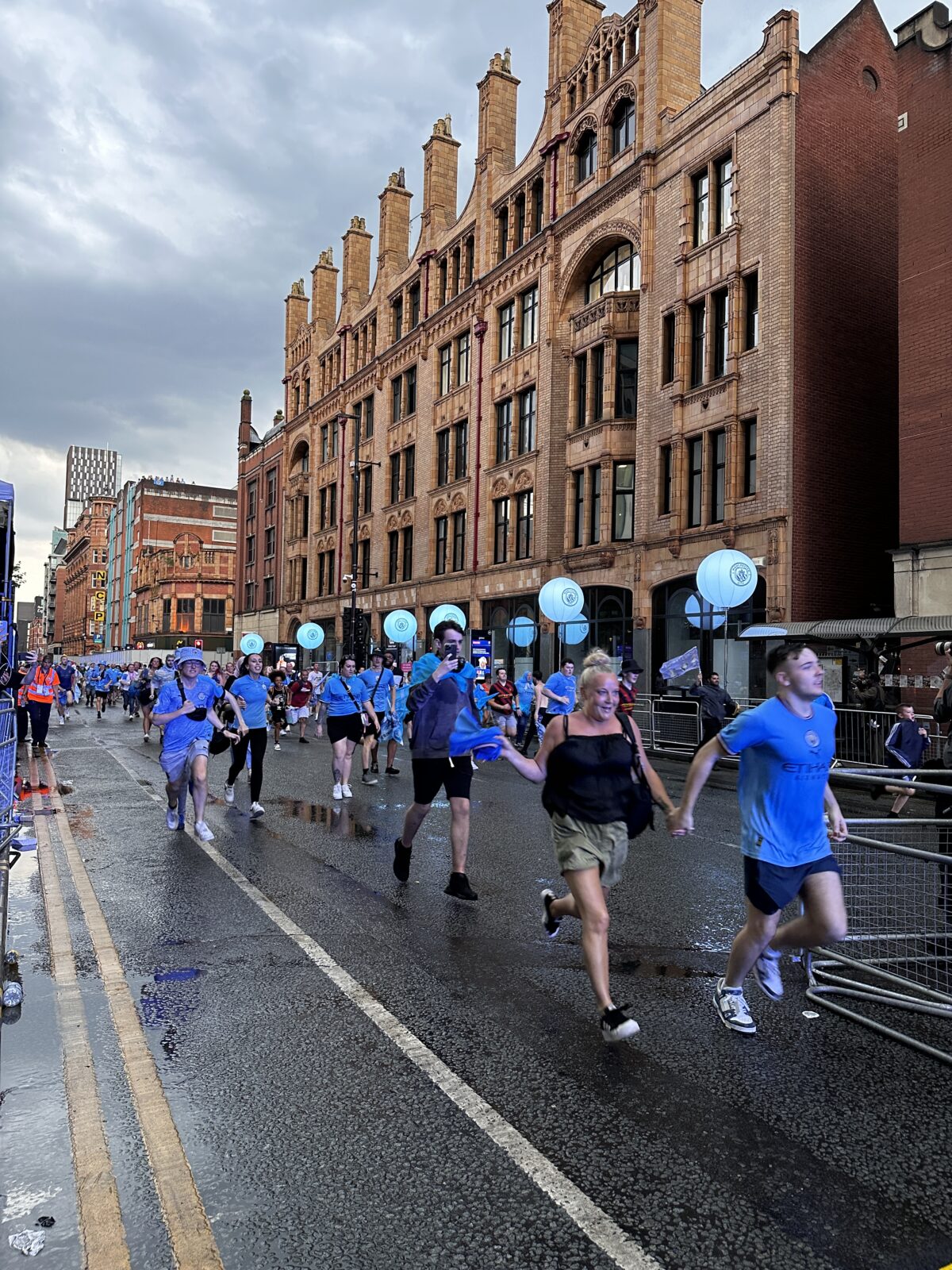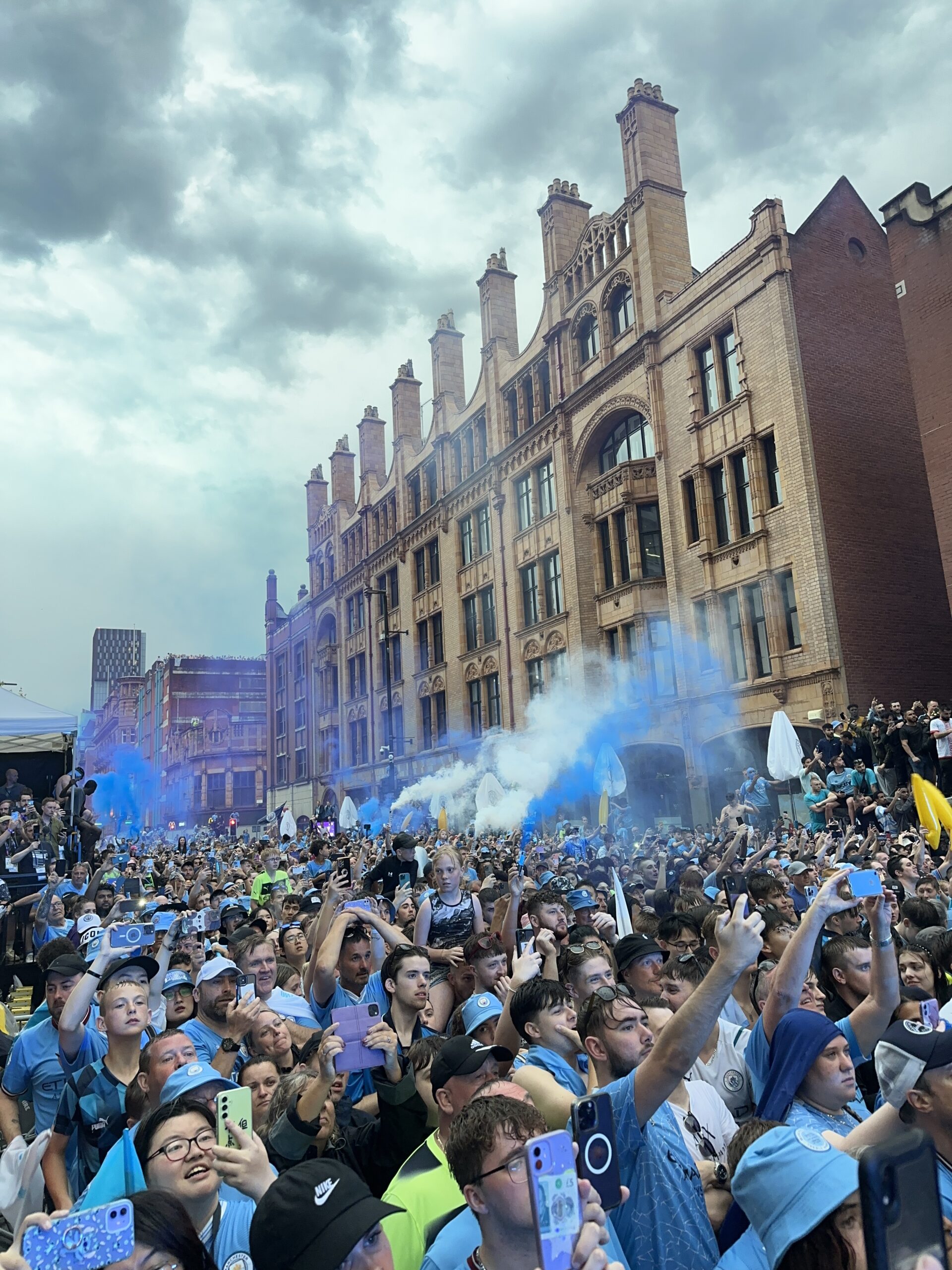 Then came the moment they'd all been waiting for:
Read more:
As for the aftermath, there was always going to be rubbish, confetti and the rest of it after a big city centre celebration, but we didn't expect to see a bus stop completely destroyed. Regardless, we're glad to see that the majority has been cleaned up this morning.
To be honest, whatever 'carnage' was left behind following the parade will no doubt pale in comparison to whatever Jack Grealish got up to last night, let alone the rest of the City squad.
We'll leave you with a few lasting images. Congrats again, Blues.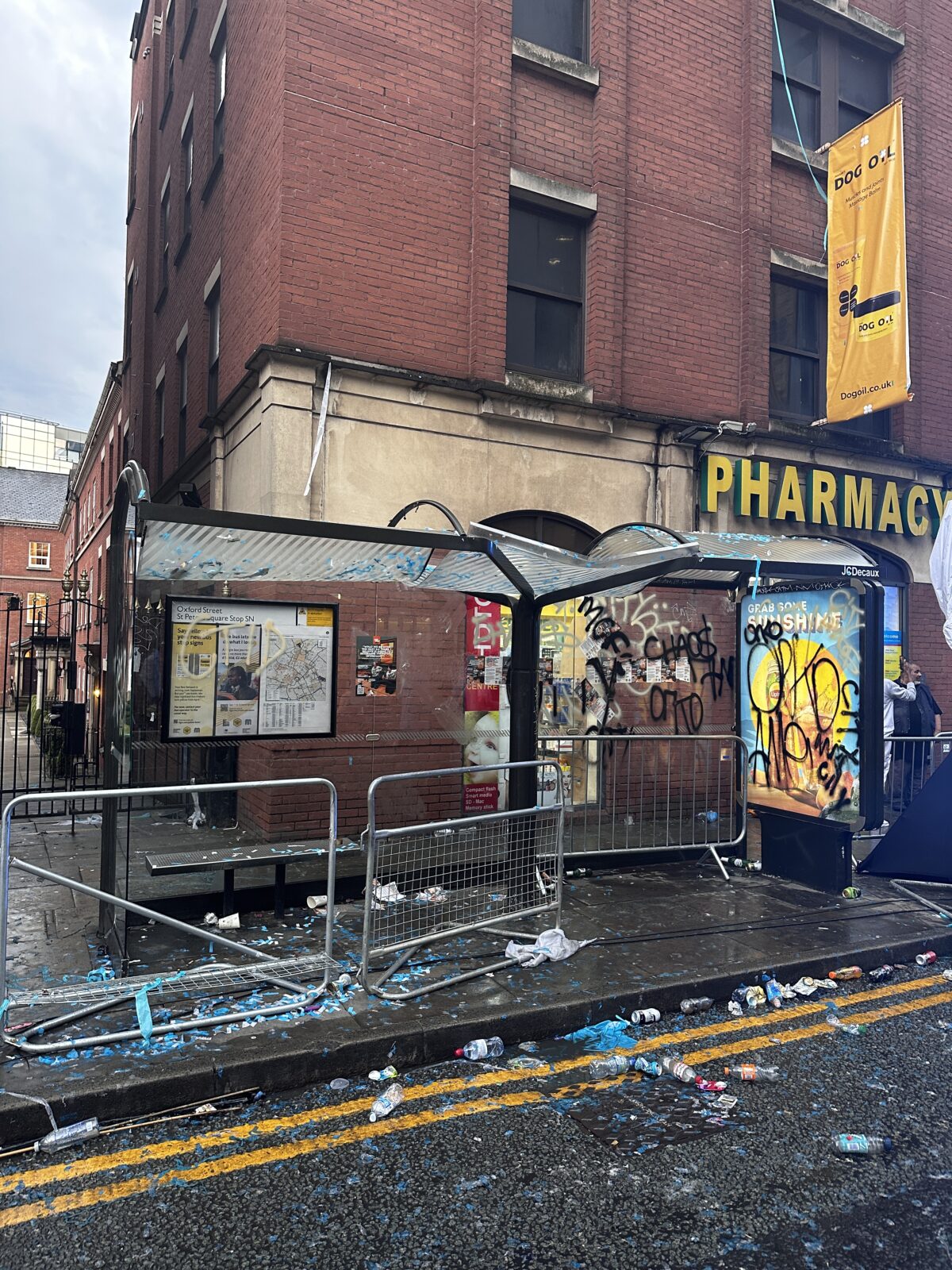 For all the latest news, events and goings on in Greater Manchester, subscribe to The Manc newsletter HERE.
Featured Image — The Manc Group