Sport
Jack Grealish spotted partying 'still in full kit' past 6am after Champions League win
He even gave the crowd a rendition of United's famous 'Have you ever won the treble?' chant.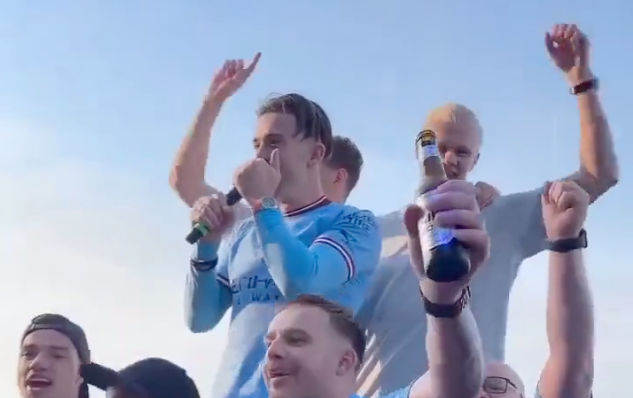 Jack Grealish went viral for his joyous celebrations following Manchester City's Premier League win last season, so you can only imagine the kind of shenanigans he's going to get up to after doing the treble — partying in his full kit beyond 6am, for instance.
That's right, the 27-year-old two-time Premier League champion, FA Cup winner and now champions of Europe wasted no time in getting the post-match party going after Man City's victory over Inter in the Champions League final and it doesn't look like he's stopped at all, to be honest.
In a video said to have been captured by a fan during the celebrations at gone 6am, during which the City players and staff were singing, dancing and even doing their own rendition of their rival's famous 'Have you ever won the treble?' chant, Grealish was clearly living his best life.
In fact, stumbling down off the podium, he literally snatched the microphone from someone else to lead the chant himself.
Read more:
Having spent just a couple of seasons at the club and winning virtually every major honour you could hope to achieve in less than two years, you'd be surprised to see him do anything but party his socks off. Dream come true kind of stuff.
There have been multiple videos of him leading the festivities, including leaving the Atatürk Olympic Stadium in Istanbul in full song whilst assuring the media that he and his teammates will be going "on the piss again" to the tune of 'Everywhere' by Fleetwood Mac.
Even when did take a minute to have a sit-down, the tunes never stopped, as people have been cracking up at his friend struggling to stay awake after hours of partying. You can expect more of the same at the trophy parade happening later today, that's for sure — we can smell the memes already.
For all the information on the parade and what to expect, we've got you covered:
For all the latest news, events and goings on in Greater Manchester, subscribe to The Manc newsletter HERE.
Featured Image — @generalstonsey (via Twitter)