Sport
People are tracing the viral England fan back through time and his face is timeless
He might not be a time traveller but he's definitely put the yards in at major tournaments.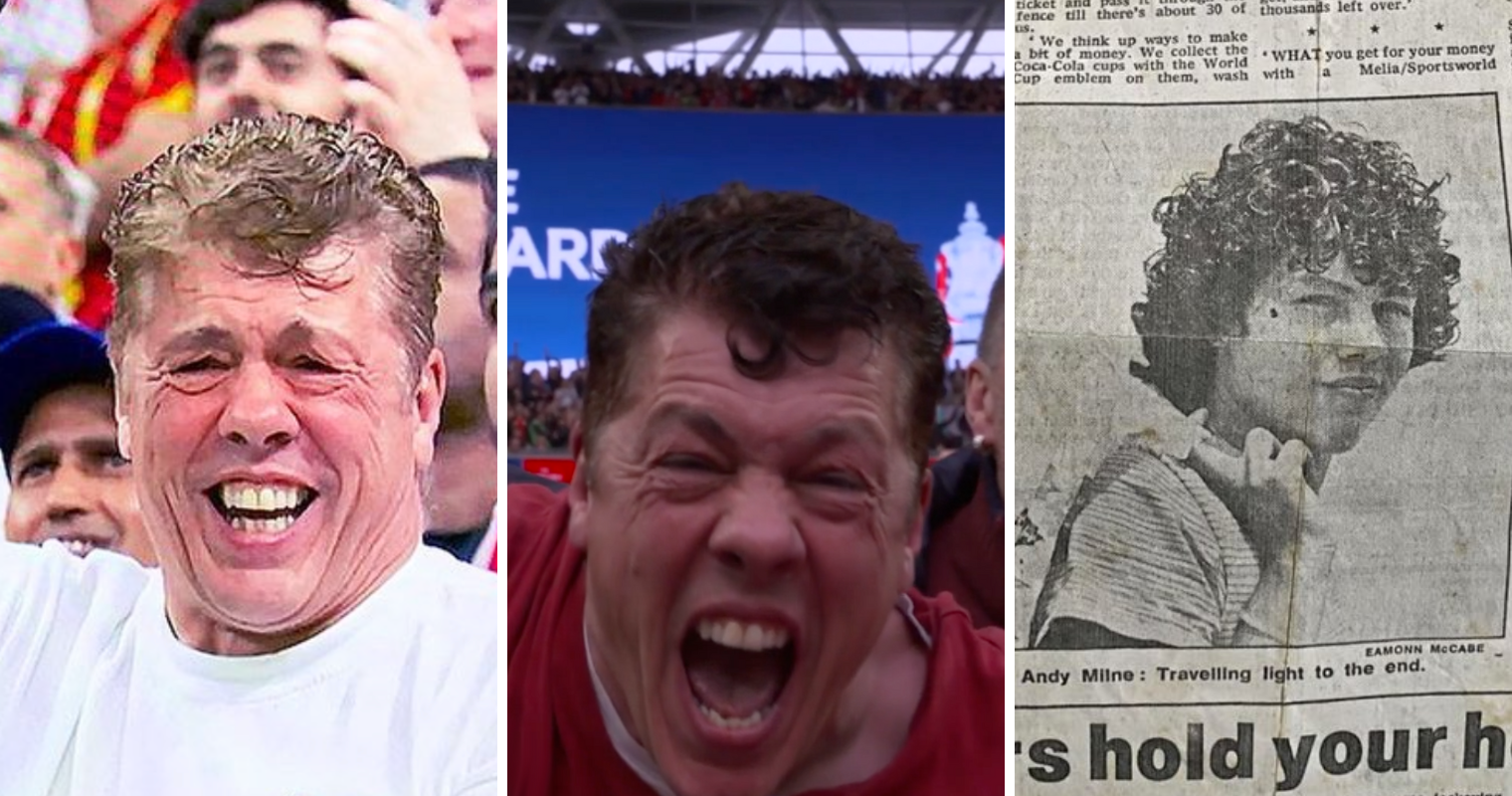 England's World Cup journey might have come to a heartbreaking but familiar end earlier, but we still have plenty of memories to take away from this year's tournament. That viral England fan being one.
You'd have to have been living under a rock to not have seen this particular fan at Qatar 2022, he might just have one of the most interesting faces we've ever seen.
We want to start off by assuring that we mean this with the best will in the world, but it's clear that his unique look tickled football fans back home and around the world. He's been described as everything from the "budget Steve McClaren" to "the most British-looking man ever", just to name a few.
Some people have argued that his features are so unique that he doesn't even look real. However, thanks to a few eagle-eyed web sleuths, we know he is more than just real: he's absolutely everywhere and social media has been spotting him at various football games through the years.
Yes, 'that World Cup guy' — real name Andy Milne — is not only a serial traveller to international tournaments and has been for decades, but he also happens to be a Manchester United fan from Cheshire.
As you pictured above, Milne was spotted celebrating in the crowd for United's 2016/17 FA Cup win against Crystal Palace. We'd recognise that distinct and deeply-wrinkled expression from a mile off.
Better still, as detailed in this utterly wild thread, it turns out that the 59-year-old retired teacher has visited every World Cup since he was 19 and once England are inevitably knocked out, he simply goes and joins in with whichever team is still in it and looks like they're having the most fun.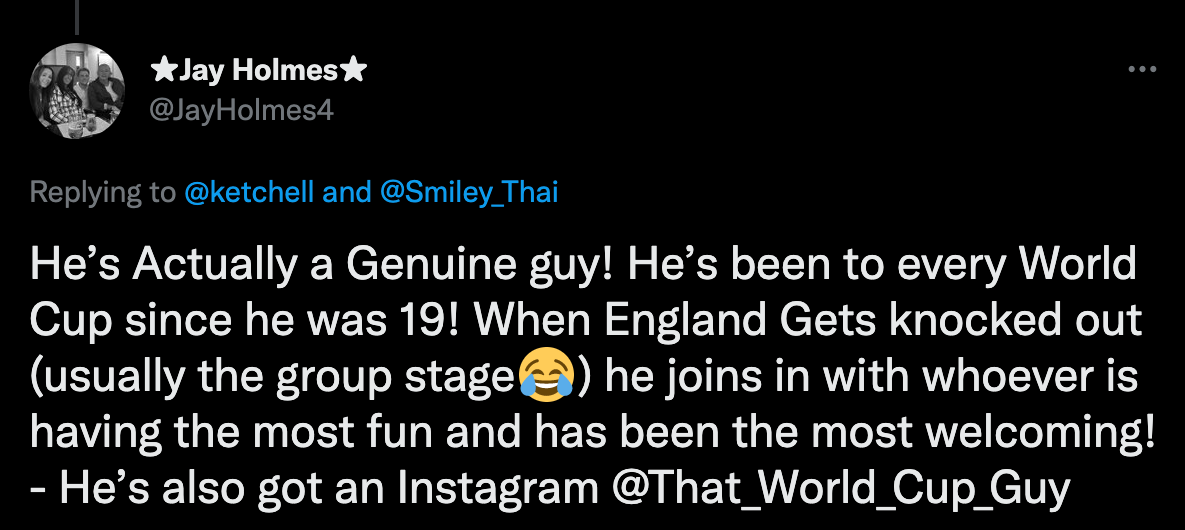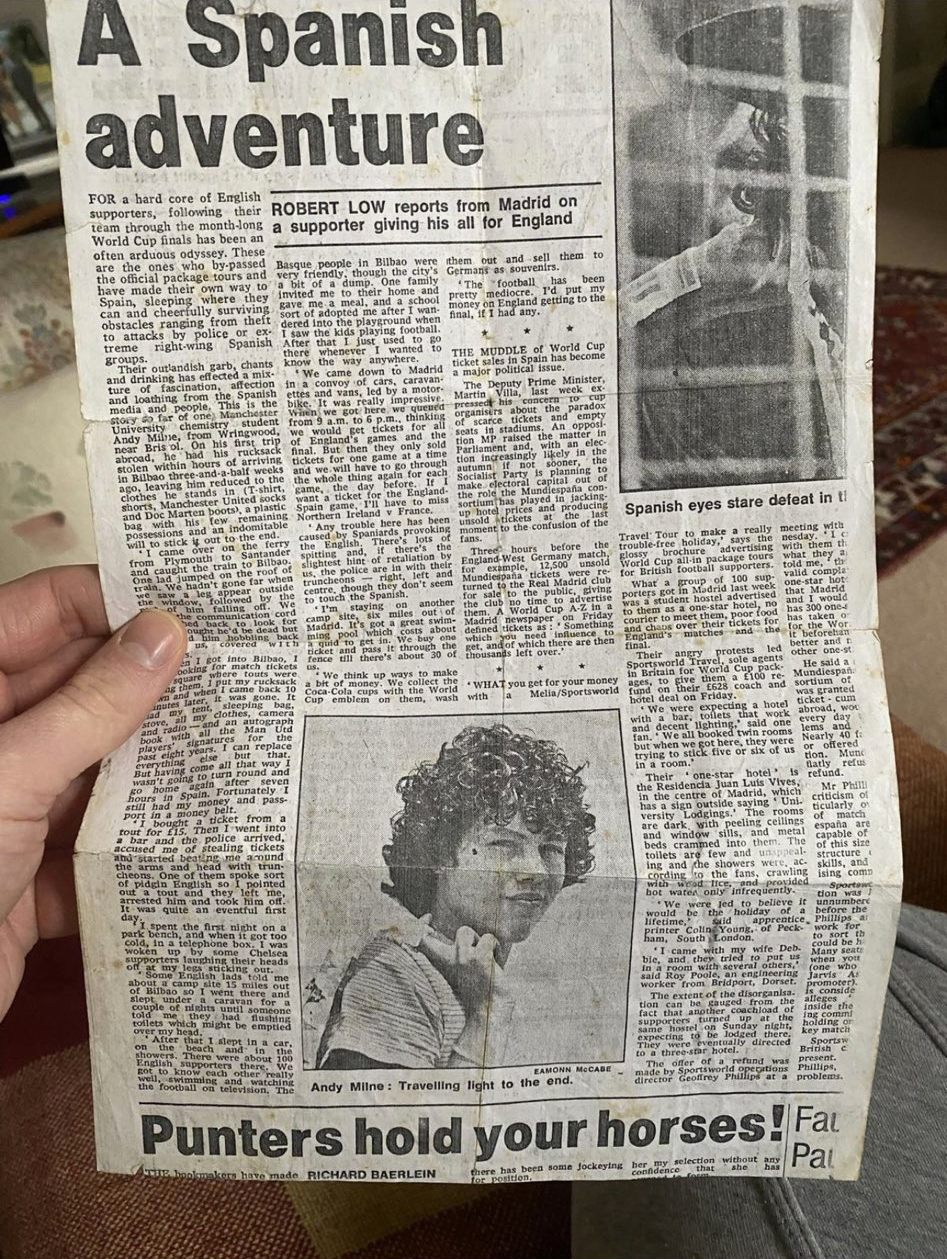 Read more:
Despite revealing in a recent interview that he never really did social media, it would seem the frenzy online was simply too much to ignore and it looks like he has since gone on to set up his own Instagram account.
While he confessed that there were, sadly, some haters when he first started getting noticed, the majority of his interactions have been from people who are simply bowled over to have bumped into the viral England fan himself in person.
Speaking to FootballJOE, he said that "there are always going to be haters" but that it's been a funny and interesting experience becoming a minor celeb. Better still, he's also been doing his bit for charity. What a guy.
Since that first picture went viral, countless fans have been stopping him to ask for a picture, including the one and only Laura Woods. She looks even happier than he does, and that's saying something when we're talking about a grin of that magnitude.
Go on, Andy. Living his best life, one tournament at a time.
We can't wait to see you doing the round again at Euro 2024!
For all the latest news, events and goings on in Greater Manchester, subscribe to The Manc newsletter HERE.
Featured Image — @that_world_cup_guy (via IG)/@ManUtd (via Twitter) @JayHolmes4 (via Twitter)