Sport
Where to watch the 2023 Rugby World Cup in Manchester
There's a fair few taking place during work hours but it's a long old tournament are we determined to find the best spot to watch.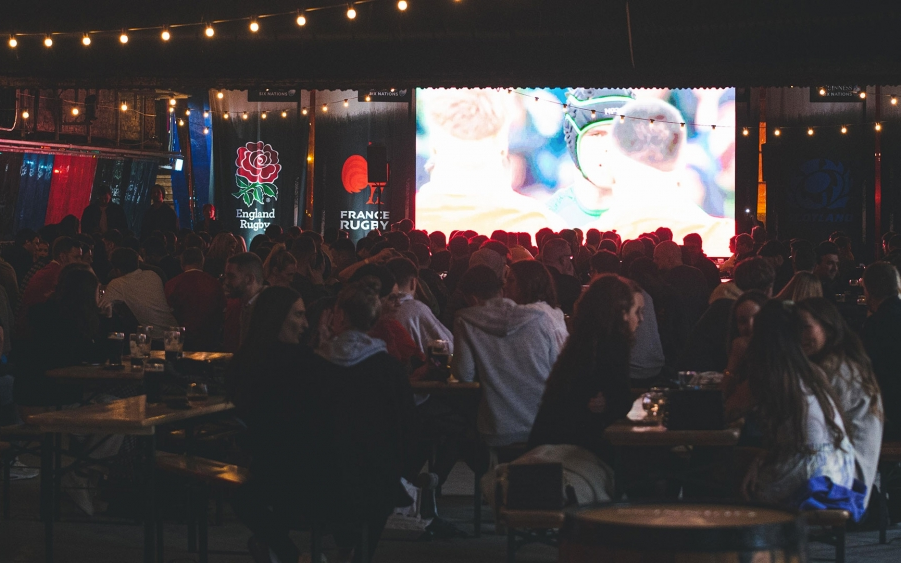 The 2023 Rugby World Cup finally kicked off over the weekend and we're once again delivering a public service by telling you where to watch it right here in Manchester.
England started the group stages off in style by beating Argentina 27-10 and two out of the three other home nations all won their first fixtures — Scotland couldn't muster a strong enough showing against South Africa — in what turned out to be a thrilling opening round.
Although it's always frustrating to see some of the international games taking place during work hours (we know you'll be sneakily watching them anyway, don't worry, we won't tell), the tournament is running right up until 28 October, with plenty matches in the evening and on the weekends.
With that in mind, you should have plenty of opportunity to watch this year's Rugby World Cup and here are some of the best places to do it.
10 best places to watch the Rugby World Cup in Manchester
In no particular order, here are just a handful of the places showing the 2023 Rugby World Cup in and around Manchester.
1. Brickhouse Social – Oxford Road Corridor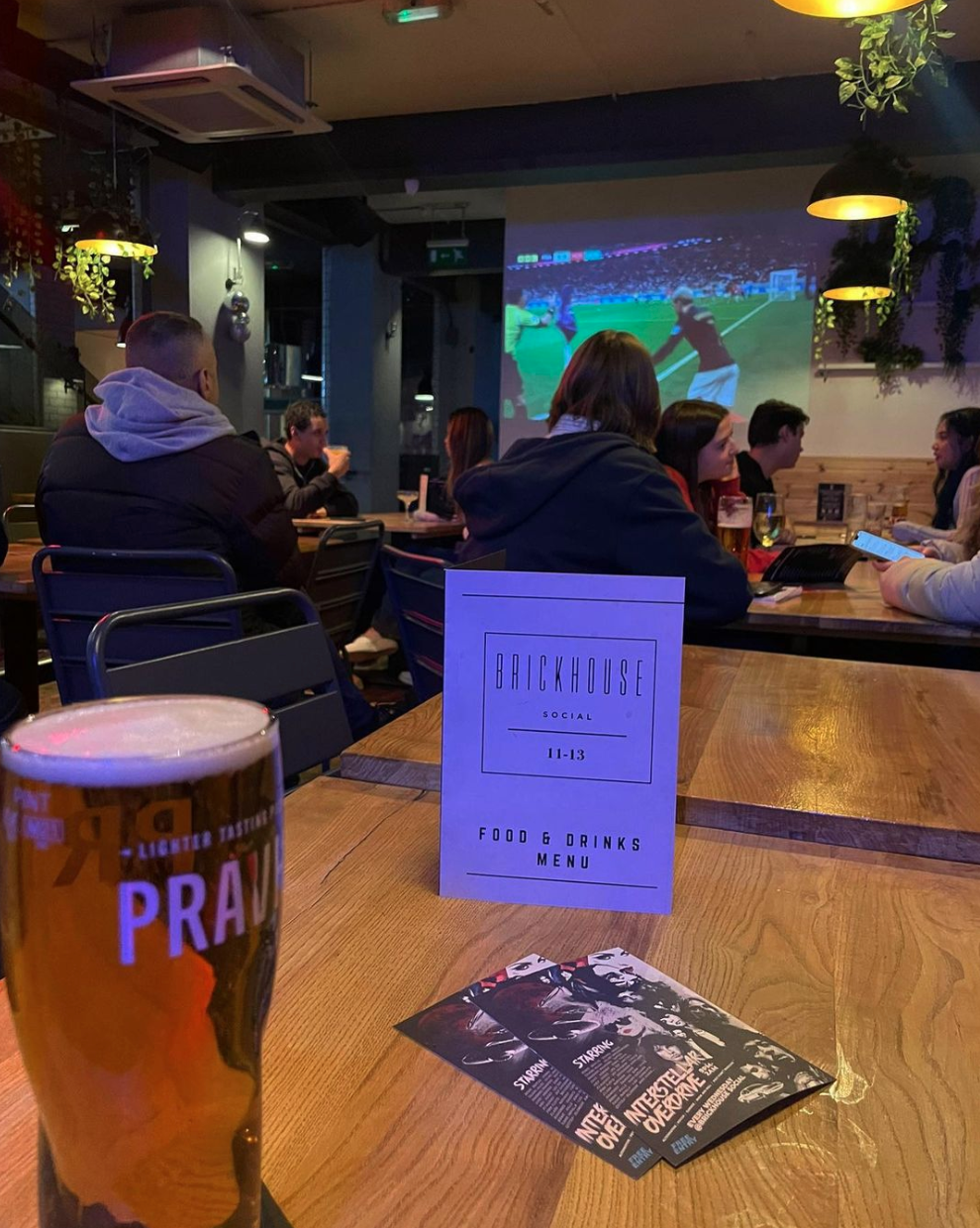 First off, we're starting with what is fast becoming one of our favourite places to watch live sport in Manchester city centre: Brickhouse Social over on New Wakefield Street. That specially designed sound system certainly adds to the atmosphere on a matchday.
Showing every single game across their three-floor venue, we're talking uninterrupted coverage across seven mega screens alongside music, loads of free pool, as well as tonnes of late-night pizza slices and drinks. Sold. You can get booked in HERE.
2. Escape to Freight Island – Mayfield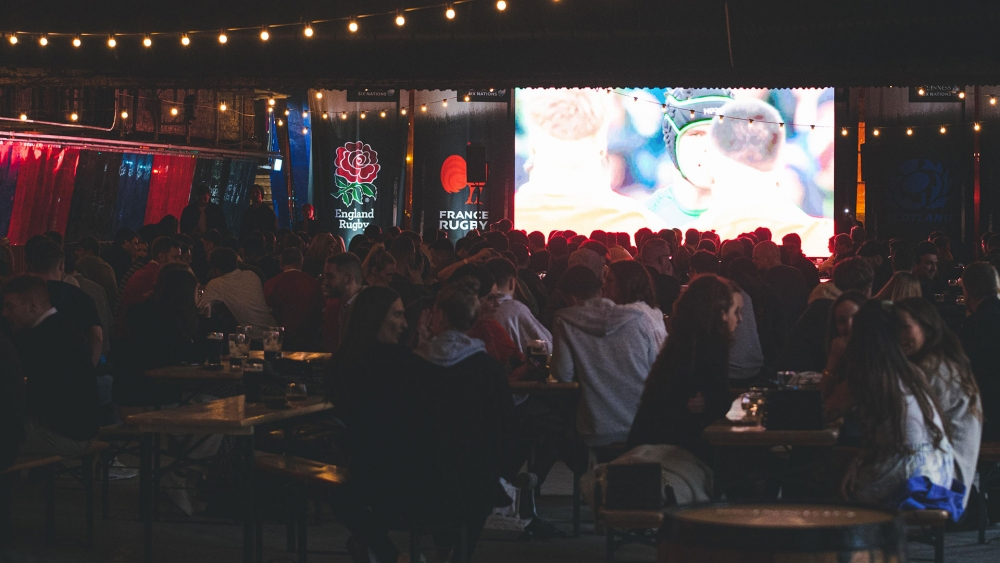 Next up is Escape to Freight Island, who are showing all the games scheduled on Fridays and Sundays on the huge HD screen in the sports bar section of the massive warehouse space. Tables are available to book right HERE.
With the mezzanine now kitted out with over 200 retro arcade games, pool tables and access to all 15 food vendors within this massive trading hall — we're talking Burgerism, Lazy Tony's, Voodoo Rays, Oh My Cheesecake and more — you won't need to go anywhere else once you've settled in here.
3. The Directors' Box – Central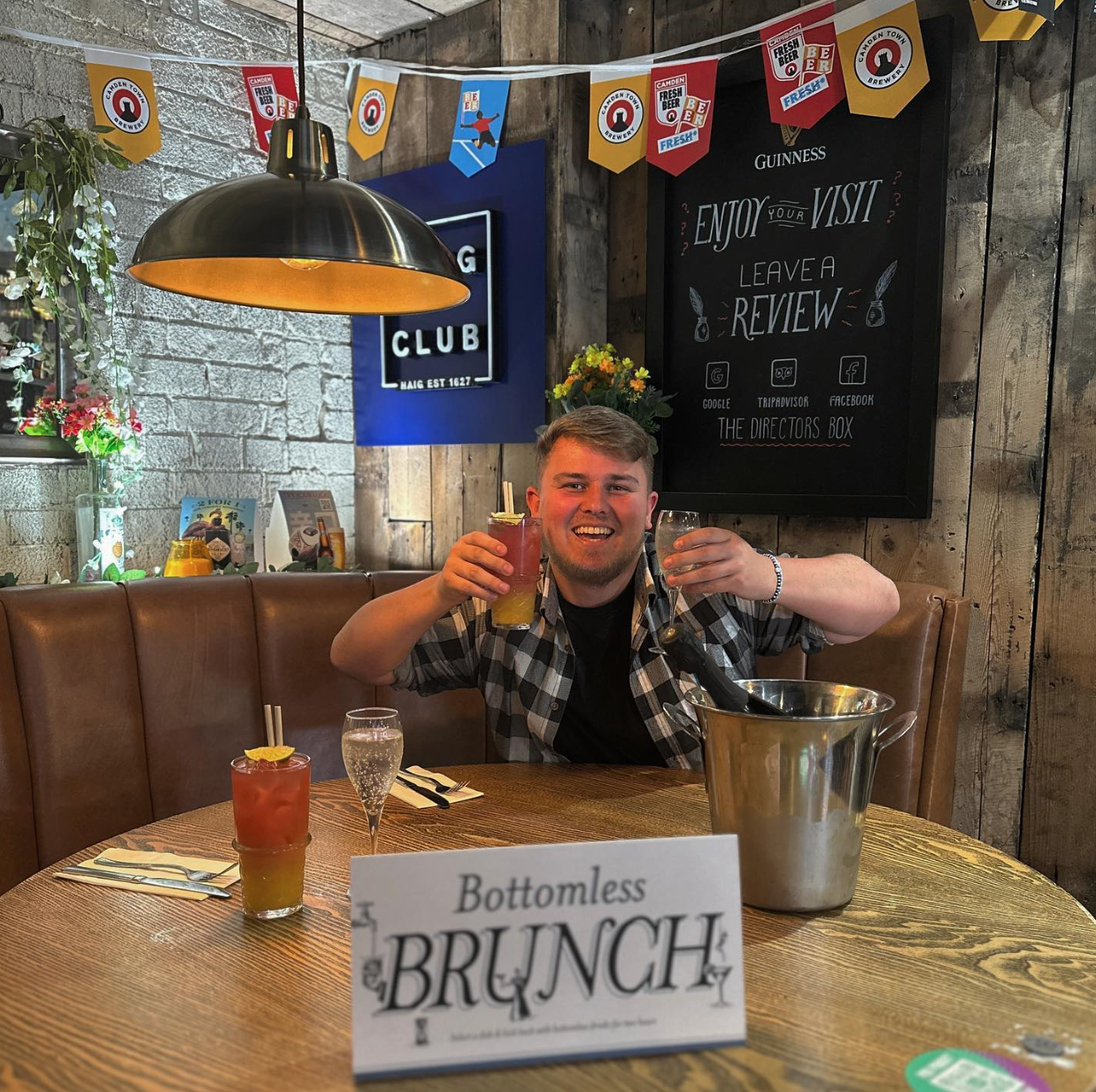 Third on our list is an old faithful that simply can't be ignored when it comes to the 'where to watch' guides, and it's The Director's Box just off St Peter's Square in the middle of the city centre, who will be showing as many as Rugby World Cup games as they can this year.
With an ever-solid food menu, plenty of beer and other booze to get stuck into, not to mention a pool table and screens all offer the gaff, you can never go wrong with this place. They've even got bottomless brunch on the go throughout the competition. Book online or over the phone on 0161 870 6283.
4. Pie and Ale – Northern Quarter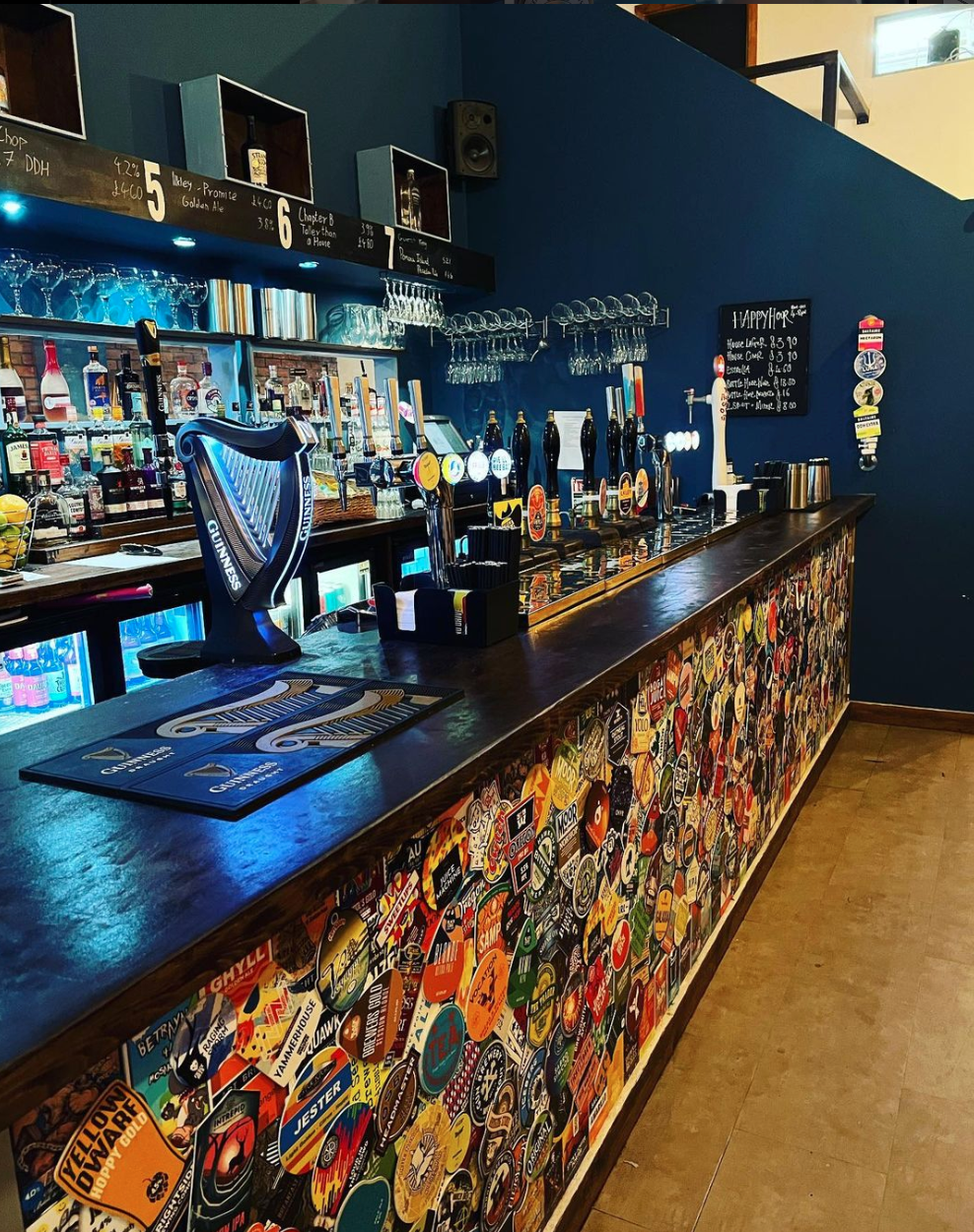 Probably one of the most underrated places to watch sport in Manchester, Pie and Ale always achieves the perfect blend of a sound but not too rowdy atmosphere, good service, plenty of booze and some of the best selections of homemade pies in the area.
They show everything from the footy, cricket and F1 to, yep, the rugby in here and, well, who doesn't love a proper pie on matchday? You can call up to reserve your table on 0161 236 8334 or try your luck with a walk-in — it never gets crazy busy with fans in here (that's why we love it), so you should be fine.
5. Bierkeller/Shooters Bar – Printworks
You know the drill with this place; Bierkeller and the attached Shooters Sports Bar inside the Printworks will always be a solid option when it comes to finding somewhere to watch the game and it's no different for this particular tournament.
Big steins of beer, giant pretzels, live music and Bavarian oompah bands in Bierkeller; pool tables, arcade machines and massive tellies in Shooters. You can't go wrong. Get you and your party booked in now to make sure you secure the best seats.
6. Walkabout – Printworks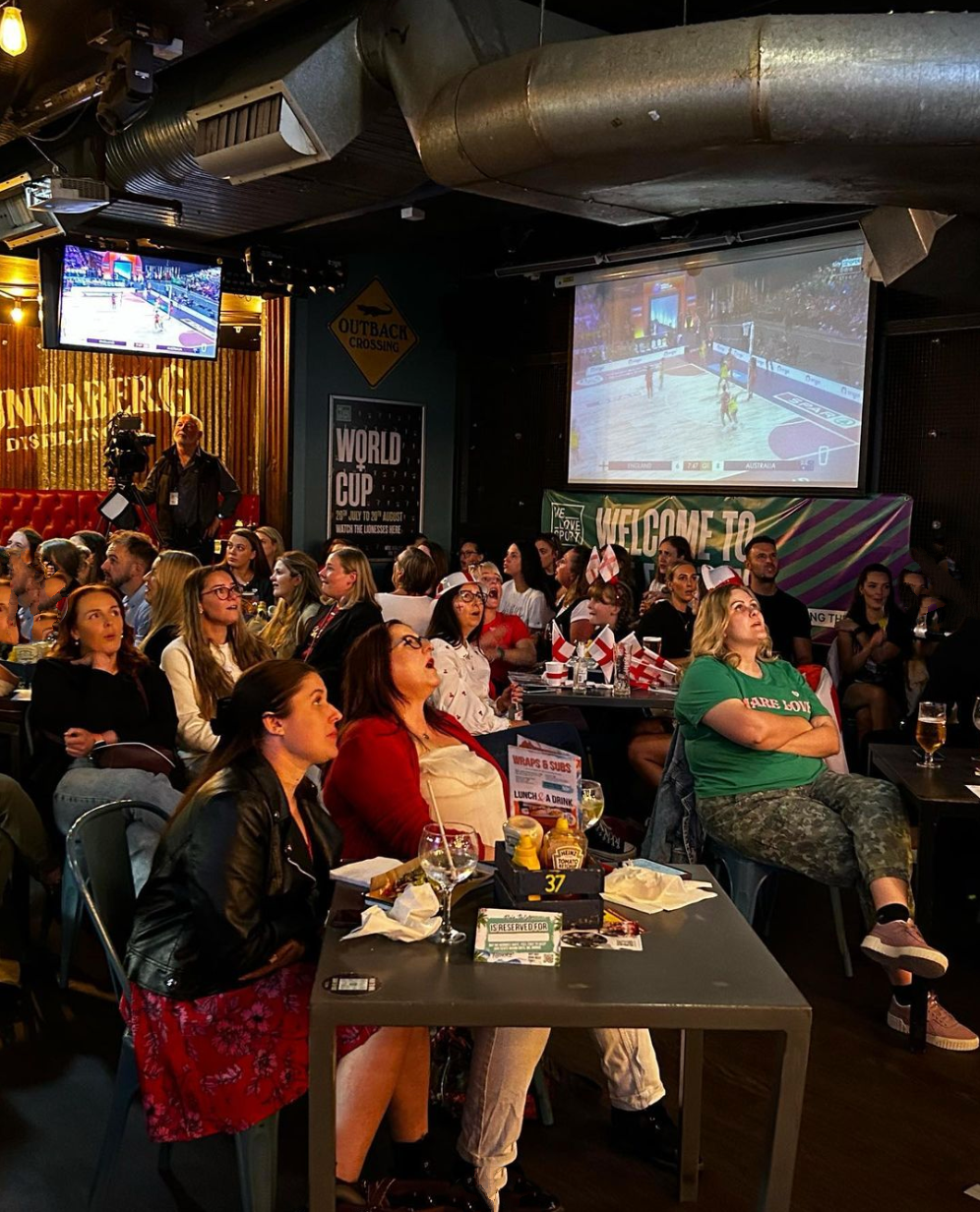 We might as well wander round the corner to another Printworks institution and chuck Walkabout on here while we're at it — we've watched many a match in here, be it football, cricket, rugby or otherwise, and it does exactly what it says on the tin. Always a good place for a boogie afterwards too.
The perfect place to go if you're an Aussie or any international fan, for that matter, this place is all about celebrating the world of sport. Walk-ins are welcome, booking is nice and easy and you can even score yourself a free pint by simply signing up for the newsletter.
7. BOX – Deansgate
BOX on Deansgate is probably the biggest and busiest sports bar in Manchester at the moment and with TVs on virtually every wall — including a giant NBA-style jumbotron screen — massive pitchers of beer and porn star martinis, shuffleboard and seriously top scran, it's no wonder.
You'll be able to watch every try from this Manc weekend hotspot situated across the road from Spinningfields and just down from Lincoln Square. With live music and even more room upstairs, you should be able to squeeze in even when it gets busy. We'd still recommend booking though.
8. Brotherhood – Central
Like many other locations we've mentioned already, no list of Manchester sports bars is complete without the ever-reliable Brotherhood of Pastimes and Pursuits. Beer, darts, pool, table tennis, big screens and big portions. Say no more.
Better still, with it being such a popular post-work spot already, we imagine this place will see plenty of faces piling in during the mid-day matches and bringing plenty of atmosphere both upstairs and down. Reserve your table now for England's next game against Japan on Sunday.
9. Tib Street Tavern – NQ
The penultimate stop on our list of the best places showing the world's biggest and most exciting rugby union competition is another NQ classic and a favourite of sports fans in Manchester, the one and only Tib St Tavern — i.e. one of the best and most beloved sports bars going.
Always packed to the rafters, we don't need to wax lyrical about how good this place is; you'll be able to tell that for yourselves when you're trying to book and realise every Tom, Dick and Harry is trying to get in here as well. Book as early as you can on 0161 834 1600. You won't be disappointed.
10. The Wishing Well – Didsbury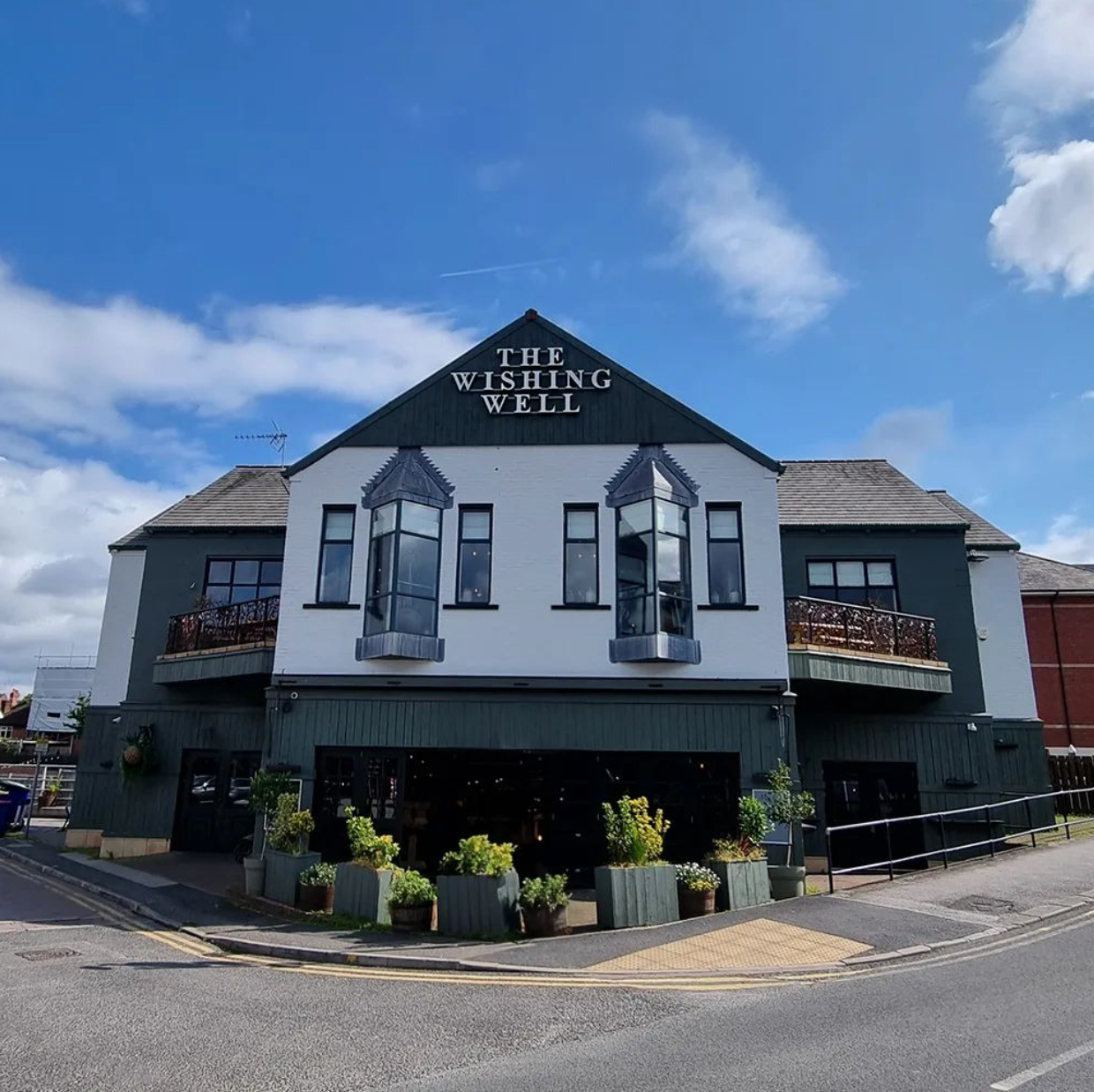 And, finally, we're heading out of the city centre to one of Didsbury's newest and already popular additions, The Wishing Well. Popping up in the old Botanist site you might remember from 'Dids Dozen' routes gone by, this modern country-style pub has lots of big TV screens to make sure locals don't miss a second of the action.
Serving a freshly prepared menu alongside a fully stocked bar including a selection of cocktails, wine and plenty of beers, of course, this is the place to take a break from the bustle of town whilst enjoying the Rugby World Cup in the heart of the Didsbury Village. Sorted.
Read more:
So, if you were still trying to figure out where to watch the 2023 Rugby World Cup in Manchester, that should do you for now.
You can see the full list of fixtures and kick-off times HERE and it goes without saying there are plenty more great places to catch the games all around Greater Manchester.
The summer might seem like it's nearly over but, thankfully, sport has other ideas.
For all the latest news, events and goings on in Greater Manchester, subscribe to The Manc newsletter HERE.
Featured Image — Walkabout/England Rugby/Escape to Freight Island (via Instagram)