Sport
Man United youngster's tackle punctures lung of Wrexham's star striker Paul Mullin in pre-season friendly
Safe to say he made quite the impact.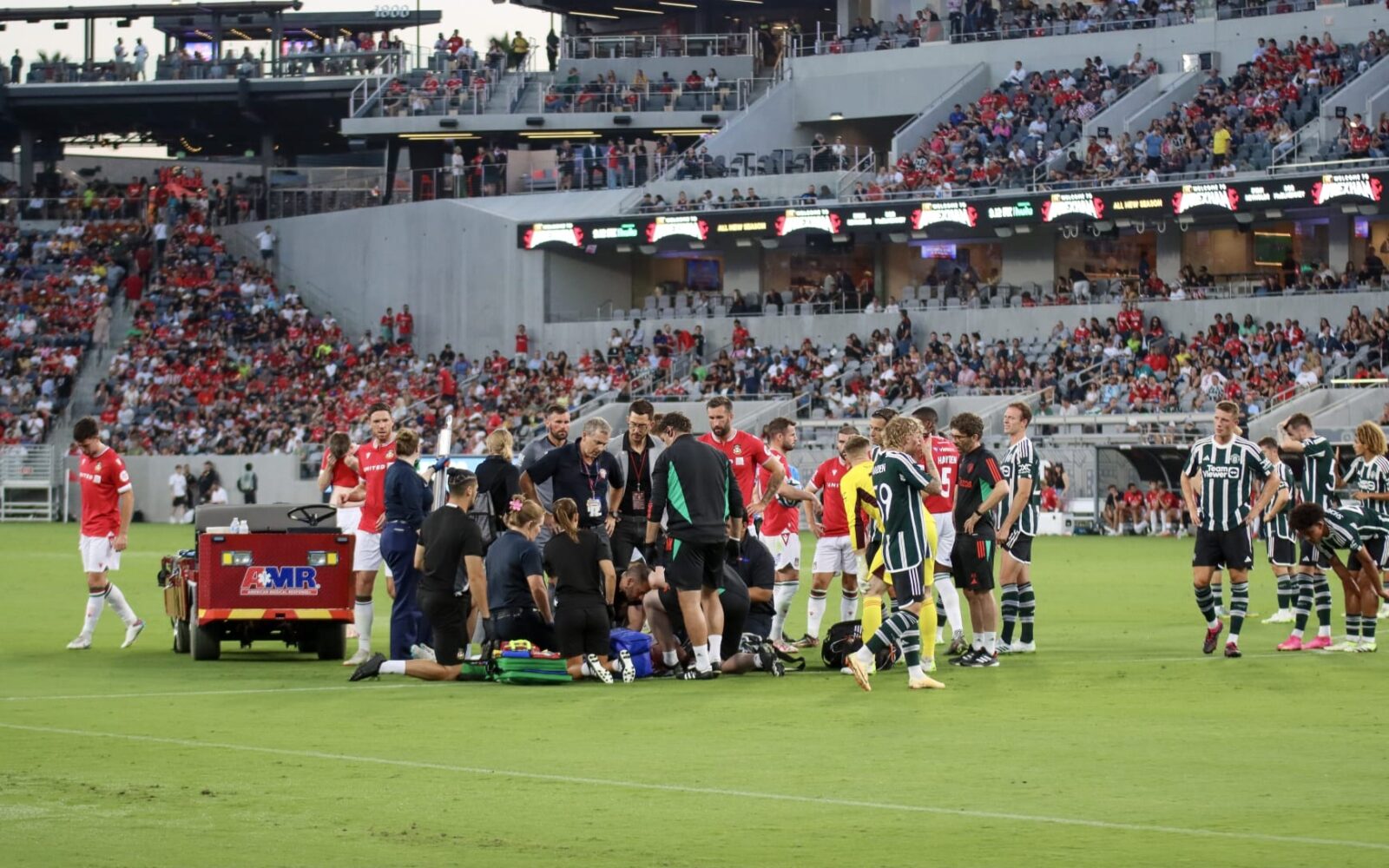 Wrexham AFC's star striker, Paul Mullin, has been left hospitalised with a punctured lung after a reckless tackle by Manchester United youngster Nathan Bishop on Wednesday.
The Liverpool-born goalscorer and team talisman, who played a huge role in helping lift the Welsh side out of the National League and back into the English Football League for the first time in 15 years, was left winded and reeling on the pitch following a collision with the Man United youth keeper.
Wrexham's were playing a pre-season friendly against a team of United's academy players when 23-year-old Bishop came flying out of his box and smashed into the on-running Mullin.
Left in a heap on the ground, the medical team were immediately called over and the 28-year-old was carried off the pitch and diverted to a nearby hospital.
Clearly just a mistimed challenge and attempt to claim the ball, Bishop was hooked off at half-time and quickly took to social media to apologise to the now-injured League Two striker.
"Just wanted to share my sincerest apologies to @PMullin7 A complete misjudgement and a genuine accident with 0 malicious intent at all!" said the young goalkeeper, "Wishing you the speediest recovery and hope to see you back scoring goals as soon as possible!"
Nevertheless, speaking to reporters after the game, Wrexham manager Phil Parkinson confessed he was "fuming" at the major setback ahead of their first and crucial season back in the EFL, labelling the challenge "clumsy, reckless and dangerous" and insisting he should have seen a straight red.
You can see footage of the collision HERE.
Read more:
Mullin has since shared an update on his health following the tackle and his punctured lung, posting an image from his hospital bed along with the caption, "Thank you for all your messages! All good here!".
Wrexham play their first game of the season against local side Wigan Athletic on 8 August but it remains unclear when their main goal threat will be able to return. Not the best start to the year.
Meanwhile, Erik ten Hag's first team play their next pre-season game against Real Madrid in the early hours on Wednesday as fans look to get a first glimpse of their new goalkeeper Andre Onana in action.
For all the latest news, events and goings on in Greater Manchester, subscribe to The Manc newsletter HERE.
Featured Image — Wrexham FC/MUTV/@anuargrafix/Paul Mullin (via Instagram)