Travel & Tourism
Manchester Half Marathon 2023 – road closures and timings ahead of huge race
Good luck to everyone running!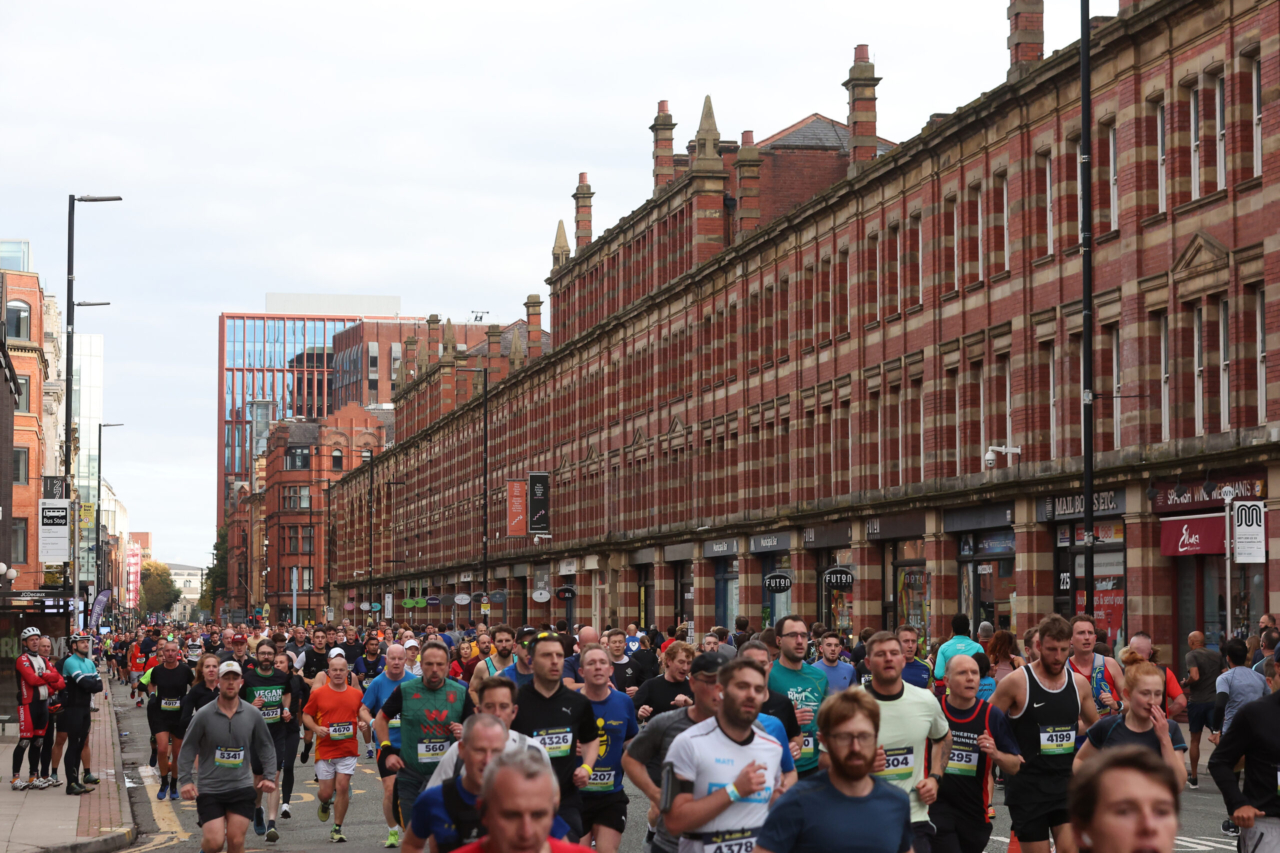 The Manchester Half Marathon will return to the city this weekend, with thousands of runners ready to pound the pavements.
Spanning a length of the region south of the city centre that passes through Chorlton, Sale, Stretford, and Castlefield, the route takes in a lot of local landmarks.
Runners will be treated to on-course entertainment on Sunday 15 October to spur them on to the finish line, from DJs and choirs to a team of Pace Runners.
Science in Sport will be on hand handing out GO Energy gels at specific water stations along the route.
Manchester Half Marathon is loved globally for being the UK's flattest course, making it even easier to hit a PB.
There's an event village with amenities and plenty of goodies handed out as you finish your 13.1 mile run.
The Manchester Half Marathon is a class event for the region – but it also comes with a number of associated road closures, with Manchester City Council now sharing a full list of the roads that will be impacted by the huge race.
Some road closures on the half marathon route itself will start on Saturday, with more in place on Sunday.
The Manchester Half Marathon 2023 road closures mapped
Manchester Half Marathon 2023 estimated start times
Elite Wheelchair – 08:55
Elite – 09:00
White – 09:00
Red – 09:09
Red B – 09:18
Pink A – 09:27
Pink B – 09:36
Blue A – 09:45
Blue B – 09:54
Orange – 10:03
Manchester Half Marathon 2023 road closures in full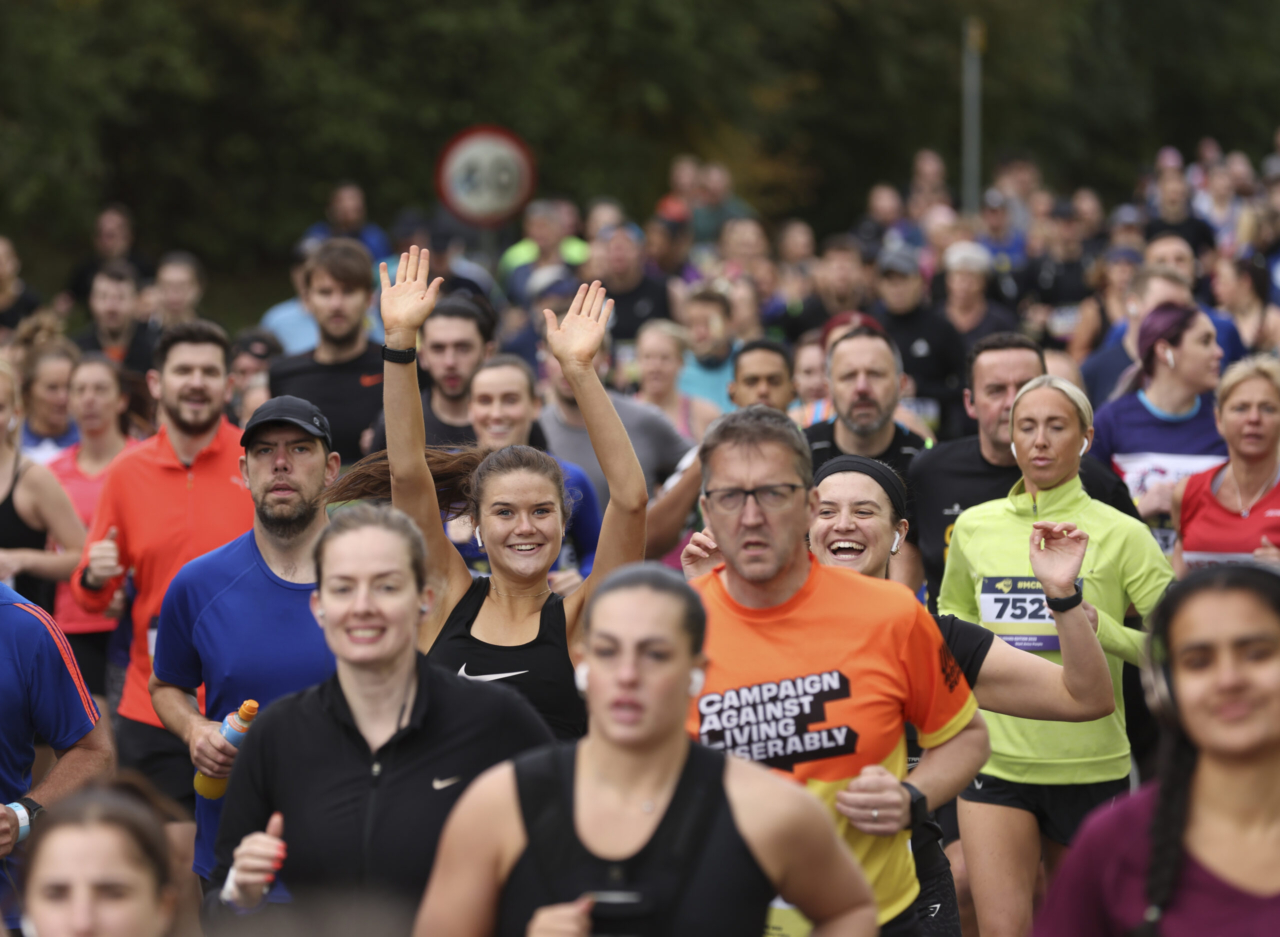 Schedule #1: No vehicles (road closed)
Applies 8am Saturday 14 October until 6pm Sunday 15 October
Brian Statham Way, Stretford along its entire length
A5014 Talbot Road, Stretford from Great Stone Road to White City Way
Warwick Road, Stretford from Barlow Road to A5014 Talbot Road
Schedule #2: No waiting
Applies 6pm Friday 13 October until 6pm Sunday 15 October
Brian Statham Way, Stretford along its entire length
Warwick Road, Stratford along its entire length
Railway Terrace and Buckingham Road, Chorlton from Manchester Road to Clarendon Road West
Schedule #3: No vehicles (road closed)
Applies 3am until 6pm on Sunday 15 October
A56 Bridgewater Way, Stretford from A56 Chester Road to A56 Chester Road
A56 Chester Road, Stretford and Manchester from A56 Bridgewater Way to A56 Bridgewater Viaduct
A56 Bridgewater Viaduct, Manchester from A56 Chester Road to A56 Deansgate.
A56 Deansgate, Manchester from A56 Bridgewater Viaduct to John Dalton Street I Quay Street A56 Chester Road, Stretford from A56 Bridgewater Way to A56 Cross Street
A56 Cross Street from A56 Chester Road to A56 Washway
A56 Washway Road from Marsland Road to A56 Cross Street
A5014 Talbot Road, Stretford from A56 Chester Road to A5104 Stretford Road
A5067 Stretford Road, Stretford from A5104 Talbot Road to Henry Road
A5104 Chester Road, Stretford from Bridgewater Way to A5104 Talbot Road
A5063 White City Way from A5104 Talbot Road to A56 Chester Road
Chester Road, Stretford from Bridgewater Way to A5104 Talbot Road
A5067 Chorlton Road, Hulme from Royce Road to A56 Chester Road (Deansgate Interchange)
Jackson Crescent, Hulme from A5067 Chorlton Road to Barrhill Close
A57(M) Westbound off slip from (A57(M) to A56 Chester Road (Deansgate Interchange)
A57(M) Eastbound off slip from (A57(M) to A56 Chester Road (Deansgate Interchange)
Castlegate from A56 Chester Road
Great Jackson Street from A56 Chester Road to Silvercroft Street
Deansgate from A56 Deansgate to Owen Street
Castle Street from A56 Deansgate to Duke Street
86469 Whitworth Street West from A56 Deansgate to Bugle Street
Bridgewater Street from A56 Deansgate to Collier Street
Trafford Street from A56 Deansgate to Century Street
A6143 Liverpool Road from A56 Deansgate to Southern Street
Great Bridgewater Street from A56 Deansgate to Watson Street
Tonman Street from A56 Deansgate to Longworth Street
Camp Street from A56 Deansgate to Longworth Street
St John Street from A56 Deansgate to Longworth Street
A34 Quay Street from A56 Deansgate to Little Quay Street
A34 Peter Street from A56 Deansgate to Windmill Street
A34 Oxford Street from A34 Peter Street to Portland Street
Jerusalem Place from A34 Peter Street to Bootle Street
Atkinson Street from A56 Deansgate to Little Quay Street
Lower Moss Lane from A56 Chester Road to Bramfield Walk
Barrack Street from A56 Chester Road to Tatton Street
Hulme Hall Road from Ellesmere Street to A56 Chester Road
Manson Avenue from A56 Chester Road to Malt Street
Malt Street from A56 Chester Road to Manson Avenue
Ellesmere Street from A56 Chester Road to Hulme Hall Road
Trentham Street from A56 Chester Road to Dinton Street
Princess Street from Bridgewater Way to Nancey Street
Cornbrook Road from A56 Chester Road to Dinton Street
A5063 Trafford Road from A56 White City Circle to Pamona Strand
Pamona Strand from A5063 Trafford Road
A5063 Trafford Road from Pamona Strand to Trafford Wharf Road
A5081 Wharfside Way from Sir Matt Busby Way to Trafford Road (White City Circle)
Davyhulme Road East, Stretford from Haig Road to A56 Chester Road
Derbyshire Lane, Stretford from Cyprus Street to A56 Chester Road
A5145 Edge Lane, Stretford from A56 Chester Road to Kingshill Road
A5145 Kingsway, Stretford from Barton Road to Stretford Mall to A56 Chester Road
A5181 Barton Road, Stretford from A56 Chester Road to A5145 Kingsway
Chapel Lane, Stretford from Barton Road to A56 Chester Road
Sandy Lane, Stretford from Elm Drive to Barton Road
Chapel Road, Sale from A56 Cross Street to Tatton Place
Ashfield Road, Sale from A56 Cross Street to Curzon Road
Ashfield Road, Sale from Claremont Road to Tatton Road
Woodlands Road, Sale from Broad Road to B5166 Northenden Road
85166 Northenden Road, Sale from Woodlands Road to School Road
85166 School Road, Sale from 85166 Northenden Road to Springfield Road
B5166 Springfield Road Sale from Tatton Road to 90 metres south of School Road
Tatton Road, Sale from Chapel Road to Springfield Road
Tatton Place, Sale from Chapel Road to Tatton Road
Broad Road, Sale from Northenden Road to Selworth Avenue
Temple Road, Sale from Broad Road to Dane Road
Dane Road, Sale from Amesby Avenue (west end) to A56 Cross Street
Glebelands Road, Sale from Florence Street to A56 Chester Road
Kings Road, Stretford from Edge Lane to Tresco Avenue
Lime Road, Stretford from Edge Lane to Granby Road
Ryebank Road, Chorlton from Edge Lane to Daresbury Road
Hampton Road, Chorlton from Edge Lane to Daresbury Road
A6010 Wilbraham Road, Chorlton from Edge Lane to Albany Road
Oswald Road, Chorlton from Wilbraham Road to Vincent Avenue
Whitelow Road, Chorlton from Wilbraham Road to York Road
Manchester Road, Chorlton from Wilbraham Road to Nicolas Road
Brundretts Road, Chorlton from Wilbraham Road to Groby Road
B5217 Barlow Moor Road, Chorlton from Groby Road to B5217 Manchester Road
Nicolas Road, Chorlton from Manchester Road to B5217 Manchester Road
B5217 Manchester Road, Chorlton from Barlow Moor Road to Seymour Grove
Longford Road, Chorlton from Manchester Road to Oswald Road
Brantingham Road, Chorlton from Manchester Road to Keppel Road
Claridge Road, Chorlton from Manchester Road to Oswald Road
Ransfield Road, Chorlton from Manchester Road to Oswald Road
Kensington Road, Chorlton from Manchester Road to Oswald Road
Cheltenham Road, Chorlton from Manchester Road to Oswald Road
Railway Terrace, Chorlton from Manchester Road to Clarendon Road West
Buckingham Road, Chorlton, from Manchester Road to Clarendon Road West
MacAuley Road Chorlton from Manchester Road to Crimsworth Avenue
Stratton Rood, Chorlton from Manchester Road to Strathmore Avenue
Woodside Road, Chorlton from Manchester Road to Stratton Road
85217 Seymour Grove from A5104 Talbot Road to Manchester Road
B5218 Upper Chorlton Road, Stratford from Seymour Road to Egerton Road North
Darley Road, Stretford from Seymour Grove to Chatham Road
Rye Bank Road, Stretford from Seymour Grove to Northleigh Road
Chatham Road, Stretford from Seymour Grove to Wellington Crescent
Brooks Road, Stretford from Seymour Grove to Wordsworth Road
Welney Road, Stretford from Seymour Grove to Basford Road
Kings Road, from Wordsworth Road to Basford Road
Ayres Road, Stretford from Auburn Road to Skerton Road
Lime Grove, Stretford from Seymour Grove to Skerton Road
Tennis Street, Stretford from Seymour Grove to Skerton Road
Elsinore Road, Longford from Seymour Grove to Skerton Road
Schedule #4: No waiting
Applies 11pm Saturday 14 October until 6pm Sunday 15 October
A5104 Chester Road, Stretford from A56 Bridgewater Way to A5104 Talbot Road
85217 Seymour Grove from A5104 Talbot Road to Manchester Road
A56 Deansgate from Whitworth Street to King Street West
A56 Cross Street from Glebelands to A56 Washway Road
A56 Washway Road from A56 Chester Road to A56 Cross Street
85166 Northenden Road, Sale from Derbyshire Road to School Road
85166 School Road, Sale from Northenden Road to Tatton Road
Tatton Road, Sale from Springfield Road to Tatton Place
Tatton Place, Sale from Tatton Road to Chapel Road
Chapel Road, Sale from Tatton Road to A56 Cross Street
Broad Road, Sale from Northenden Road to Selworth Avenue
Temple Road, Sale from Broad Road to Dane Road
Dane Road, Sale from Amesby Avenue (west end) to A56 Cross Street
A5145 Edge Lane, Stretford from A56 Chester Road to Wilbraham Road
A6010 Wilbraham Road, Chorlton from Edge Lane to Barlow Moor Road
85217 Barlow Moor Road, Chorlton from Wilbraham Road to B5217 Manchester Road
85217 Manchester Road, Chorlton from Barlow Moor Road to Seymour Grove
Featured image: Manchester Half Marathon