Trending
Andrew Tate hits back at Greta Thunberg's 'small d**k energy' tweet with bizarre response video
It's just going from bad to worse.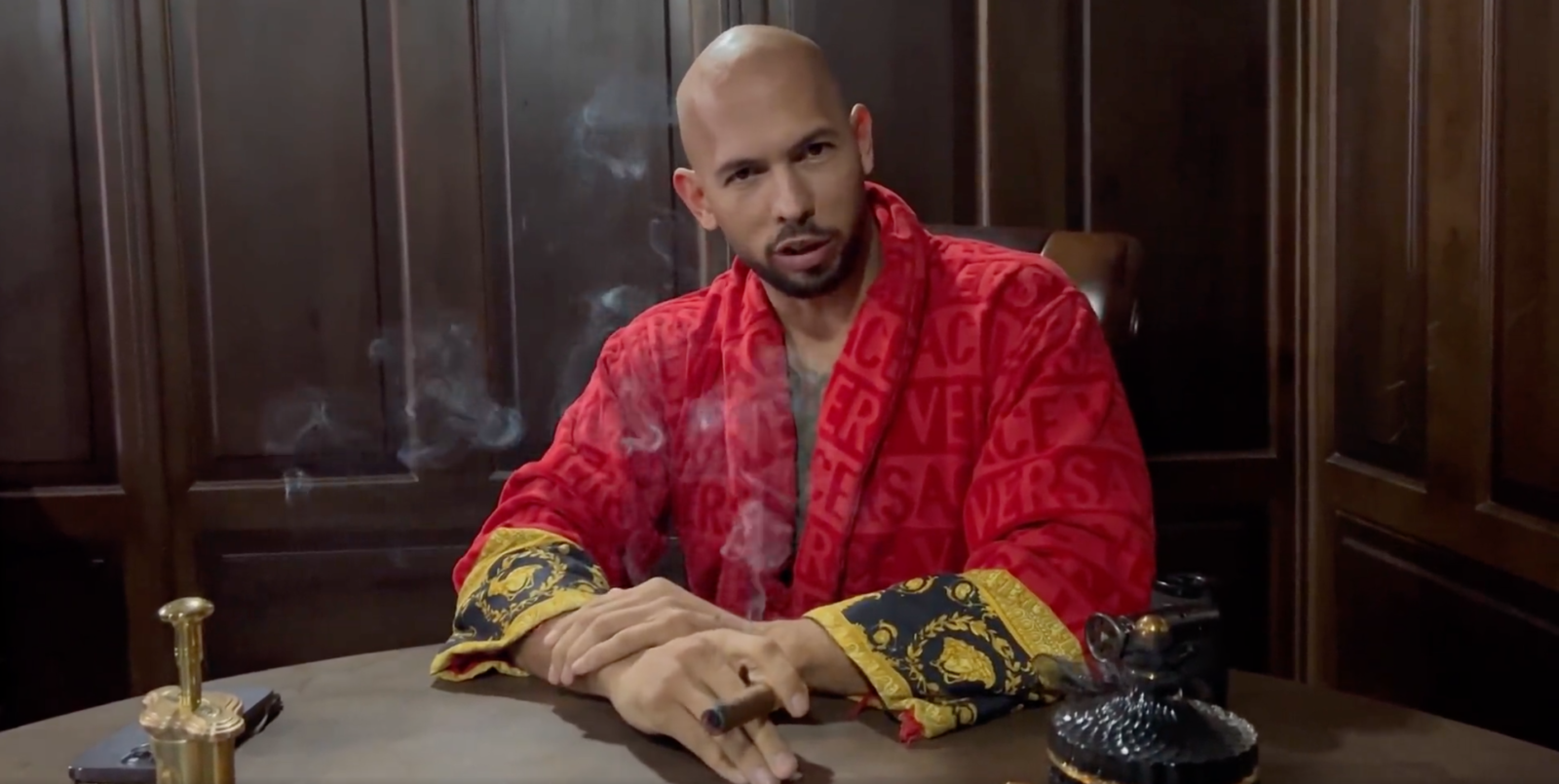 Andrew Tate has hit back at Greta Thunberg's claims he has "small d**k energy" and needs to "get a life" with a two-minute response video.
And it's fair to say, there's a lot to take in.
In case you missed out and need bringing up to speed, 36-year-old former professional kickboxer turned controversial media personality and self-professed misogynist Andrew Tate took to social media this week to ask 19-year-old Swedish environmental activist Greta Thunberg to provide him with her email address so that he could send her "a complete list of my car collection and their respective enormous emissions".
Tate – who has grabbed headlines several times this year due to his misogynistic comments, which have previously seen banned from Twitter, Instagram, and most notably TikTok – gloated that he currently has 33 cars and that "this is just the start" of his growing collection.
Alongside his tweet demanding Thunberg's contact details, Tate also shared a picture of himself filling one of his Bugatti supercars with fuel.
But Thunberg was having none of it.
The teenage activist then hit back at Tate in what is a now-viral tweet with over 2.3 million likes and counting in less than 24 hours, writing on Twitter: "Yes, please do enlighten me. Email me at smalld**[email protected]."
Thunberg was met with a tidal wave of praise for her response to Tate, with some even calling it 2022's "peak moment" – but, as was to always be expected, the exchange between the pair wouldn't end there.
At least not from Tate's side, anyway.
Starting out with a range of tweets in response, Tate – who has previously claimed that women should 'shut the f**k up, have kids, sit at home, be quiet and make coffee' – replied to Thunberg quoting her famous "How dare you?" line from her 2019 United Nations speech, before going on to say that he believes Thunberg wants to "stop the sun from being hot."
His tweet read: "Strange as it may seem, there is a teenager out there who believes your government should tax you into poverty to stop the sun from being hot."
After retweeting several tweets from other people in response to Thunberg's comment that supported his side, Tate then decided it was time to properly respond to his "small d**k energy" being called out, and shared a bizarre two-minute video of himself directly addressing Thunberg.
Sat in a dark mahogany wood office, wearing a boxing-style robe, and smoking a cigar, Tate went on a rather confusing rant in his video response, claiming that Thunberg was referring to herself in her comeback, and that she is the one with "small d**k energy".
Tate said: "Greta's email address is 'I have small d*** energy'. Why would that be her own email? Strange. I don't want to assume her gender, it's 50/50, but it is what it is."
He also accused the "global matrix" of deploying a "bot farm" to make the 19-year-old's tweet go viral.
Probably one of the most bizarre parts of the video sees Tate address someone off-camera by telling them to "bring me pizza" and to make sure "these boxes are not recycled", before continuing with his explanation.
But despite all of his comments though, Tate said he's "not actually mad at Greta."
"So I'm not actually mad at Greta, because she doesn't realise she's been programmed, she's a slave of the matrix, she thinks she's doing good," Tate explained.
"Someone has sat her down and convinced her to try and convince you to beg your government to tax you into poverty to stop the sun from being hot. And then, because I called her out on it, the global matrix got this bot farm to like and retweet and all this bot commenting try and pretend that her telling me that she has a small d*** in her own email address somehow teaches me a lesson.
"Now I know at least that Greta is hate-filled, bitter, sitting somewhere without the heating on, shivering, and views my tweets,
"Which is going to make my Twitter account far more fun into eternity."
Unsurprisingly, Tate's response video has baffled people and hasn't gone down too well online, with the tweet racking up hundreds of comments mocking him.
One tweet read: "Just when the entire world didn't think you could possibly embarrass yourself further. Congrats, champ." while another person said: "Responding to a sharp one-liner ten hours later with a two-minute rant of seemingly disconnected thoughts isn't the W you want it to be, Mr Tate," and a third added: "You waited a whole 10 hours, and this is the tweet you came up with?"
Read more:
"Greta has rattled Andy so hard that he's got dressed in a dressing gown and staged himself receiving pizza," another tweet read.
"Not a fan of the word 'owned'. But I'll make an exception for Andy, who has been emphatically owned."
Featured Image – Andrew Tate (via Twitter)