Trending
Celebs react to losing their Twitter verification after blue ticks are removed
"Damn Elon what did u do lol."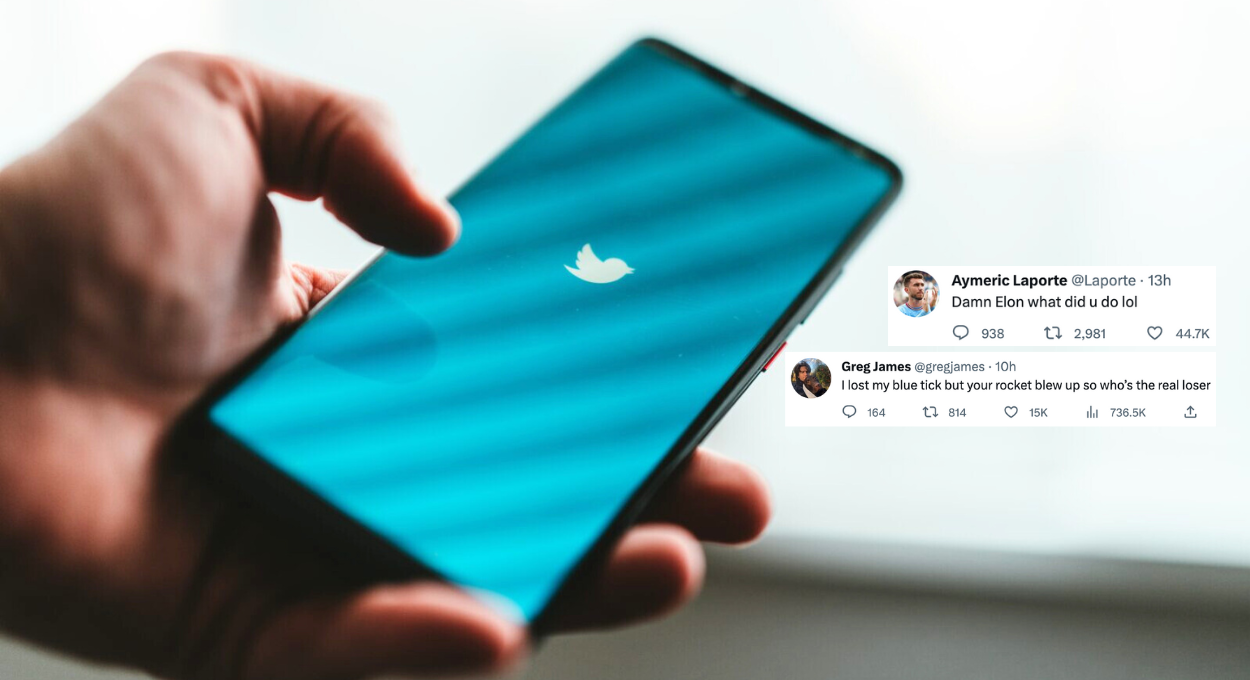 Ricky Gervais, Greg James, and Aymeric Laporte are among the famous names to react after Twitter blue ticks are removed.
In case you missed it, Twitter CEO Elon Musk confirmed last week that all celebrities, public figures, and other 'legacy verified' accounts were to be stripped of their blue tick verification symbols on Thursday 20 April, unless they pay for the newly-launched "premium subscription service" Twitter Blue.
The social media platform first introduced the now-famous 'blue tick' verification symbol all the way back in 2009 so that individuals, businesses, organisations, and accounts of notability could prove their identity – but in recent months, after the highly-publicised takeover by multi-billionaire founder and CEO of Tesla and SpaceX, Elon Musk, Twitter users will have likely noticed the colour of a lot of these verification symbols for certain official accounts changing from blue to grey/silver and gold.
At the start of 2023, Twitter began rolling out a grey tick verification mark for government-related accounts, and a golden tick mark for companies.
The classic 'blue tick', according to a statement on the Twitter website, was then left to mean that the account was either 'legacy verified', or that the account has an active subscription to Twitter Blue and meets the platform's eligibility requirements.
Although Musk's past antics and previous comments may have lead many to questioning whether or not he was serious about the date blue ticks would be removed, it was, in fact, genuine as hundreds of thousands of accounts began losing their verifications yesterday.
And lots of celebrities had something to say about it.
Comedian and actor Ricky Gervais, BBC Radio 1 presenter Greg James, Manchester City defender Aymeric Laporte, and Game of Thrones actor John Bradley were among some of the famous names to take to Twitter to tweet their hilarious reactions to the loss of their blue ticks.
"I lost my blue tick but your rocket blew up so who's the real loser," Greg James said comically, pointing to the failed SpaceX rocket launch attempt only a few hours earlier.
Ricky Gervais shared one of his well-known bathtub pictures with the caption: "My blue tick has gone. I'm not sure if I'm really me or not."
Aymeric Laporte seemed a bit confused with his reaction: "Damn Elon what did u do lol", while John Bradley took a moment to look ahead to Manchester United's then-upcoming UEFA Europa League match with his tweet: "Blue tick may have gone but it could be worse. At least United are still in the Europa League.
"This tweet could have a shelf life of 2 sweet hours."
And he was right as that obviously didn't age well considering the Reds were defeated, quite spectacularly, by Sevilla 0-3 last night.
Halle Berry, Henry Winkler, Ciara, and Finneas are among the other famous names to tweet their reactions.
Read more:
Featured Image – Claudio Schwarz (via Unsplash)