Sport
People are losing it over Erling Haaland's hilarious impression of John Stones' Yorkshire accent
"It's just outrageously spot on."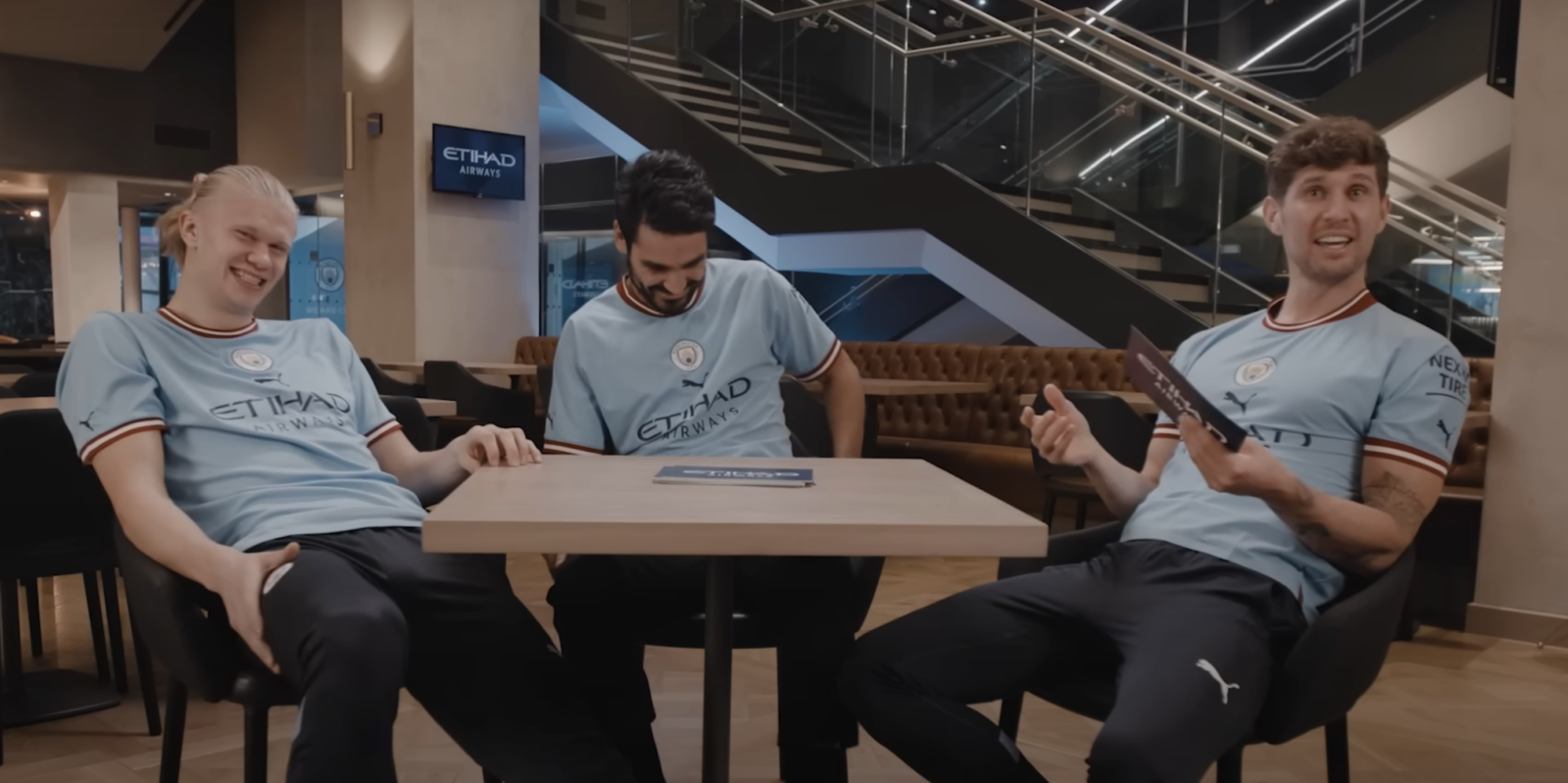 A video of Erling Haaland hilariously impersonating a Yorkshire accent has been going viral on social media, and people are absolutely losing it.
The Norwegian star striker – who is currently setting the Premier League and footballing world alight, and is breaking records left right and centre – sat down alongside his Manchester City teammates Ilkay Gundogan and John Stones to talk about their favourite holidays, tourist destinations, and travel tips in a video for sponsors Etihad Airways.
During the five-minute video posted to City's YouTube channel, and shared across the team's other social channels, the trio are asked which tourist sites are the most memorable and impressive they've seen from all the countries they've ever been to.
Gundogan and Haaland were in agreement that the Sheikh Zayed Grand Mosque in Abu Dhabi would be their pick, but Stones opted for a popular European piece of culture instead.
The centre back chose the Louvre Museum in Paris as his most memorable site.
Although us Brits aren't known for being the best at speaking other languages, the Barnsley-born defender had a good go at pronouncing the name of the French museum – but his teammates were quick to laugh and point out that it wasn't quite right.
"The Louvre, is that how you say it?" Stones asks the crew behind the camera.
With the pair chuckling at Stones' answer, Gundogan then corrected the defender with the right pronunciation of the word.
But it was Haaland who stole the show with his hilarious impression of Stones' Yorkshire accent.
With the short clip from the video having now been shared countless times on social media over the last few days, racking up millions of views and thousands of interactions and comments, people have been absolutely losing their minds over how accurate the impression is.
Lots of people claim they just "can't stop watching it".
"Why is Haaland's northern accent so good? I'm too stunned to even laugh, this guy is a certified Manc," one fan commented on Twitter.
Another fan hilariously commented on Twitter: "I have watched this video too many times to count and I just keep coming back. The accent is just outrageously spot on from Haaland", while a third added: "This gets funnier the more you watch it."
"It's actually a very good impression," another person conceded on Twitter.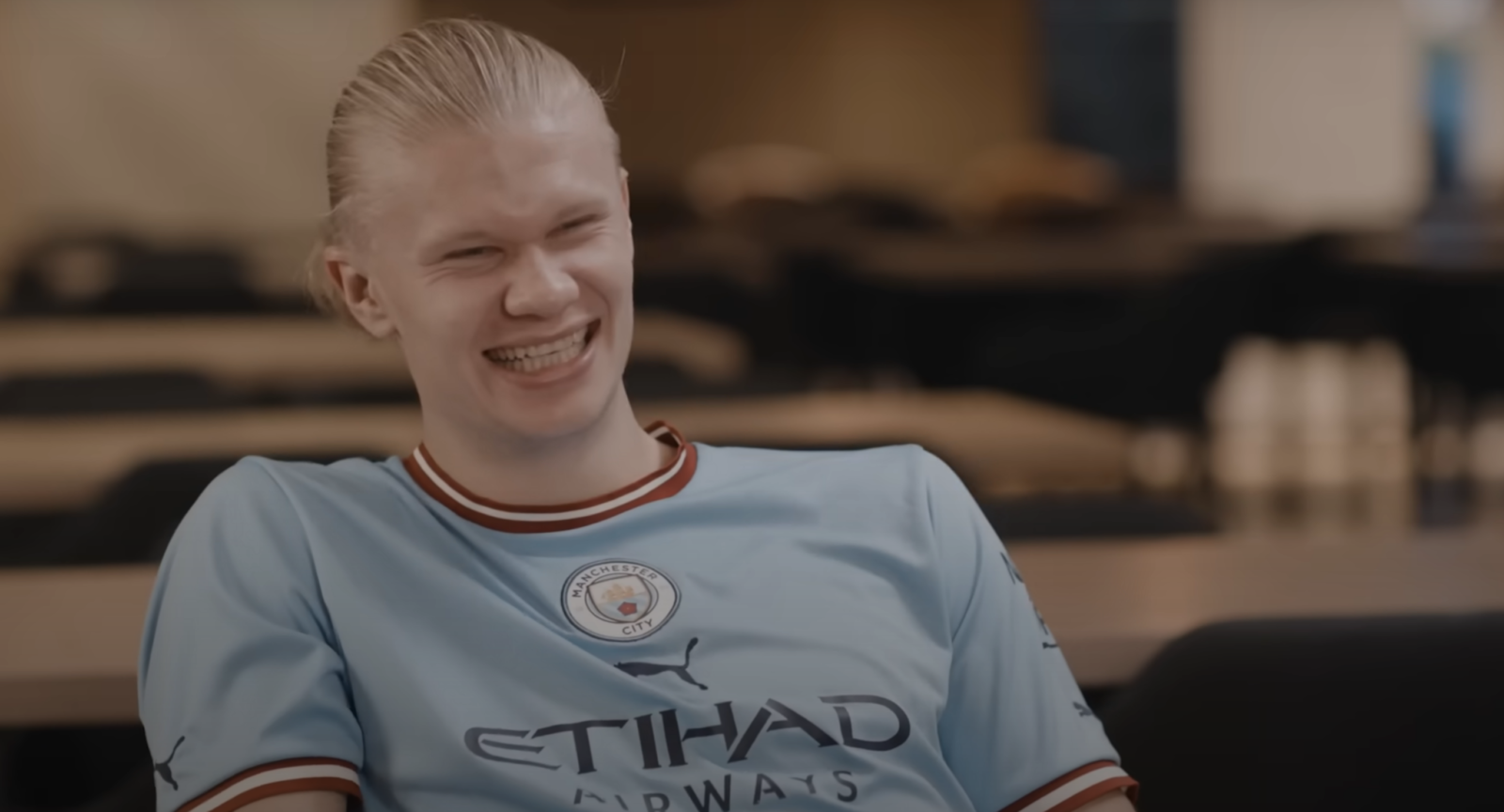 Of course, many are also pointing out that, although Haaland is about as Norwegian as they come, the 22-year-old star was actually born in Leeds thanks to his former footballer father Alfie's time at Leeds United from 1997-2000.
So is it really any shock that a fellow Yorkshireman is good at a Yorkshire accent then?
Manchester City are currently over in Bavaria as they're set to face German giants Bayern Munich in the second-leg of the UEFA Champions League Quarter Final, where they currently lead 3-0 on aggregate and are hoping to advance to the Semi-Final.
Read more:
With kick-off set for 8pm this evening, Haaland, Stones, and team captain Gundogan are all expected to feature heavily in the game.
Featured Image – Manchester City (via YouTube)