Trending
David Beckham hilariously grills Victoria on 'working class' upbringing
This new Netflix series is gold.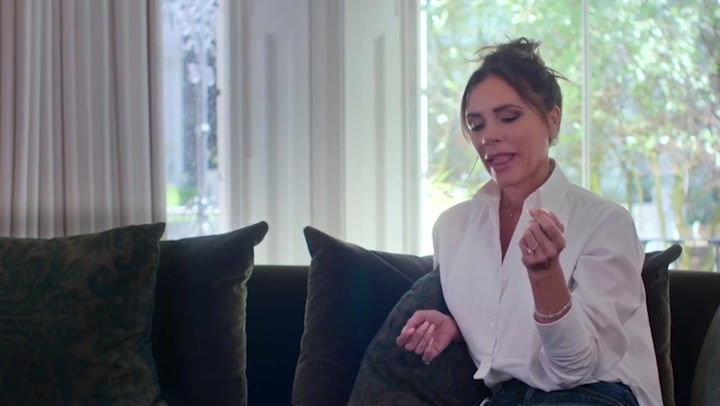 David Beckham has been dubbed the 'last remaining investigative journalist' after brutally interrupting his wife Victoria, and her 'working class' claims, during an interview.
In the clip from the newly-released Netflix documentary Beckham, Victoria – aka Posh Spice – is seen explaining to the cameras that she grew up 'very, very working class'.
But her husband was having absolutely none of it.
In the documentary, the former Manchester United legend pokes his head around the door and challenges his partner of more than 20 years.
"Be honest," David's floating head says.
And he continues to interrupt Victoria as she tries to justify her 'working class' roots.
David says: "What car did your dad drive you to school in? What car? No what car did your dad drive you to school in?" while she attempts to get a word in edgeways.
Eventually an exasperated Victoria goes: "Okay, in the 80s my dad had a Rolls Royce."
Which is a little different to the battered Renault Espace most of us went to school in…
David finally responds 'Thank you' and pulls his head out of the gap in the door to let her carry on with her interview.
People have absolutely loved the exchange between the couple and the fact that he so publicly challenged his wife.
One person said: "David Beckham is the last remaining investigative journalist."
Another commented: "Cooking your wife in 4K is hilarious lmao."
Someone else wrote: "Becks ate her up lmfaoooo."
One user on X joked: "only Beckham can moderate the 2024 presidential debates."
"That head popping into the room and asking those questions is quality cinematography," commented one person.
Someone else pointed out: "Victoria Beckham even trying to say she was working class when she literally branded as posh spice her entire career."
Read more
Featured image: Netflix