Trending
Ian Brown slated as fans walk out of 'terrible £50 karaoke gig'
"Ian Brown does karaoke and butchers his own tunes."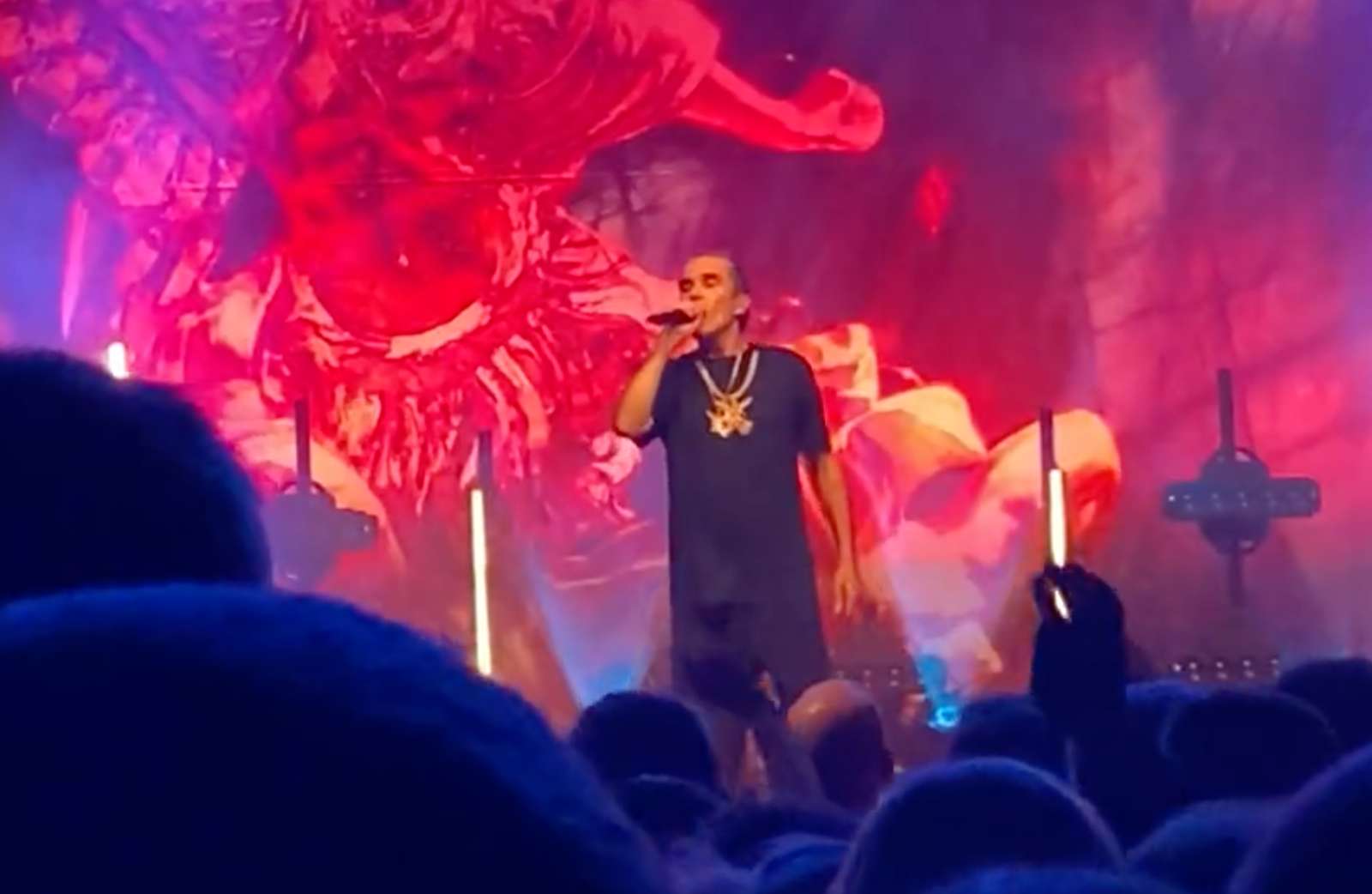 Ian Brown has been catching flak from his own fans over the weekend after he took to the stage to perform without a live band.
The former Stone Roses frontman kicked-off his UK tour last night with a sold-out gig in Leeds, but many of his fans were said to be left heading for the door as the singer stepped out on stage on his own and proceeded to perform his set to a backing track of songs, rather than with a live band as most were expecting would be the case.
Not only were many shocked to see him perform over a "painful" backing track, but he also apparently didn't belt out that many of his big hits either.
The 59-year-old rocker has since become a trending topic on social media overnight after he left audience members in disbelief and demanding their money back – with some claiming they paid up to £50 for tickets to a "terrible karaoke gig".
Other brutal fan comments claimed he "butchered" his own songs.
One fan wrote on Twitter accompanying a now-viral video from the gig: "Gutted to see Ian Brown turn up to his £40 a ticket, sold out gig at Leeds tonight WITH NO BAND. I'm a life long fan but it was bad. Ian Brown does karaoke and butchers his own tunes. Most were too p***ed to care, but I had to get out after this one."
Another fan wrote: "Ian Brown charging £50 a ticket to only sing his solo tunes, over a backing track, with no band is quite something."
A third simply called it "the funniest gig I've ever been to".
One fan and his partner said they had seen enough around half an hour in to the gig, before they headed to the door to make their exit.
Read more:
"Me and my wife lasted 36 minutes exactly before walking out," they explained.
"I think the autotune on the microphone lasted three songs. Real shame as I was looking forward to seeing him solo as only ever seen stone roses. No band at all was a let down."
Another fan who shared a video from the gig said they would be using the video to "keep the local cats out of my garden"
"For someone is known for not being a great singer, you'd think he would find the loudest band to mask his terrible singing," they added.
Another tweeted: "It's sad to be reading this. I've been to loads of his gigs. Some were better than others but they were all great gigs. Why on earth would he decided that no band was a good idea. £40 too."
Ian Brown is set to take to the stage at O2 Victoria Warehouse in Manchester this Friday 30 September as part of his ongoing UK tour.
Ian Brown 2022 UK Tour Dates
26 September – Glasgow O2 Academy
27 September – Edinburgh O2 Academy
29 September – Newcastle O2 City Hall
30 September – Manchester O2 Victoria Warehouse
1 October – Liverpool Uni Mountford Hall
3 October – Birmingham O2 Academy
4 October – Bournemouth O2 Academy
6 October – Nottingham Rock City
Featured Image – Steven Latham (via Twitter – @I_R_Mole)