Trending
John Cleese mocked after asking why the BBC hasn't shown Monty Python 'for a couple of decades'
"You decided to give the exclusive rights to Netflix, you faded light bulb."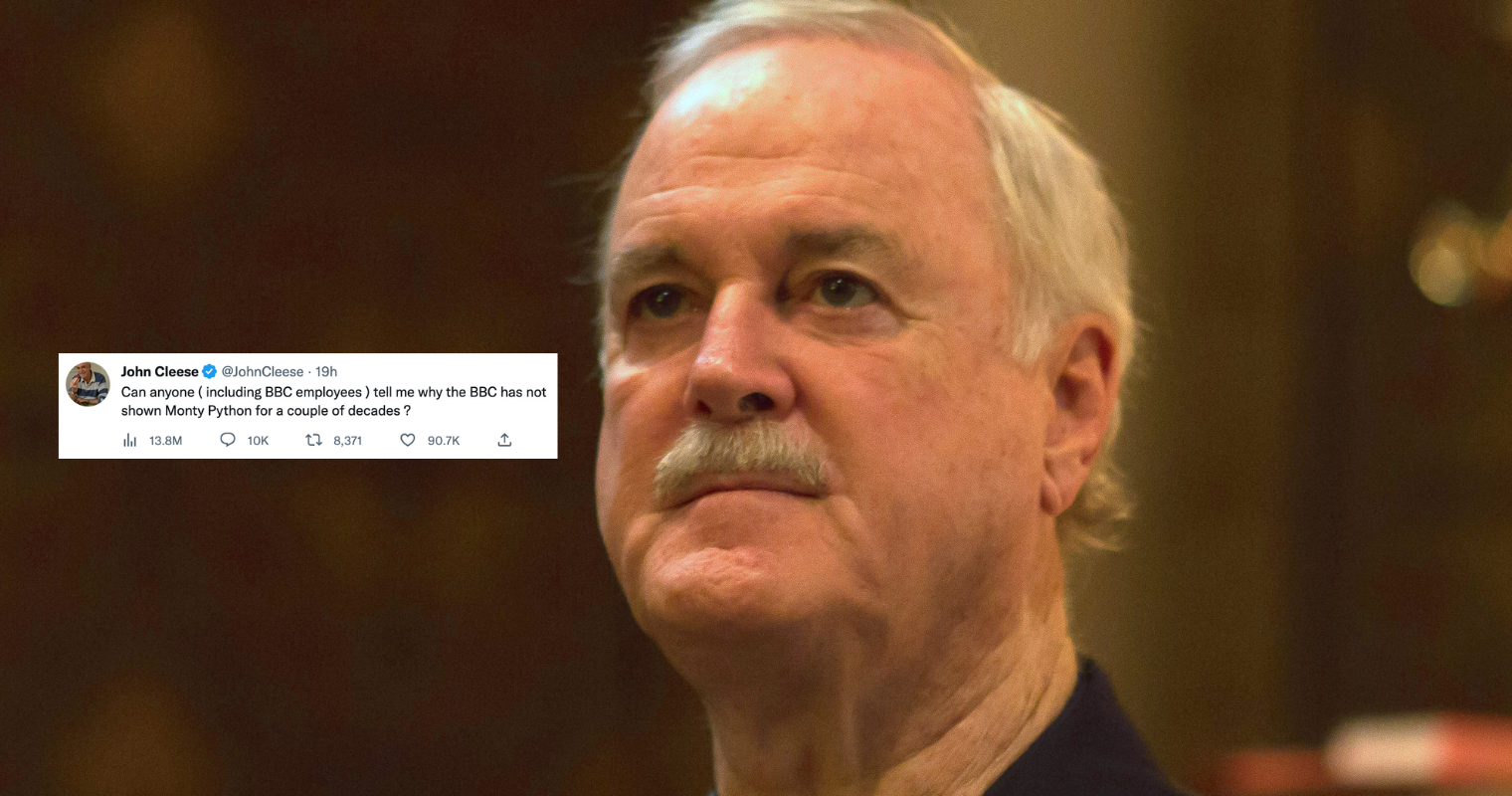 John Cleese has come under fire after publicly questioning why the BBC has not aired Monty Python "for a couple of decades".
The 83-year-old English actor, comedian, and screenwriter, turned somewhat controversial political commentator, is well-known for his roles as Basil Fawlty in Fawlty Towers, as a performer on The Frost Report, and for appearing in several Harry Potter, James Bond, and Shrek films.
But to the majority of people, he is most famous for being one of the founding members of the six-piece Monty Python comedy troupe.
Alongside fellow members Terry Gilliam, Eric Idle, Terry Jones, Michael Palin, and Graham Chapman, Cleese starred in the troupe's popular TV sketch series Monty Python and the Flying Circus, as well as five films and a number of touring stage shows.
Flying Circus originated on the BBC, but according to Cleese – who is set to present a show on right-wing news channel GB News in 2023 as he wants to "promote proper argument" – the show hasn't appeared on the network it quite a considerable amount of time – "a couple of decades", he seems to think – and it appears as if he was a bit in the dark as to why this is the case.
So he took to Twitter for some answers and to call the broadcaster out.
Cleese asked his 5.6 million Twitter followers: "Can anyone (including BBC employees) tell me why the BBC has not shown Monty Python for a couple of decades?"
While it may seem like a simple question for the comedian to ask at first, many people picked up on what was likely Cleese's intended critiquing, derogatory, and politically-inclined tone, and were quick to explain to him the reason the BBC has not aired any repeats of the sketch show.
Monty Python's Flying Circus may have originally aired on the BBC between 1969 and 1974, but the rights to it were later sold to streaming platform Netflix in 2019, along with the rest of the comedy troupe's movies, collections, and specials.
With Netflix owning exclusivity, this therefore prevents the show from being broadcast on any other channels – including the BBC.
Some people couldn't believe Cleese apparently wasn't aware of this.
Others took to mocking Cleese for questioning this when there is a good chance he already knows the answer and just intended to stir the pot.
"You know why though John, they don't own the broadcasting rights do they," one person wrote, "Can you tell us why you're asking a question in very bad faith? Is it because you want attention again? Do us all a favour and be quiet mate."
Some used this as an opportunity to call Cleese – who has aligned himself as a vocal critic of "woke culture" – out on his intent to voice his political views and his upcoming GB News show.
One even dubbed him a "faded light bulb".
Read more:
Featured Image – Wikimedia Commons