Trending
Liam Gallagher says he's not going to Peter Kay's new tour because he's a 'balloon knot'
"Anyways regardless of all that, he's not even funny."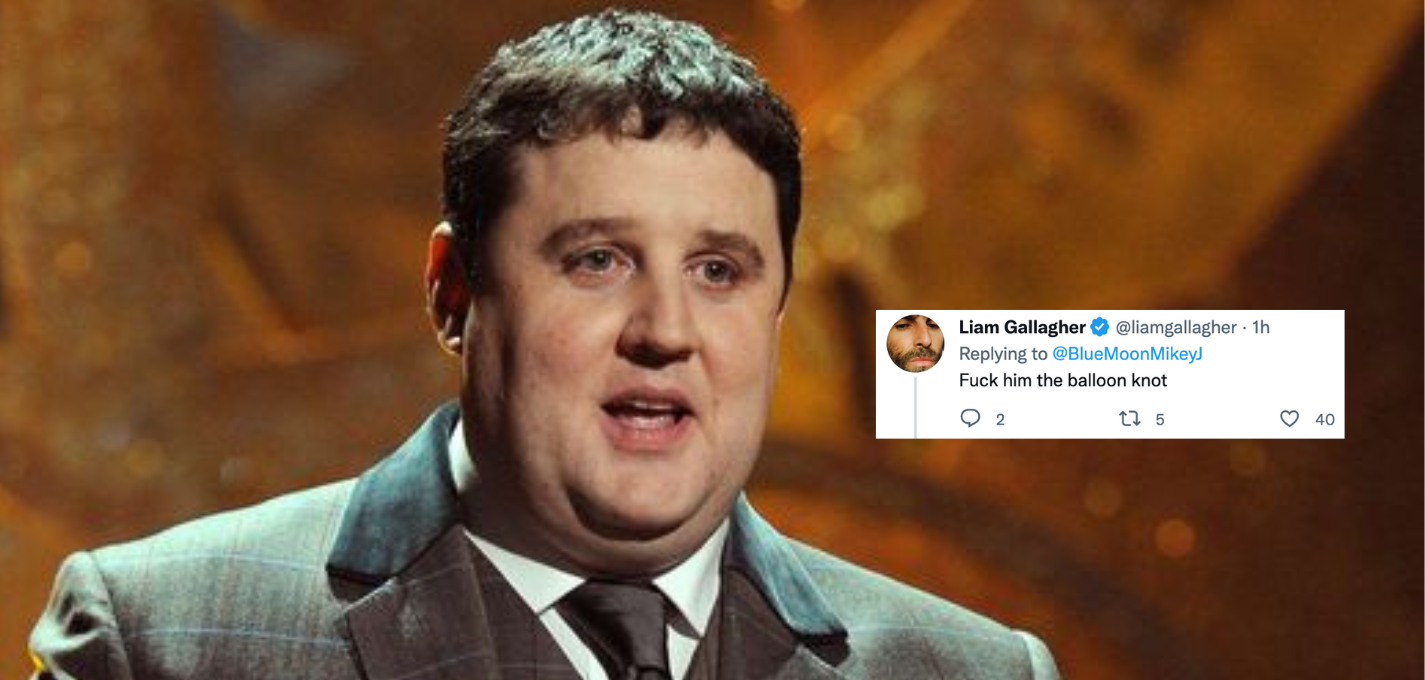 In case you were wondering, Liam Gallagher has said he's not going to watch Peter Kay on the comedian's comeback UK tour next month.
Oh, and he's also called him a "balloon knot".
Greater Manchester – and much of the UK, to be honest – went into a bit of a meltdown on Sunday night when the legendary Bolton-born comedian and actor Peter Kay announced that he is to play two huge Manchester shows next month as he makes a return to live comedy on his first stand-up tour in 12 years.
Rumours began circulating that the 49-year-old was preparing for a 2023 comeback tour earlier this year, but it was officially revealed that Kay will be doing two massive shows at the AO Arena on Friday 2 & Saturday 3 December 2022.
After that, the comic will head on over to Birmingham to close out 2022, before making his way across the rest of the UK and Ireland in 2023.
Tickets for the tour are set to go on sale this Saturday, and there's absolutely no denying that they're going to be some of the most difficult tickets to secure in recent years – especially as Kay has announced prices will start from just £35 to be budget-friendly amid the rising cost of living crisis.
But luckily, fans won't have to compete with Liam Gallagher for tickets though, as he's said he's not going to bother showing his face.
The outspoken former Oasis frontman has confirmed on Twitter this morning that he doesn't intend to catch the comedian on tour, saying in response to a fan who questioned: "Morning Liam. Are you gonna go see Peter Kay on his tour?"
"F*** him the balloon knot," Liam then responded – in typical Gallagher fashion.
Fans then began to weigh in on the situation in the replies to Gallagher's tweet response, with some speculating the rockstar's intentions of not going to see the comedian stems from the fact that the pair struck up some beef at the BRIT Awards in 2010 – which Kay was hosting.
The 'Wonderwall' singer has had a long-standing and unresolved issue with the comedian after he aimed an insult at him live on stage.
As Liam accepted Oasis's award for the best British album of the past 30 years for the 1995 record (What's The Story) Morning Glory?, the singer swore, hurled a microphone, and then also handed the award to the audience.
Gallagher's on stage antics prompted host Kay to remark to the audience and the millions of viewers watching at home: "What a k******d", as he left the stage.
Liam has pretty much confirmed on Twitter that this is why he's not going to the tour.
In response to another fan who questioned why, Liam said: "He started crying coz I threw a microphone in the crowd like big tart then slagged me when I'm in my car
"Anyways regardless of all that, he's not even funny."
Read more:
So as you can see, there's no grudges or bitterness here then.
Featured Image – ITV