Trending
Local community sends hundreds of cards and gifts to celebrate care home resident's 100th birthday
"It's not everyday you turn 100".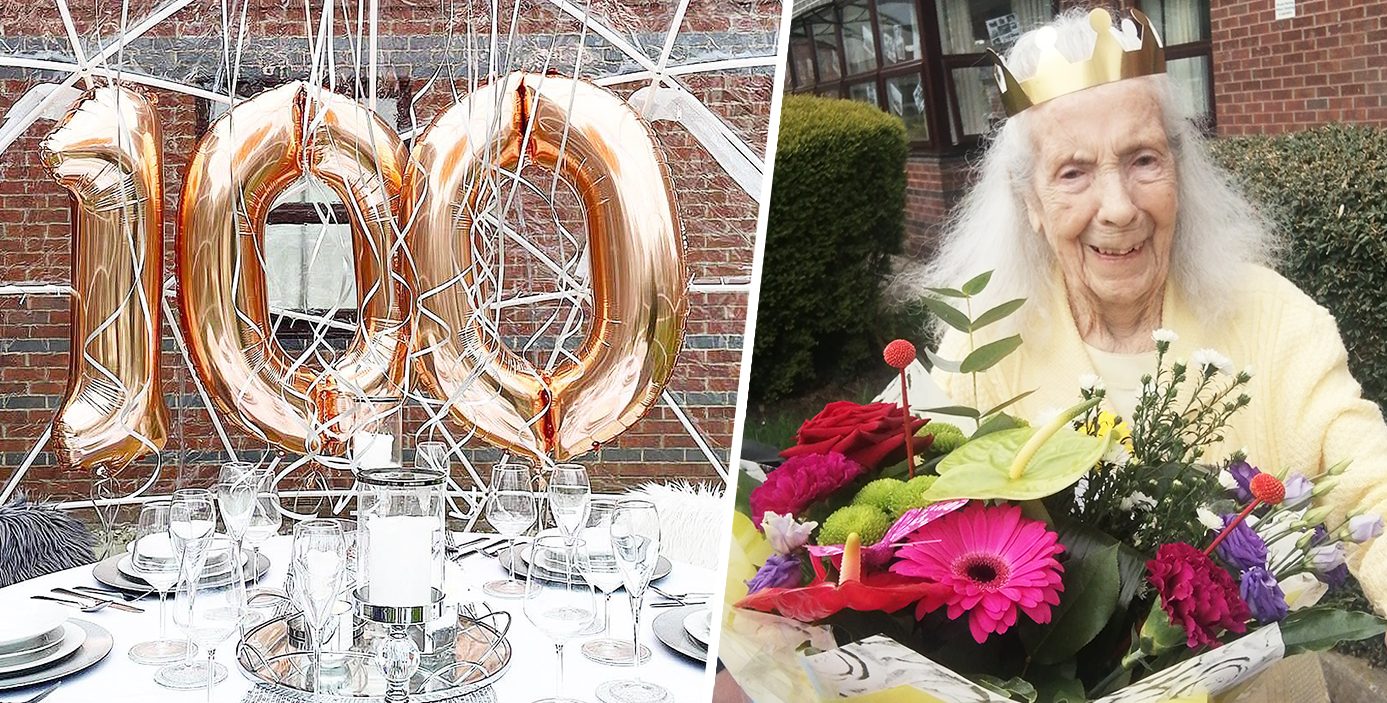 The people of East Manchester have come together to shower a "much-loved" care home resident with hundreds of cards and gifts to help celebrate her 100th birthday this past weekend.
Marjorie Burke marked her 100th year on Sunday 4th April.
For many of us, the prospect of making it to 100 really does seem like a lifetime away, but for "big character" Marjorie – a resident at Averill House Care Home in Newton Heath, which offers residential memory and nursing memory care for those living with dementia – this milestone age was only around the corner when her carers decided to appeal to the public for a helping hand last month.
To help celebrate Marjorie's special day in the most special way, Averill House's team of dedicated Wellbeing Coordinators asked members of the local community to send her cards in the hopes of receiving 100 cards for her 100th birthday.
"All of our staff really want to make this a special occasion," Jodie Yates told us last month.
"It's not every day you turn 100, [and] this is why we're asking for 100 birthday cards – one for every year of her life in celebration of this milestone".
And what a celebration it was.
After word of the public appeal began to successfully circulate around Greater Manchester on social media, not only did people rush to send Marjorie over 200 handwritten birthday cards, but many local primary schools, residents and businesses also pulled out all the stops to make sure it was a day she'll never forget.
"She started her celebrations with us singing happy birthday and by opening her cards at 9am," Jodie Yates – Wellbeing Coordinator at Averill House – told us, as she relived the special day.
"Marjorie was so overwhelmed and kept saying 'are all these cards and present for me?'.
"We had roughly over 200 cards sent and are still receiving them, along with hampers from local supermarkets, over 70 afternoon teas, and gifts from local schools including St Herbert's RC Primary School in Chadderton, St John's C of E Primary School in Failsworth, South Failsworth Primary School and more".
After a special birthday breakfast, Jodie explained that the team lead Marjorie into the home's gardens to take the COVID-safe celebrations up a notch.
Jodie continued: "A local lady and her friends who all have 1940s war vehicles and full uniforms from the war era kindly offered to drive up to the home and they presented Marjorie with a beautiful bunch of flowers.
"She had a sit on the bike and there was also an impromptu dance to 'We'll Meet Again'".
Now that lockdown restrictions permit it, members of Marjorie's "loving family" then visited the home to wish her a socially-distanced happy birthday and to sing-along to 'Somewhere Over The Rainbow' – which Jodie admits was "very emotional".
They also all watched on as she opened her 100th birthday card from Queen Elizabeth II.
After a whole host of celebrations "fit for a queen", the day then drew to a close after Marjorie was joined by her fellow Averill House residents, alongside staff members, for afternoon tea and a glass of bubbly inside a purpose-built and specially-decorated dome – "kindly donated for free" by East Manchester-based events company, Parties to Perfection NWE – which was installed in the garden.
"Marjorie said it was best day she had ever had".