A brand new series of the hit gameshow The Cube is returning to our TV screens this year – and you could be a part of it.
ITV is encouraging the people of Greater Manchester to get their applications in.
Based on the idea that even straightforward tasks become extremely challenging when confined and put under pressure inside a small, enclosed area whilst surrounded by a live studio audience, The Cube – which first aired back in 2015, and is presented by Philip Schofield – offers contestants the chance to win a top prize of £250,000 by completing a series of challenges from within a 4m × 4m × 4m perspex cube.
Challenges tend to involve physical and mental tasks including catching, throwing, estimating, reacting, memorising and balancing.
Once inside The Cube, contestants tend to feel both claustrophobic and disoriented, which affects their concentration and abilities, so put simply – it's no easy feat.
Reckon you're up to the task though?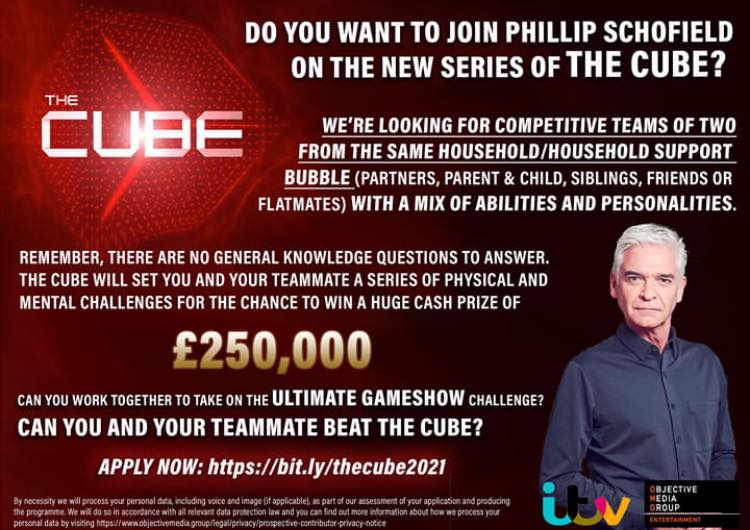 A casting call for the next series of the show has been put out nationwide, and a statement on the ITV website reads: "We are looking for competitive teams of two from the same household/household support bubble with a mix of abilities and personalities.
"Remember, there are NO general knowledge questions to answer.
"The Cube will set you and your teammate a series of physical and mental challenges for the chance to win a huge cash prize of £250,000.
"Can you work together to take on the ultimate TV gameshow in the hope of beating The Cube?"
You must be over 18 years of age and a UK citizen, and if you're keen to take part in the new series, you only have one day left to apply as you'll need to get your applications in by 6pm on 30th April 2021.
Send in your applications in here.
Featured Image – ITV