Trending
Stormzy admits to being 'starstruck' in viral TV interview after Manchester United's win over Liverpool
The rapper and Manchester United fan appeared on Sky Sports' Monday Night Football programme to share his thoughts.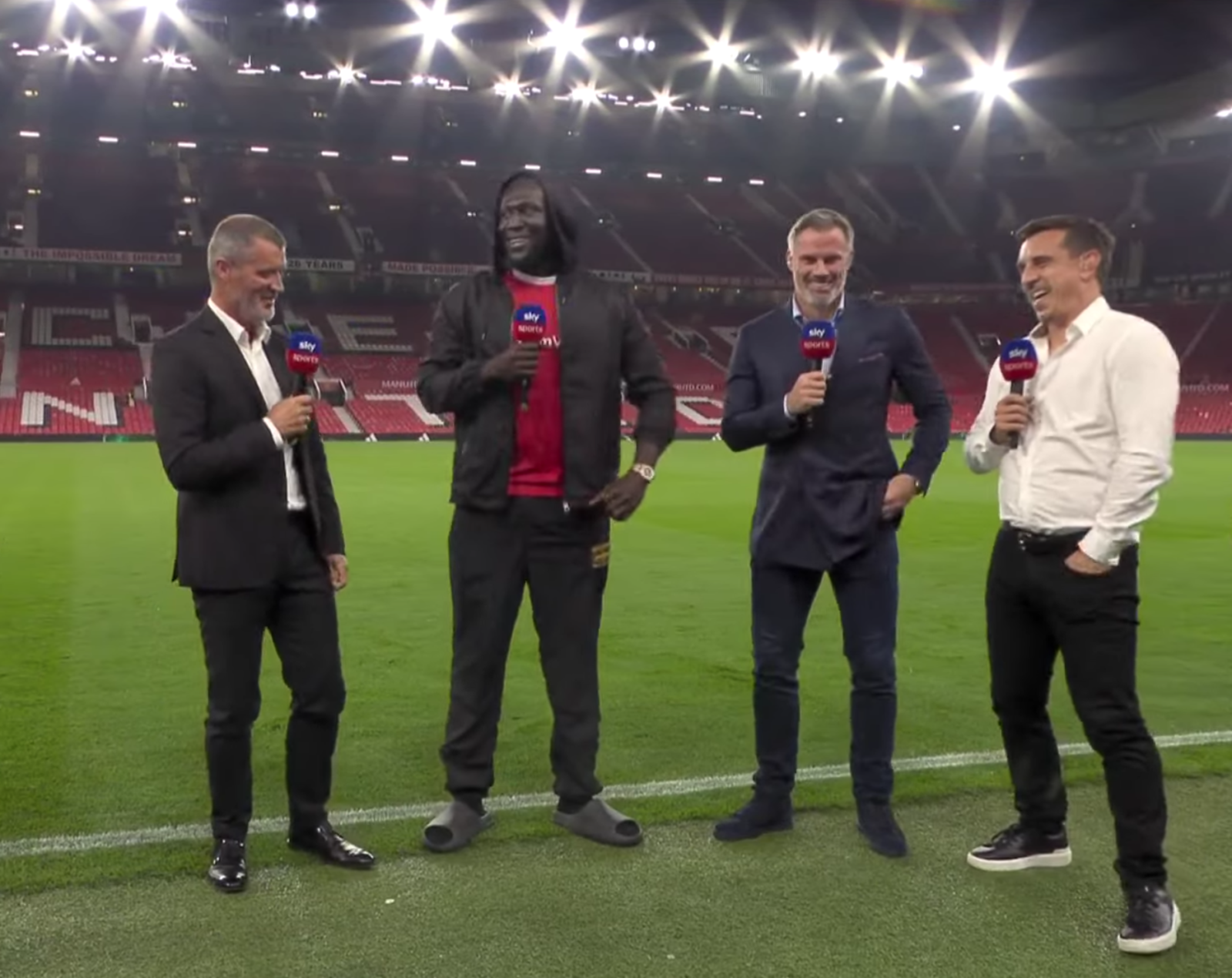 Stormzy has been grabbing headlines after taking on the role of football pundit following Manchester United's win over Liverpool yesterday.
The trailblazing London-born rapper – who is just one of Manchester United's famous fans – has being going viral on social media after he jubilantly gatecrashed a live TV interview on Sky Sports' Monday Night Football (MNF) programme and shared his views about the Red Devils' 2-1 impressive victory over Liverpool last night.
While the usual MNF cast of Gary Neville, Jamie Carragher, and Roy Keane stood in front of an empty Old Trafford in the classic Manchester rain to give their post-match verdict of United's first Premier League win of the 2022/23 season over fierce North West rivals, the 29-year-old chart-topping grime MC was spotted at the side of the pitch off camera.
He was then ushered in by Neville, and greeted the three former footballers and host with a hand shake.
Dressed in a Manchester United top with his hood up, and stood alongside his young nephews who also appeared on camera, Stormzy waved at some fans who recognised him from the stands and then admitted that he was "a bit flustered right now".
"I've never met these guys before. We were just walking past and we were starstruck and someone gave me a mic and I'm up here like 'Mum, I made it'," he added with a smile
"This is sick though. Man's on telly with the boys."
After getting over initially being starstruck and settling into the role of would-be football pundit, the MNF team wanted to make the most of having the former Glastonbury headliner with them, and continued to ask him a couple of questions.
Read more: Failsworth billionaire Sir Jim Ratcliffe says he's 'serious' about buying Manchester United
When asked to offer his opinion of Manchester United's star striker Cristiano Ronaldo – who was actually dropped from the starting lineup by new manager Erik ten Hag for the Liverpool clash, Stormzy continued: "You know what it is with Ronaldo, when he's that great, you can't speak on him man.
"You've just got to let the man be great, do you know what I mean? There's been a bit of a fuss but that's a GOAT.
"You just have to let the GOATs be the GOATs."
For fans of the Vossi Bop singer, his presence at Old Trafford might not come as much of a shock, but not everyone understood what was happening, with United's former captain Roy Keane appearing quite shocked, adding: "I thought this was a football show, what's happening?"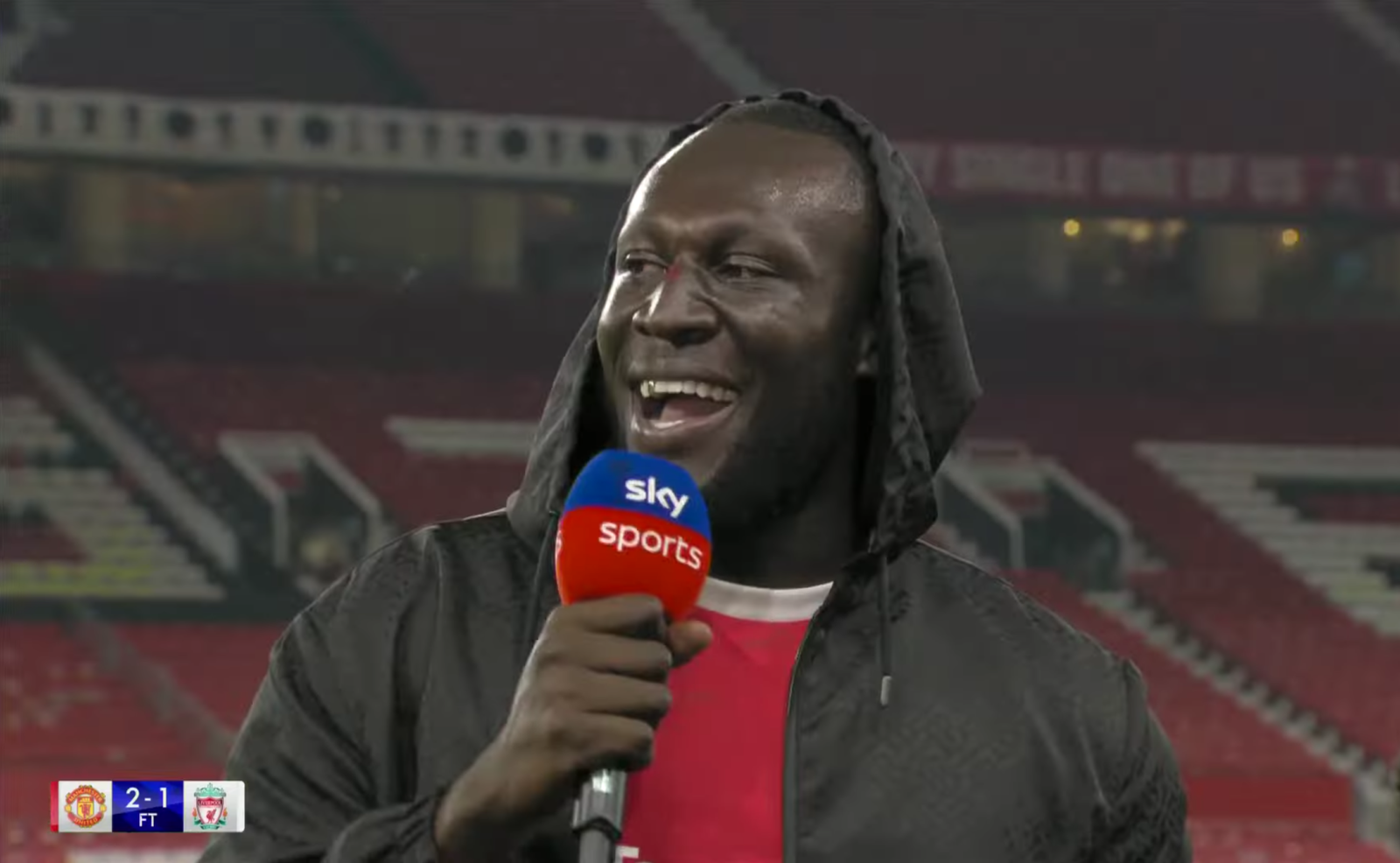 After the interview aired live on Sky Sports, clips have been circulating on social media and racking up tens of thousands of views and interactions from football fans – with many commenting how funny it was to see a famous person still able to be starstruck.
"Stormzy headlined Glastonbury at 25 but is flustered by being interviewed on MNF – what a man," one person said on Twitter.
Another said: "Stormzy's MNF cameo was surreal."
"I love that Stormzy is always a natural fan and ain't too proud to express it," a third added.
Stormzy's appearance on Monday Night Football was fresh off the back of him getting up on stage with Coldplay as the band finished up their finished their sell-out six-night residency at Wembley Stadium on Sunday night.
He performed his 2018 hit 'Blinded by Your Grace Pt. 1' alongside the band
Formula 1 fans will also know this isn't the only time Stormzy has given an unsuspecting sporting TV interview in recent weeks either, as he also went viral after being interviewed during Martin Brundle's grid walk at the British Grand Prix at Silverstone last month too.
Featured Image – Sky Sports (via YouTube)