Trending
The list of the 'most endangered' names in the UK have been revealed
My Nametags looked at around 1.5 million names over a ten-year period to see which monikers could soon fade into the mist.
Picking a name for your newborn bundle of joy is no easy task, but new research has revealed that some monikers are seemingly falling off the grid.
Every year in August, the Office for National Statistics (ONS) releases the official list of the most popular baby names from the year prior, but ahead of that, new analysis by My Nametags has revealed the top 50 "most endangered" names that could soon fade into the mist.
The research has also highlighted some of the names which are taking centre stage.
The leading name tag company – which looked at around 1.5 million names over a ten-year period – found that the names Gemma and Kieran were most at risk of dying out, having declined by more than 65% over the last decade.
Apparently, only 36 babies were given the name Gemma in 2020, and none so far this year.
The names Rebecca (-59%), Lauren (-57%), Matthew (-43%) and Ryan (-43%) are also said to be in a severe decline.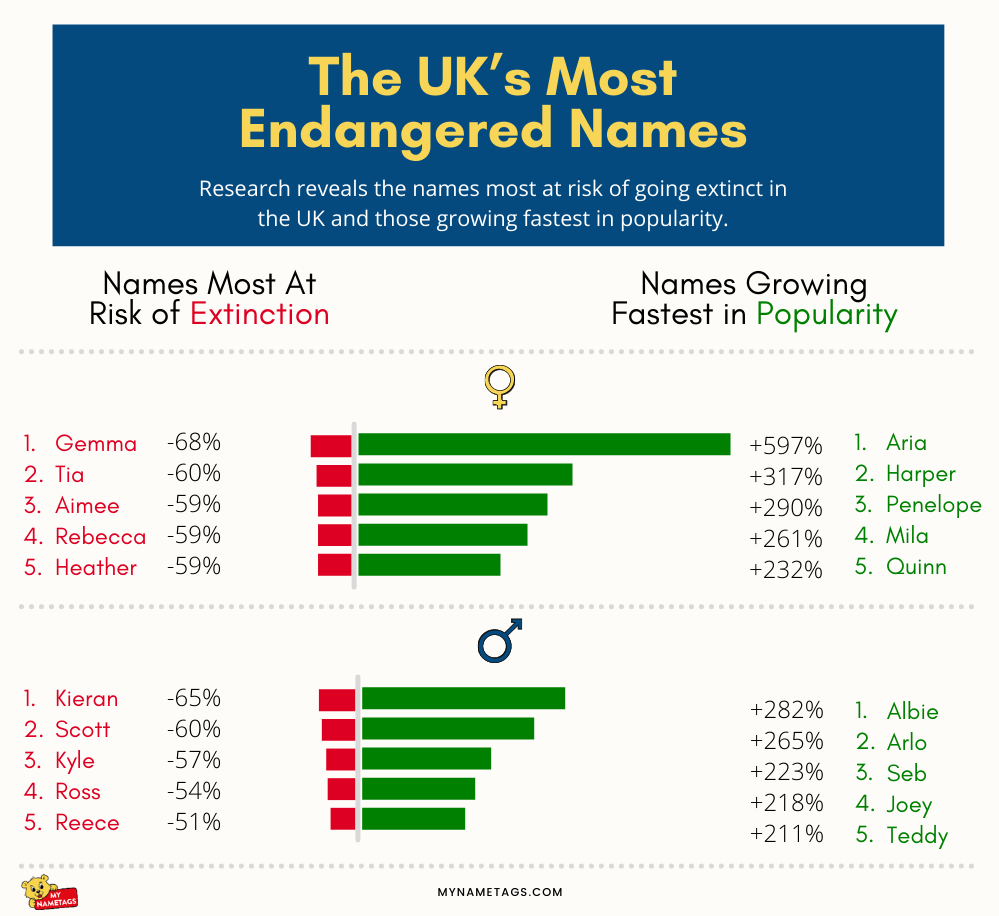 So, what have those names been replaced with, then?
Research shows that in recent years, parents have named their babies after popular TV characters or have taken inspiration from unusual and unique celebrity names, with My Nametags suggesting this is because we're surrounded by all different types of popular culture.
For instance, the use of the name Aria (+597%) – thought to be inspired by characters from the popular TV shows Pretty Little Liars and Game of Thrones – has skyrocketed in recent years, with other names rising to the top including Harper (+317%), Mila (+261%), and Penny (+201%), which are inspired by the daughter of Victoria and David Beckham, actress Mila Kunis and Penny Hofstadter (the lead character in the long-running sitcom The Big Bang Theory).
Another trend on the up is the use of nicknames as given names, which has been increasing over the past few years.
Monikers such as Albie (+282%), Bertie (+143%), Teddy (+211%), Belle (+95%), and Ronnie (+81%) all make the top 50 fastest growing names ahead of their traditional counterparts Albert, Theodore, Isabel, and Ronald.
My Nametags also revealed an increase in nostalgic, 'old-fashioned' names, with Mabel (+84%), Flora (+91%), Florence (+84%), Rupert (+205%), and Arthur (+104%) among titles that have experienced significant growth during the past 10 years and join the list of the top 50 fastest growing names.
You can read the lists in full via the My Nametags website here.
Featured Image – Unsplash