Trending
The Manc Asked: Should smoking be banned outside pubs/restaurants?
Government ministers are facing huge calls by peers this week to put a ban on smoking outside pubs, bars and restaurants.
It is widely being reported that government ministers are facing huge calls by peers this week to put a ban on smoking outside pubs, bars and restaurants.
Ministers are being urged to address outdoor smoking and the uses of designated smoking areas in the interest of public health as "pavement drinks", alfresco dining and outdoor socialising continues to be widely embraced by many hospitality establishments after post-lockdown reopenings amid the coronavirus (COVID-19) pandemic.
A group of cross-party peers are believed to be set to challenge ministers in Parliament today during a debate on emergency planning legislation and are set to force a vote on the issue next week.
According to The i, the peers are to table an amendment to the Business and Planning Bill which stipulates that pavement licences should only be granted by a local authority subject to the condition that smoking is banned.
Deborah Arnott, the Chief Executive of Action on Smoking and Health (ASH), said: "Making smoke-free status a condition for all pavement licences sets a level playing field for business and the public, and has strong public support, which will make it easy to enforce."
Alison Cox, Director of Prevention at Cancer Research UK, added that: "The pandemic has changed the way we live and most of us are spending more time outside, but being stuck in a queue or outside a café, escaping second hand smoke isn't an easy option anymore."
"Second-hand smoke is harmful and can be unpleasant to those nearby and smoke-free environments are important in protecting people and denormalising smoking in society."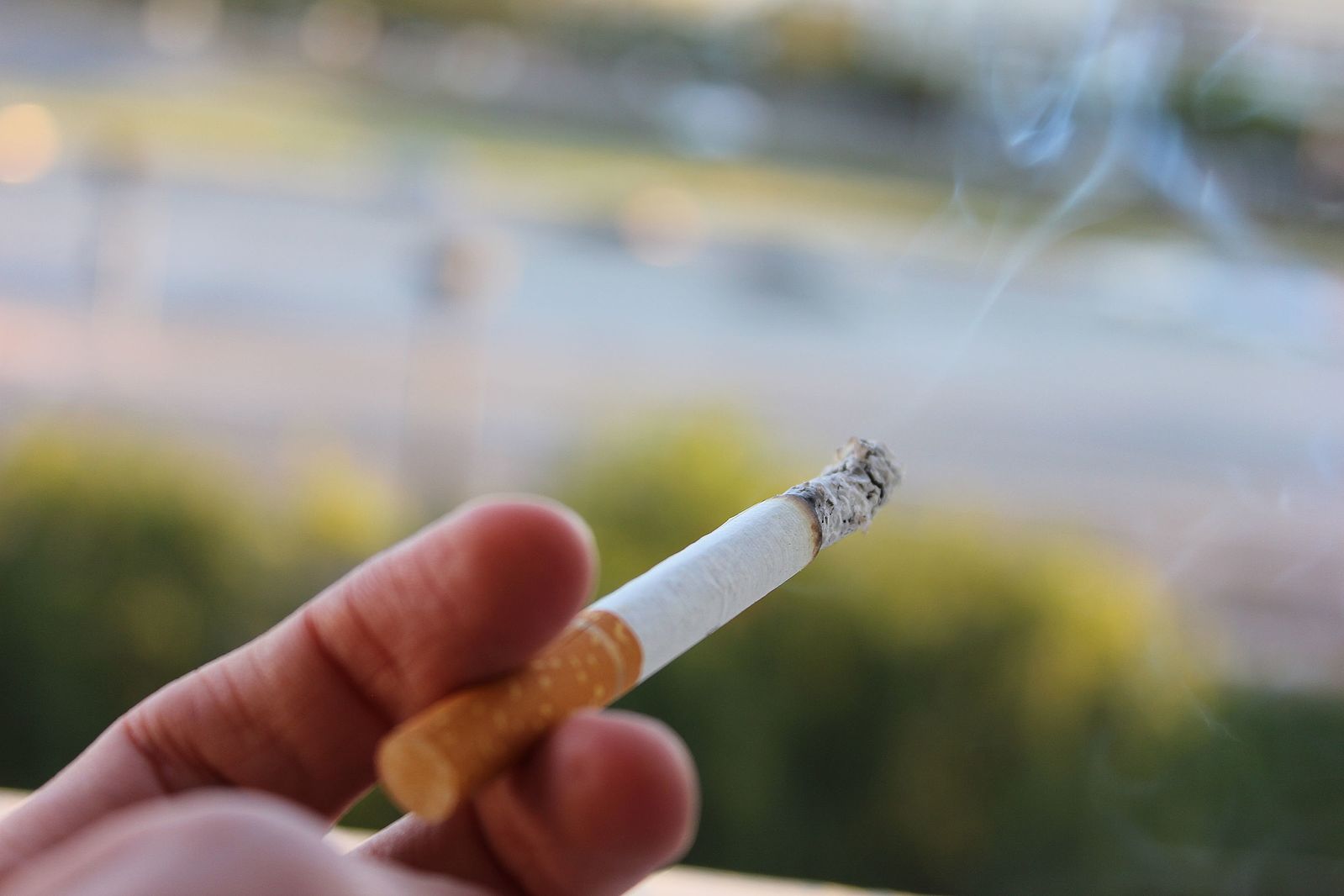 As many streets in Manchester city centre, primarily in the Northern Quarter and surrounding areas, have become temporarily pedestrianised to allow for additional al-fresco dining/drinking tables in the name of social distancing, and with similar set-ups seen throughout the boroughs too, is outdoor smoking becoming something of a growing concern to patrons in our county?
Here at The Manc, we always want to know where you stand.
Ahead of a parliamentary decision, we were keen to find out whether a ban would be be supported, or viewed as unnecessary in Greater Manchester, so we took to our audience of loyal Mancunians on Facebook and Twitter to ask – 'Do you think smoking should be banned outside restaurants/bars?'
Here's what you said:
___
Facebook
Over on Facebook, we put the question to our 500,000+ followers and invited all manner of response.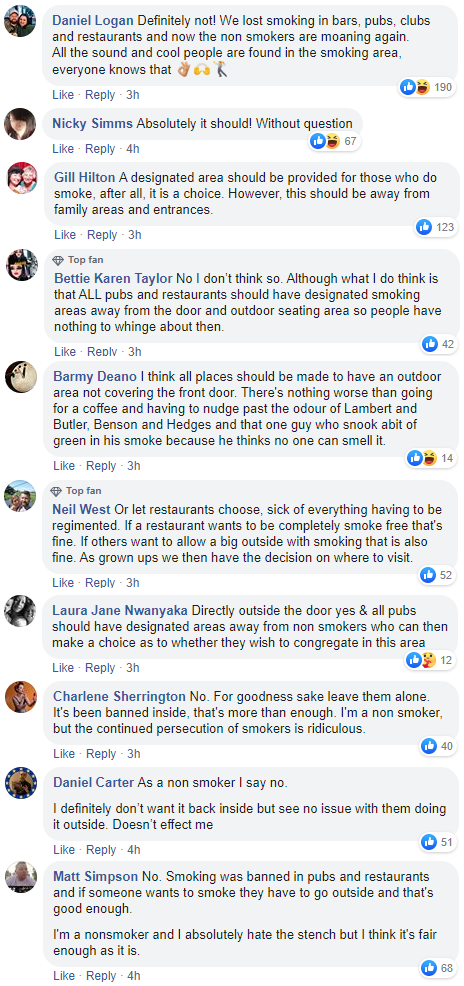 We received an overwhelmingly active response from our audience to this question and therefore haven't been able to include every single comment in this article. Instead, we chose to feature a range of responses which seemed to resonate best with others and amass the most interactions overall.
If you are keen to have a read of the rest of the responses and have your say, you can head on over to the post on our Facebook page here.
___
Twitter
When it came to Twitter, we chose to ask the simple 'yes/no' question, and in the two-hour time frame to which the poll was running for, we received a total of 1,034 votes.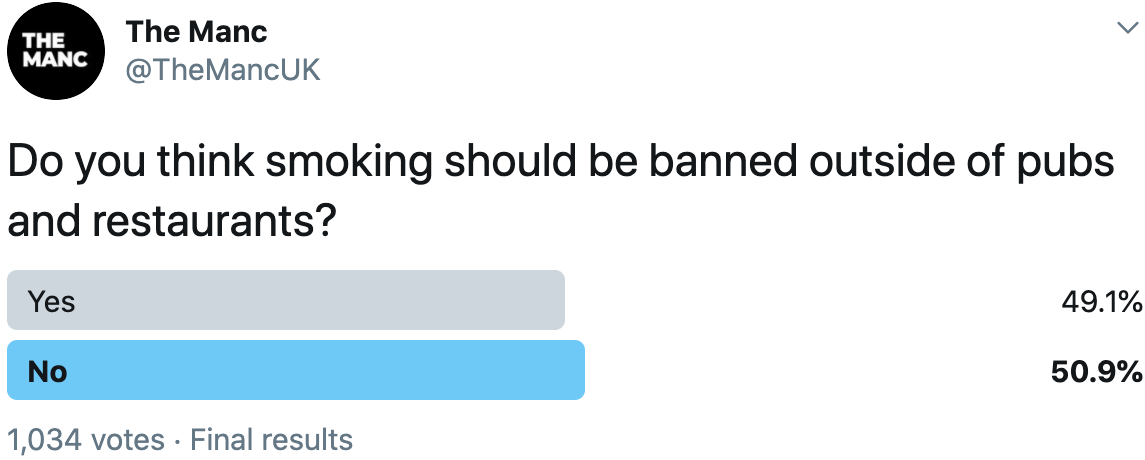 According to the standings, voting appeared closer than ever.
Whilst results were running neck and neck throughout the majority of the two-hour period, they finally edged over and signalled that voters feel a ban on smoking outside of pubs, bars and restaurants in England is not necessary and should not take effect.
51% of voters felt a ban would not be needed under current circumstances, whereas only 49% indicated they would like to see one put in place.
Follow-up responses to this poll were also invited and can be viewed here.
Are you keen to have your say?
If you've not yet had the chance to respond our poll, then there is still time to head on over to @TheMancUK on Twitter to take part, leave your thoughts and discuss matters with other Mancunians in the same, or different positions to you.
The Manc is helping local businesses and venues get back on their feet after lockdown with our #BuzzingToBeBack campaign – offering as much support and exposure for Manchester hospitality as possible.
Read more about what we're doing for the industry here.
___
For the latest information, guidance and support during the coronavirus (COVID-19) pandemic in the UK, please do refer to the gov.uk website here.
#StaySafeSaveLives