Trending
There's a new limited edition Orange Yorkie bar and you can grab them from B&M
The discount retail chain is selling bars of the limited edition chocolate treat for just 49p from this week.
Nestlé has jumped on the chocolate orange bandwagon with the launch of a new limited edition Orange Yorkie bar, and they're stocked on shelves at B&M.
Long gone are the days when Terry dominated the chocolate orange market for those with a sweet tooth, as 2020 saw the launch of the highly-anticipated Cadbury Chocolate Orange range which features Twirls, Buttons and Fingers that are now all regularly spotted in most shops and supermarkets.
And then earlier this year, Galaxy also launched a 'Smooth Orange' take on its popular milk chocolate bar, that's already going down a treat with fans.
Now, it's the turn of the Yorkie Orange.
After teasing the new release on social media late last month, Nestlé UK & Ireland confirmed that the Yorkie Orange would be hitting shelves up and down the country from 10 May, and described it as a "delicious twist" on the original Yorkie chocolate bar with solid pieces of smooth orange-flavoured milk chocolate in the classic chunky shape that everyone loves.
There's a 46g bar which is perfect for that mid-afternoon snack, or the larger 72g Yorkie Orange Duo, which is ideal for sharing.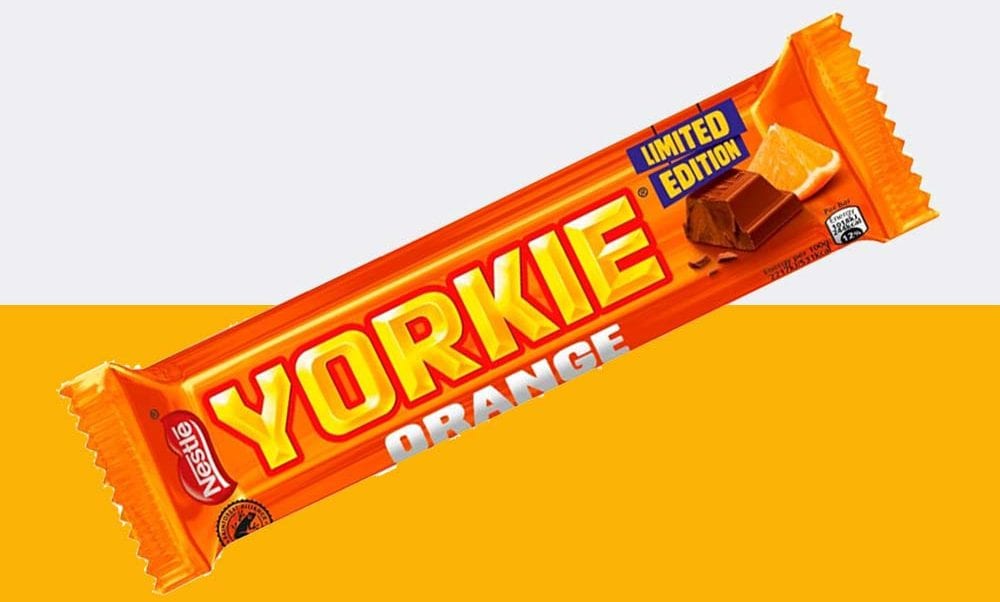 Speaking ahead of the launch of the Yorkie Orange earlier this month, Amy Kendall – Brand Manager at Yorkie – said: "Yorkie has been a consumer favourite for 45 years, and we're very excited to introduce a brand new twist on this chocolate classic.
"Delicious chunks of our signature Yorkie creamy milk chocolate are enlivened with irresistible orange to create a moreish taste sensation that we hope will become a firm favourite."
She also added: "We know how much shoppers in the UK and Ireland love to try new products from their favourite brands.
"We think Yorkie Orange is a winning combination and can't wait for people to try it".
Well, people have been trying it, and it sounds like they've been absolutely loving it too, if the rave reviews plastered across social media and on food blogging accounts are anything to go by, that is.
If you're keen to get your hands on a Yorkie Orange to try for yourself, then leading discount retail chain B&M has announced it'll be selling bars of the limited edition chocolate treat for just 49p from this week, which appears to be by far the cheapest you'll find it.
You can check the B&M Store Finder to find the opening times for your nearest branch here.
Featured Image – Nestlé UK & Ireland