Trending
Thor – the snoozing, 'w**king' walrus that brought the nation to a standstill this week
He definitely made an impression...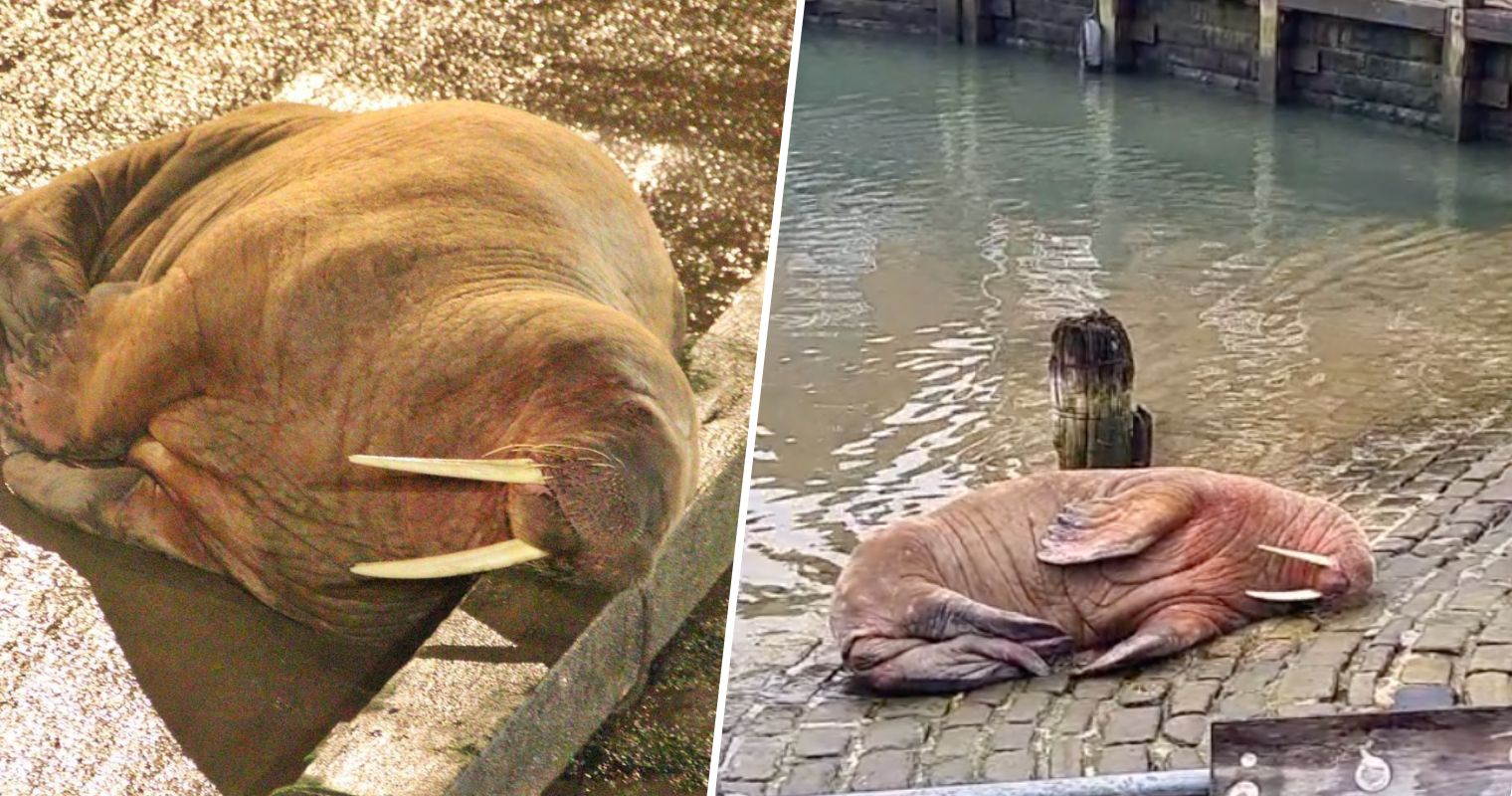 A slightly overweight, self-centred beast who went viral for being a w**ker this week has finally moved on from the UK – and sadly, I'm not referring to Piers Morgan.
No, this particular mammal was Thor, a huge walrus who chose to spend his New Year's Eve in the popular northern seaside town of Scarborough.
The incredible marine animal had hauled himself up onto the harbour slipway in the North Yorkshire town, drawing thousands of fascinated locals to see him.
And unlike his viral walrus counterpart Freya – who was euthanised for posing a 'threat to human safety' after people got too close to her – Thor was left in peace until he was rested enough to continue his journey north.
His little holiday in Scarborough even led to the local New Year's Eve fireworks display being cancelled, after the British Divers Marine Life Rescue advised that the loud noises could 'distress' the walrus.
Read more: Emily in Paris star Lucien Laviscount reportedly 'in consideration' for the next James Bond
Instead, crowds flocked down to see the huge creature hanging out in their town – and got to witness him… ahem… pleasuring himself in front of onlookers.
A video viewed almost four million times was captioned: "There's a walrus lost in scarborough. So hes just decided to knock one out in front of us all on the pier. no fucks given."
Someone else sharing the video wrote: "A walrus named Thor stopped by Scarborough to masturbate and rest on his journey in the North Sea, prompting the city to cancel its New Year's Eve fireworks to avoid disturbing him. This is the energy we need in 2023."
Other more family-friendly videos show him scratching his nose, having a slow wander about, and generally chilling out by the water.
Since he moved on from Scarborough, he was spotted relaxing on a pontoon up in Blyth, Northumberland, but moved on again early this morning.
An incredible Twitter thread by Bethan Clyne, a marine mammal medic with BDMLR, detailed the 'gruelling but rewarding' 14 hours they spent monitoring Thor the walrus in Scarborough.
Her updates included that he remained 'relatively unphased and comfortable' despite the huge crowds who came out to see him.
Bethan wrote: "As Medics, we also devoted a large amount of our time to the public. I really enjoyed talking and educating 100's upon 100's of the interested, respectful members of the public. Some were so kind to offer drinks, food and encouraging words to keep us going in the rain and cold!"
She added: "After hours of him teasing us (I thought he was going to rest again) I was so excited and relieved when he finally made his way back to sea! We sprinted to the end of the harbour where we watched him surface a few times before disappearing into the darkness."
Thor the walrus is now expected to make his way up north, but may pause again for another break (hopefully he keeps it PG this time) somewhere along the Scottish coastline.
Featured image: TikTok @andysheadz / Twitter @BDMLR