Trending
Tom Malone Jr lands his first post-Gogglebox job as an official 'chair tester'
After almost seven years of sitting on the couch alongside the rest of his family, Tom's new role will see him continue doing what he knows best.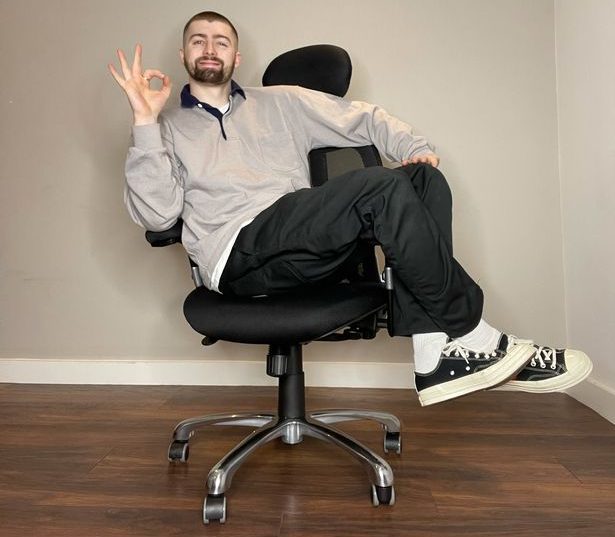 Tom Malone Jr has landed his first job since bidding a farewell to Gogglebox.
After almost seven years of sitting on the couch alongside the rest of his family, the 26-year-old Mancunian decided to bow out of the hit Channel 4 show last month, but teased that there were some "new opportunities knocking on the door" and that it was "time to explore" them.
Now, he's taken to social media to reveal his first post-Gogglebox job to fans – and let's just say, it's incredibly appropriate.
It's definitely a role he's made for.
Taking things in a slightly different, yet still seated, direction, Tom announced that his new gig will see him become the official 'Head of Chair Testing' for company BiGDUG.
So, what does this actually mean then? Well, according to the job description, Tom will be put to work trying, testing and rating all kinds of seating on his social media, and he joked with his more than 270,000 followers that: "Some may say that I'm overqualified for the job, but it's all about transferable skills, right?"
He continued: "I've just left a show sitting on my arse for a living, and now for my first real brand job I'm going to be sitting on arse
"You can't really make it up".
Polly Maclennan – Public Relations Manager at BiGDUG – added: "We really couldn't think of anyone better than Tom to be assigned as Head of Chair Testing.
"We've watched him over his time on Gogglebox and having gained so much experience sitting down over the last few years, we know he has the knowledge and expertise to take on the role better than anyone else".
Well, there's no harm in sticking to what you know, right?
Best of luck, Tom.