Trending
Two Manchester sisters are turning dead squirrels from Heaton Park into stationery holders
Over near Heaton Park, there are a couple of women who run an amateur taxidermy business - taking dead squirrels and turning them into stationery holders..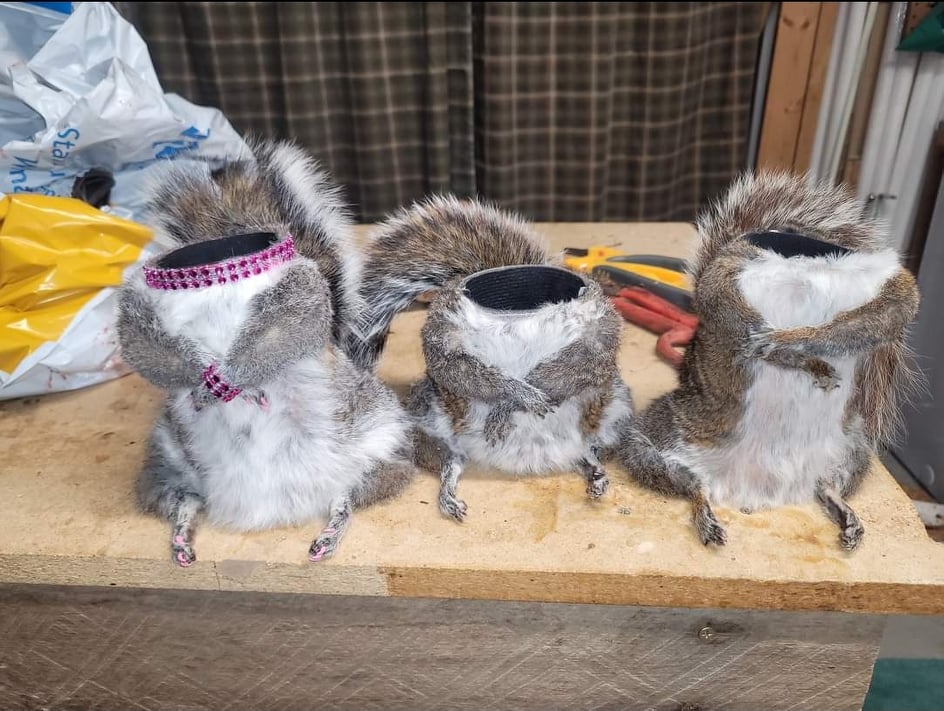 A couple of amateur Manchester taxidermists have gained serious notoriety this week after a post advertising their headless squirrel stationery holders went viral on social media.
The business, which is apparently run by a pair of sisters local to the Heaton Park area, decided to advertise on a Facebook page called The Mancunian Daily as a way to drum up some more interest in their morbid creations.
Little did they know just quite how much attention they would get.
The original Facebook post has now been viewed over five million times and has amassed over 42,000 comments on The Mancunian Daily page alone.
Short and succinct, it reads: "Hi my name is Karen, I upcycle dead squirrels I find in Heaton Park. Perfect holder's for pens, cutlery etc.
"My husband uses the heads for golf so nothing gets wasted. £10 each or 2 for £35. Tia xx"
Shocking and horrifying some, whilst genuinely intriguing others, the post's accompanying images show decapitated, hollowed-out squirrels with crossed arms and, in some cases, pink painted nails and rhinestone collars.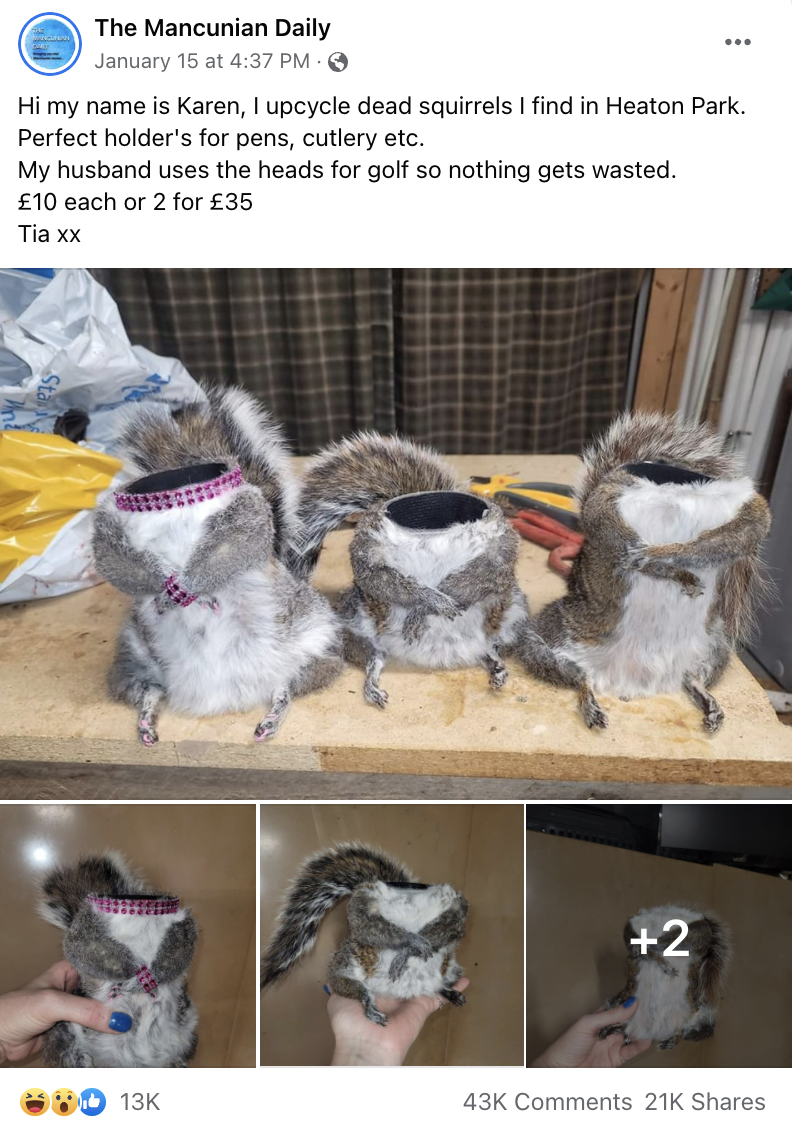 It has since been viewed by millions around the globe after being shared widely across Facebook, Twitter and Reddit, and has attracted some very interesting comments, to say the least.
Many have speculated whether 'Karen' is real – and even more wondered aloud about the dead squirrels, how exactly she was finding them and what her husband does with the heads to ensure 'nothing gets wasted'.
One person asked: "She seems to come across a lot of dead squirrels!!!! I only see beautiful live ones thank goodness! Upcycle??? Don't be falling asleep in the bloody park!!"
Another said: "God im sure people will be going nuts for these, Like somthing out of a f**king horror movie, i mean you've even painted the one with the collars f**king nails pink"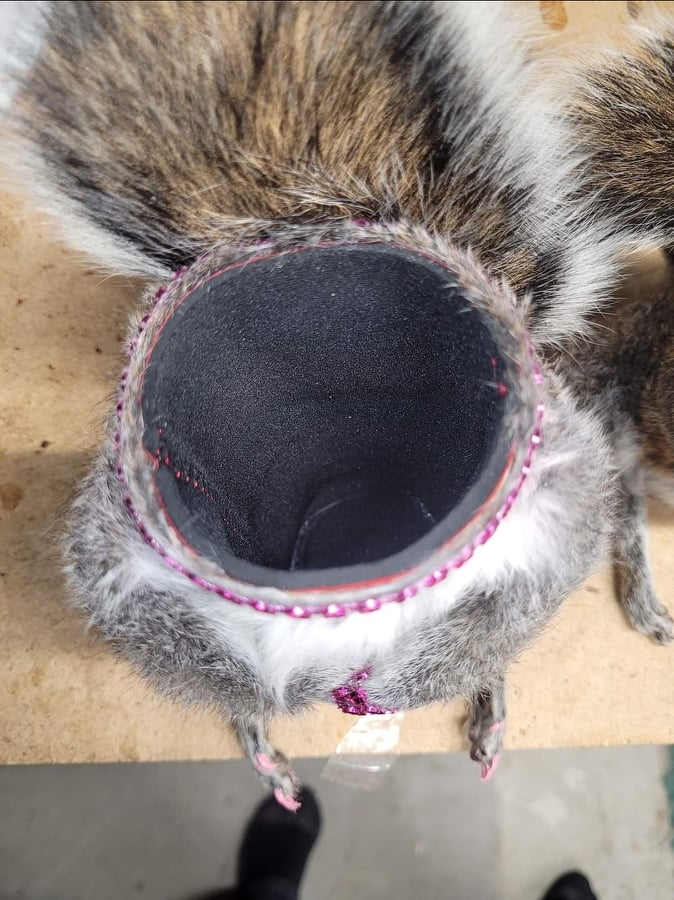 The person who claims to be the creator of the rodent accessories wishes to remain anonymous, but came forward to The Manc to address the negativity she's received.
She told us that the taxidermy business is actually run by her and her sister and that although she was upset by some of the comments they now have 'enough bookings to last a lifetime'.
She says they've received hundreds of orders through The Mancunian Daily page.
Read more: Greater Manchester Tory MP defects to Labour party with scathing letter to Boris Johnson
She told The Manc that she first began experimenting with the practice a few years ago – initially operating on dead birds her cats would bring into the house.
Then, having stumbled across a lot of dead squirrels on walks in the park with her dog, she decided to branch out and 'upcycle' them, rather than leaving them behind for the foxes.
She said: "I only do arts and crafts as a side line job. My dog gets walked every day round Heaton Park and we have found a lot of already dead squirrels nearly daily as we walk through bushes and not foot paths.
"I started taxidermy a few years ago on dead birds my cats bring in my house. I decided to do something with the dead squirrels as it would be inhumane to leave them there to get picked up by the foxes."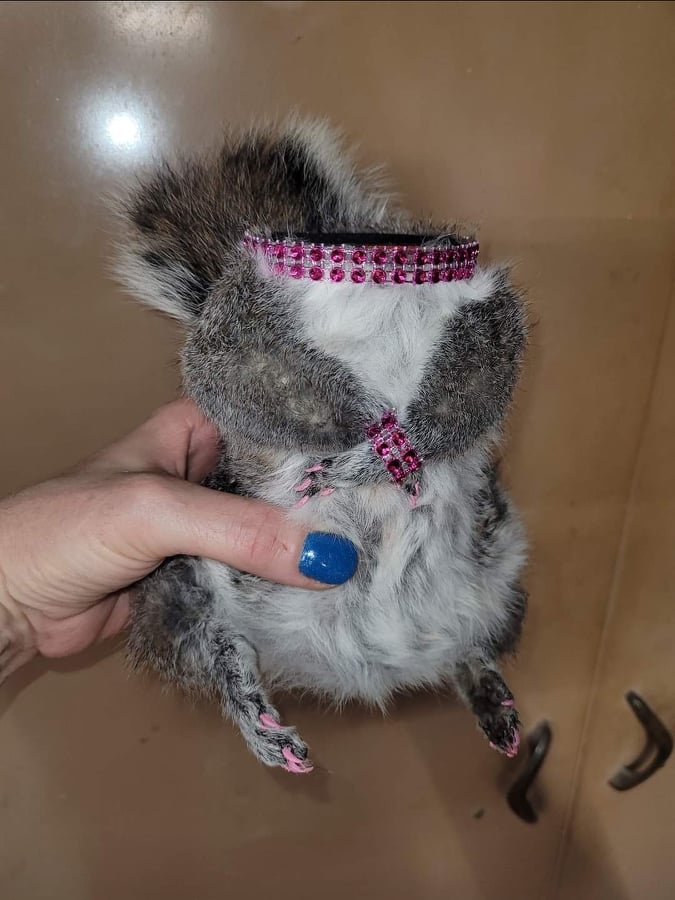 As for what her husband does with the heads? She clarified, "No I don't stuff them. He takes them into the shed where he keeps his golf stuff and discards of them on the gollys I think but I have seen him chipping in the garden but I don't know what he is hitting."
Screenshots shared with The Manc show one customer, based in Germany, asking for four squirrel pots via International shipment – adding "it would be awesome if I could get 4 fat ones so Beer cans fit in."
Another potential buyer has messaged to ask, "have you got any squirrells left without all the sparkles please ta."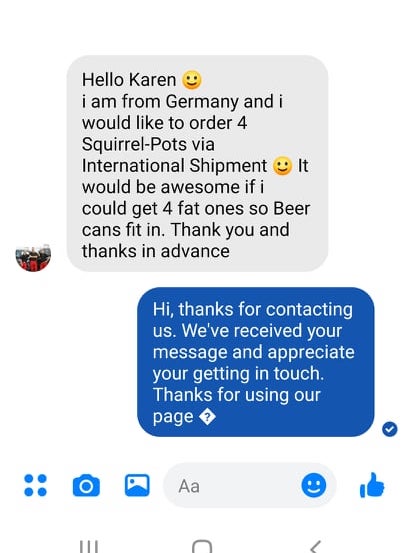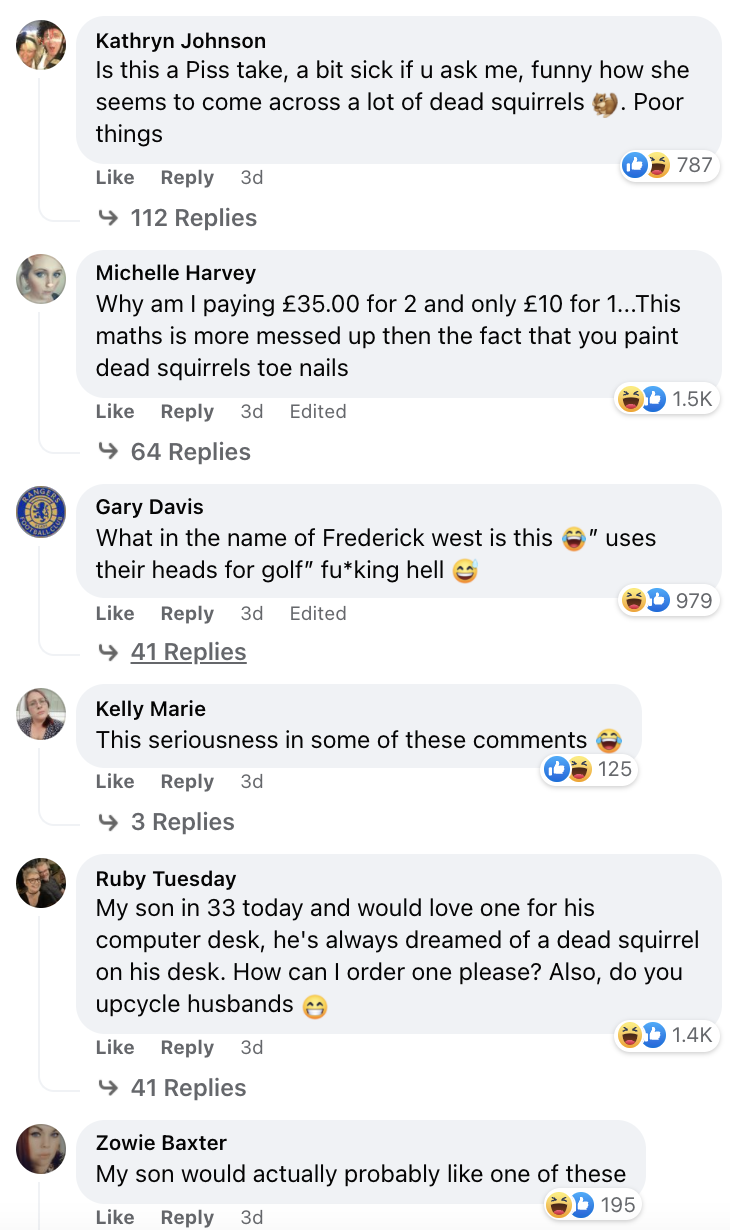 Of course, not everyone is so keen on the idea of using a dead squirrel as cutlery or stationery pot – and the Facebook page, which is managing orders on the pair's behalf, has also received a lot of negative engagement too.
Suffice to say, there's been a lot of interest in the squirrel pots – both negative and positive.
Commenting on the post, the Mancunian Daily admin told us, "We are shocked that the post has got over 5 and a half million views and still going, but we are very grateful for all the new followers to our page.
"Although some of the comments have been nasty we like to promote a positive page as we continue to grow."
If anyone wants to order a squirrel holder, they can do so by messaging The Mancunian Daily here.
Feature image – The Mancunian Daily