Trending
Viewers baffled as Ian McKellen and John Bishop hatch from giant golden egg on The One Show
"This is why I love British light entertainment."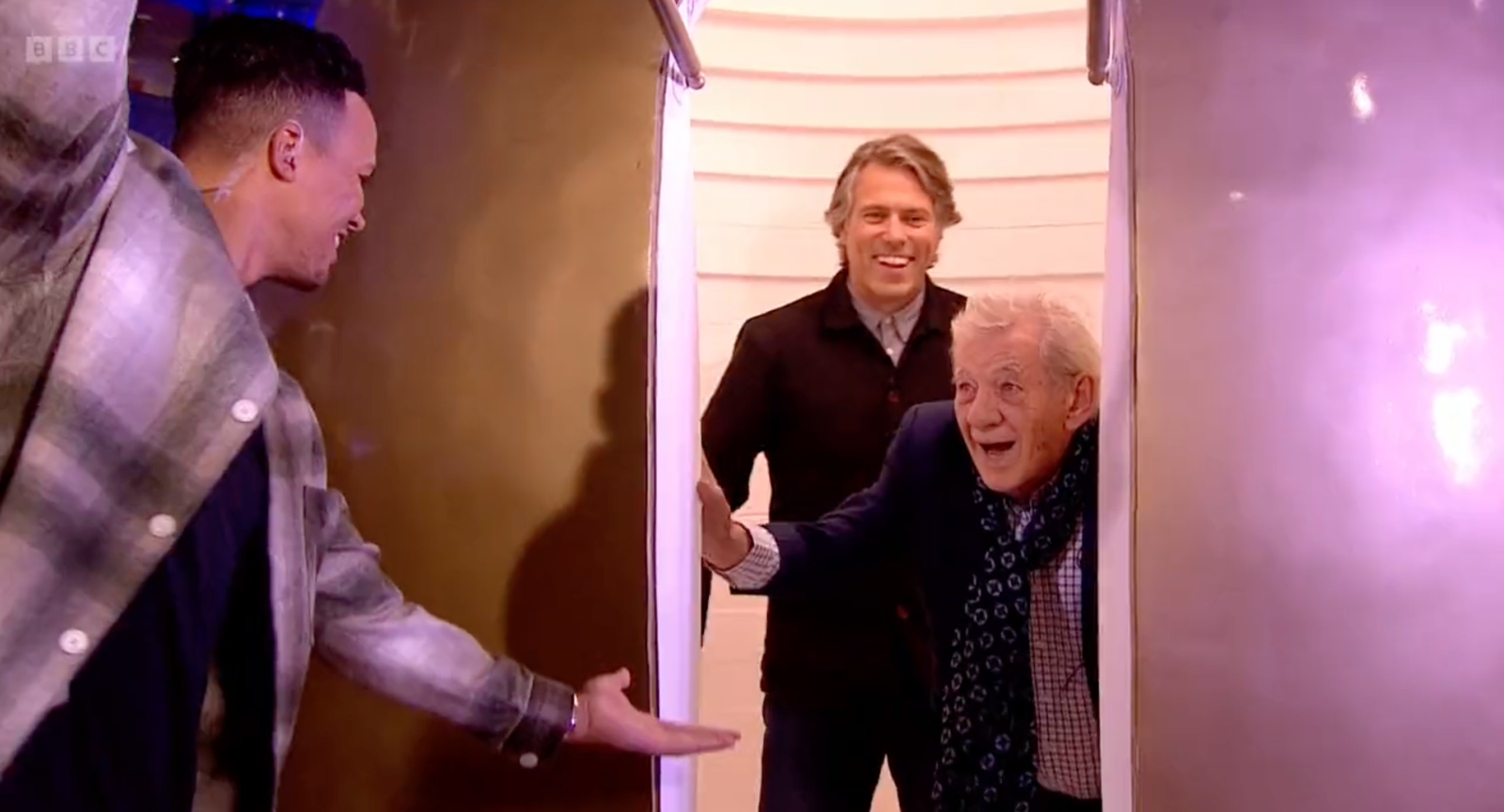 A video of Ian McKellen and John Bishop hatching from a giant golden egg on The One Show has been going viral on social media.
As one of the most unpredictable and eclectic shows on British television, The One Show has undoubtedly produced some brilliant – and, more often than not, questionable – moments over the years since it first aired on our screens back in 2006.
Airing each weeknight on BBC One, The One Show is described as a magazine-style show that tackles current affairs and other issues in the UK by using a mix of interviews, topical stories, and features – with regular contributors taking to the big red sofa to present reports on everything from history and wildlife, to consumer affairs, health and medicine, and so much more.
Let's just say, it's a variety show in the true sense of the word.
Yet, despite the fact we've grown to become fairly unfazed by what happens on the show nowadays, we have to hold our hands up and say we never imagined we'd see the day Sir Ian McKellen and John Bishop hatched from a giant golden egg live on national television.
A video of this quite frankly bizarre moment has been doing the rounds on social media since it hit our screens last night, and it's fair to say viewers are baffled by the whole thing.
To briefly sum up what happened in the short nine-second video – which has already racked up tens of thousands of views, and plenty confused comments – presenters Jermaine Jenas and Lauren Laverne are seen standing outside the BBC studios, and without any wider context, Laverne proceeds to announce the pair's entrance.
"Crack open the egg… please welcome, Ian McKellen and John Bishop," Laverne exclaims.
Laverne and Jenas then lend a hand to help one of Britain's most-revered and beloved actors, and the hugely-popular Liverpudlian comedian step safely out of the giant golden egg.
And that's it, that's the end of the video.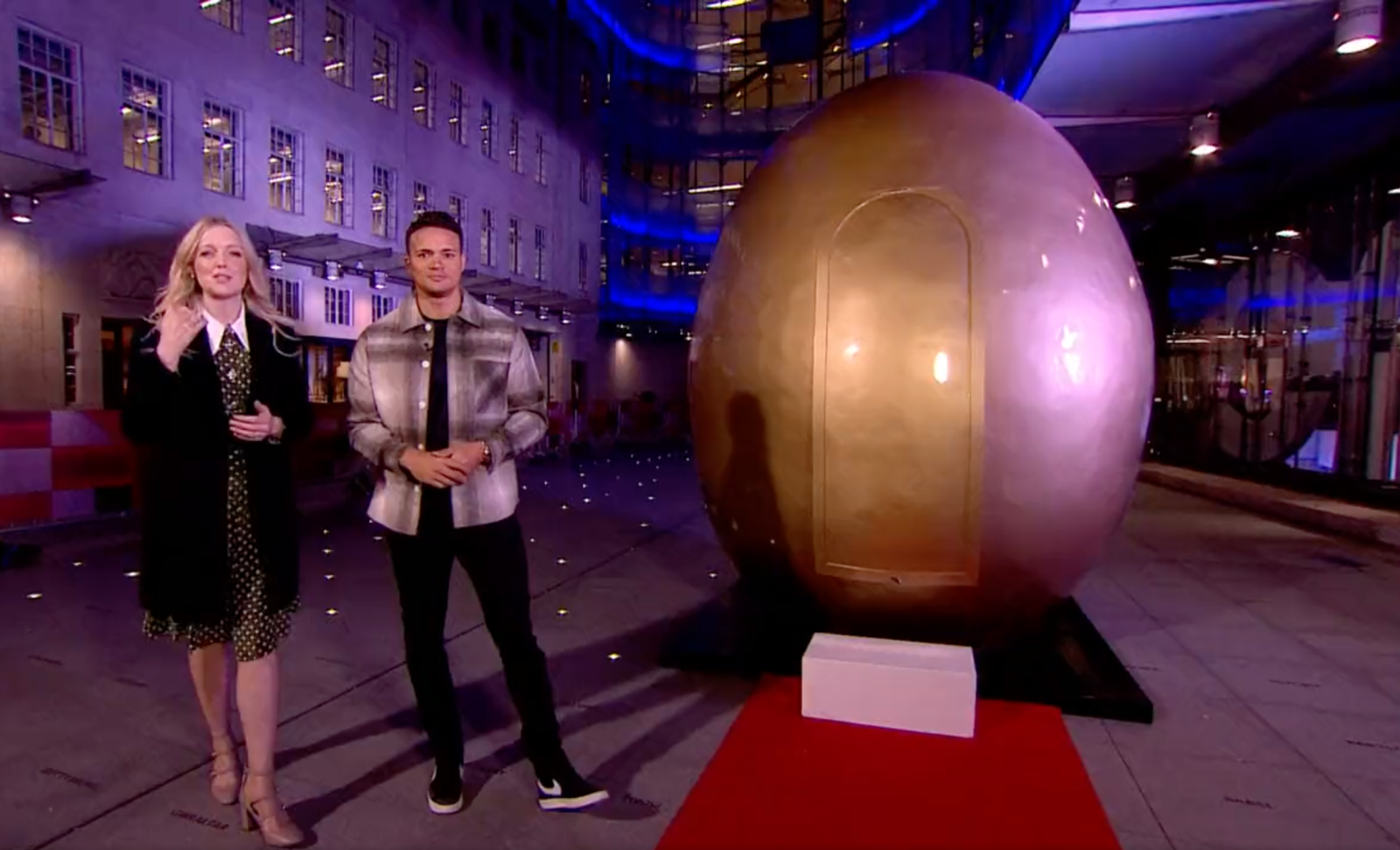 As hilarious and completely nonsensical as the clipped version of the video is, and while it may not seem like an explanation for it is good enough, there is actually a reason why McKellen and Bishop have been travelling the country inside the giant golden egg, and it's because the pair are due to star alongside one another in a new pantomime called Mother Goose that's heading out on a big UK tour.
The pantomime tells the story of Mother Goose and her husband Vic, who run an animal sanctuary and live a wholesome life inside an abandoned Debenhams department store – but the sudden arrival of a goose causes upheaval.
During the launch for the pantomime, it's actually become a bit of a tradition for McKellen and Bishop to introduce themselves by hatching out the giant golden egg and then posing for photos with co-stars, so even though The One Show viewers couldn't wrap their heads around it, this isn't the first time the pair have made this kind of an entrance.
This hasn't stopped people on Twitter from chipping in with their commentary though.
Popular television critic Scott Bryan – who goes by @scottygb on Twitter – has had a hand in making the short video go viral by sharing it to his 94,000 followers and aptly branding the clip "peak One Show", which is hard to deny.
He also then posed a series of questions as a follow-up, which let's be honest, we were all thinking ourselves – "Why is there an egg? Why is Laverne introducing a drumroll for the egg? Why is Ian McKellen and John Bishop in the egg?"
BBC Radio 5 Live presenter Clare McDonnell also then commented on the video saying: "I walked past that earlier… if only I'd known… how long did they keep them in there?"
"Imagine some cheese induced nightmare where you were trapped inside an egg with Sir Ian McKellen and John Bishop," another viewer commented.
"Sure it sounds mental, but look how happy Ian McKellen is. If he's okay with it, I'm okay with it," another person said on Twitter.
Read more:
A fourth person then gave a brilliant analysis on the situation.
"This is why I love British light entertainment. It really gives you everything you want, even if you never even imagined you wanted Sir Ian McKellan and John Bishop coming out of a giant golden egg," – and we couldn't have phrased it any better ourselves.
Featured Image – BBC