Trending
We Love MCR Charity is re-launching its successful community grants scheme
The 'Stronger Communities Fund' invests in Manchester's "vibrant multicultural neighbourhoods and youthful energy".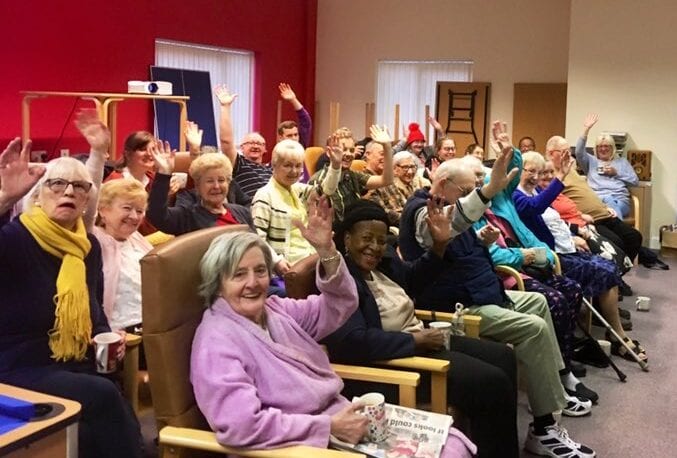 One of Manchester's most iconic charities is re-launching its longest-standing grant programme to support the city's communities in 2021.
We Love MCR Charity has today announced that it is to "re-vitalise" the Stronger Communities Fund.
The 'Stronger Communities Fund' is one of the charity's most successful programmes to date and one it's "immensely proud" of after having supported over 100 local groups and charities to deliver great work in Manchester's unbeatable communities throughout the last 10 years, and today's re-launch and new injection of funds means 2021 is going to be another massive year for the scheme.
But in order for the charity to continue to best help Manchester in its post-COVID recovery work, We Love MCR wants local communities to tell them what they need.
This is why the 'Stronger Communities Fund' is calling on community groups and charities to apply for funding for initiatives which celebrate and invest in Manchester's "vibrant multicultural neighbourhoods and youthful energy".
Now that the COVID-19 vaccination programme is well underway right across the UK and Prime Minister Boris Johnson has last week unveiled the government's roadmap to reopen society and take England out of its current national lockdown in a series of four stages, many community groups are preparing to emerge from a period of hibernation and isolation, and are assessing the holes left in their operations and finances.
We Love MCR Charity is therefore asking Mancunians directly if they know of any groups in their communities that could benefit from a cash grant from the newly re-launched fund.
So, what does the re-launch of the 'Stronger Communities Fund' mean then?
Well, as well as focusing on assisting the city in its recovery from the coronavirus (COVID-19) pandemic, the fund's relaunch includes two other new developments – the maximum grant value is increasing from £2,000 to £5,000, and also the two-year time limit after a successful grant application is being scrapped.
As We Love MCR Charity believes in "funding great ideas whenever a community is ready to get started on their project", these two new developments mean that groups are now able to re-apply to the Stronger Communities Fund just 12 months after a successful award from We Love MCR Charity, as opposed to previously being required to wait two years.
And if that wasn't brilliant enough as it is, We Love MCR Charity is also pledging a healthy £215,000 to the fund from 1st April 2021 to reinforce its "commitment to Manchester's people and communities".
Speaking on the re-launch of the fund, Councillor Tommy Judge – Lord Mayor of Manchester and Chair of Trustees at We Love MCR Charity – says: "The Stronger Communities Fund re-launch simply could not come at a better time for Manchester [as] the people of this city have lost loved ones, livelihoods and opportunities during this pandemic, and therefore it is the people who are best placed to steer their communities out of the pandemic.
"Often what they need most is support and funding, and We Love MCR Charity will support our city brilliantly now, as it has done for many years."
Marie O'Neill-Steinegger – Grants Manager at We Love MCR Charity – added: "We've supported many amazing groups over the last 10 years, and this year we want to support many more.
"Today we're underlining our commitment to Manchester's local groups and charities by offering them our financial support.
"Our communities know what they need to do to improve things for their neighbours".
And who could be better positioned to talk about the benefits of the 'Stronger Communities Fund' than some of the fund's recent grant recipients?
A spokesperson for the Greater Manchester branch of youth homelessness charity Depaul UK and Nightstop said: "Having all these extra library resources funded by the Stronger Communities Fund is very positive for our residents [as] they can now access the right support and skills before they move on to their own accommodation.
"It also makes our accommodation feel more like a home and less like an institution, which has a huge impact on our residents' wellbeing".
A spokesperson for Hoshindo Karate Manchester added: "We Love MCR Charity made the whole process of applying to the Stronger Communities Fund really simple [and] their grant is helping us to empower our young people, at a time when funding for activities for young people is hard to find".
Do you know an amazing community group or charity that does fantastic work for your area in Manchester and could benefit from the 'Stronger Communities Fund'?
Then now is your chance to tell We Love MCR Charity all about them.
The fund welcomes applications across four broad themes:
Helping in the Early Years
Combating Loneliness and Social Exclusion
Protecting and Improving our Open Spaces
Offering Positive Youth Activities
To nominate a community group or charity in your area, all you need to do is head on over to We Love MCR Charity's social media platforms – Facebook, Twitter and Instagram – to give them a shout out, and then visit We Love MCR Charity's website here to make an application and find out more information.
Or you can email the charity today at [email protected] with your ideas and questions.
We Love MCR Charity's Trustees meet monthly to consider applications and to award grants, and the next two deadlines to submit applications for funding are 5th March and 2nd April.
Keen to donate to We Love MCR Charity? You can also do that here.