TV & Showbiz
The Witcher: Blood Origin has the lowest Rotten Tomatoes score in history
While it's definitely not going to go down as groundbreaking fantasy, it seems a lot of people are just upset about the wider Witcher drama.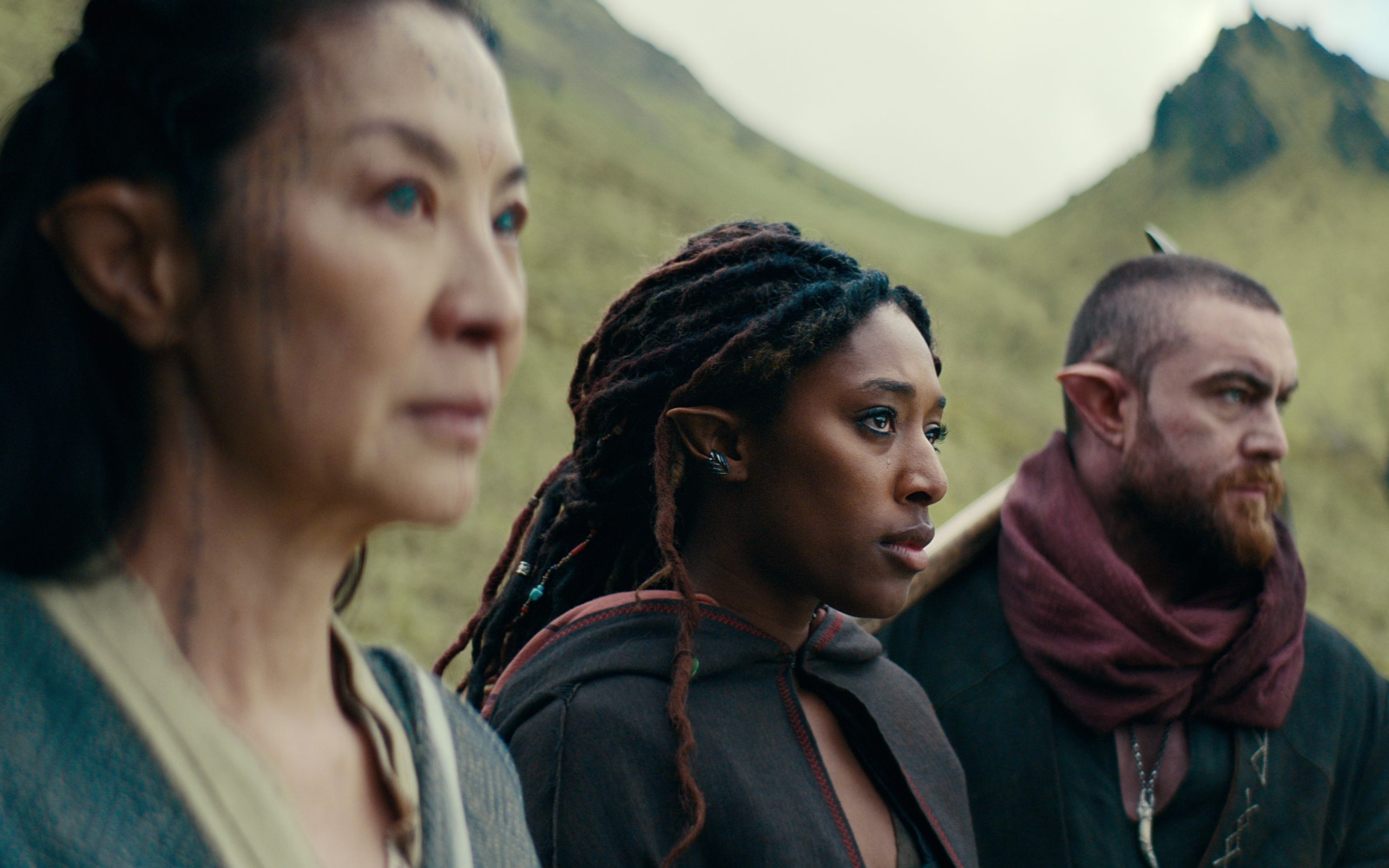 The Witcher: Blood Origin, the brand-new spin-off based on the wider Witcher books and serving as a prequel to the mainline series, has managed to earn the worst Rotten Tomatoes score ever. Yikes.
Launching on Christmas Day, the new mini-series takes place more than a thousand years before the Netflix show, the games and original books.
The expanded lore of the popular dark and gory fantasy world is vast and fiendishly studied by die-hards, so a show diving into that should be a no-brainer, right?
Well, sadly, through a combination of seemingly genuine bad reviews and people simply being outraged that the main Witcher series no longer features its star, it looks like the new show is being heavily review-bombed.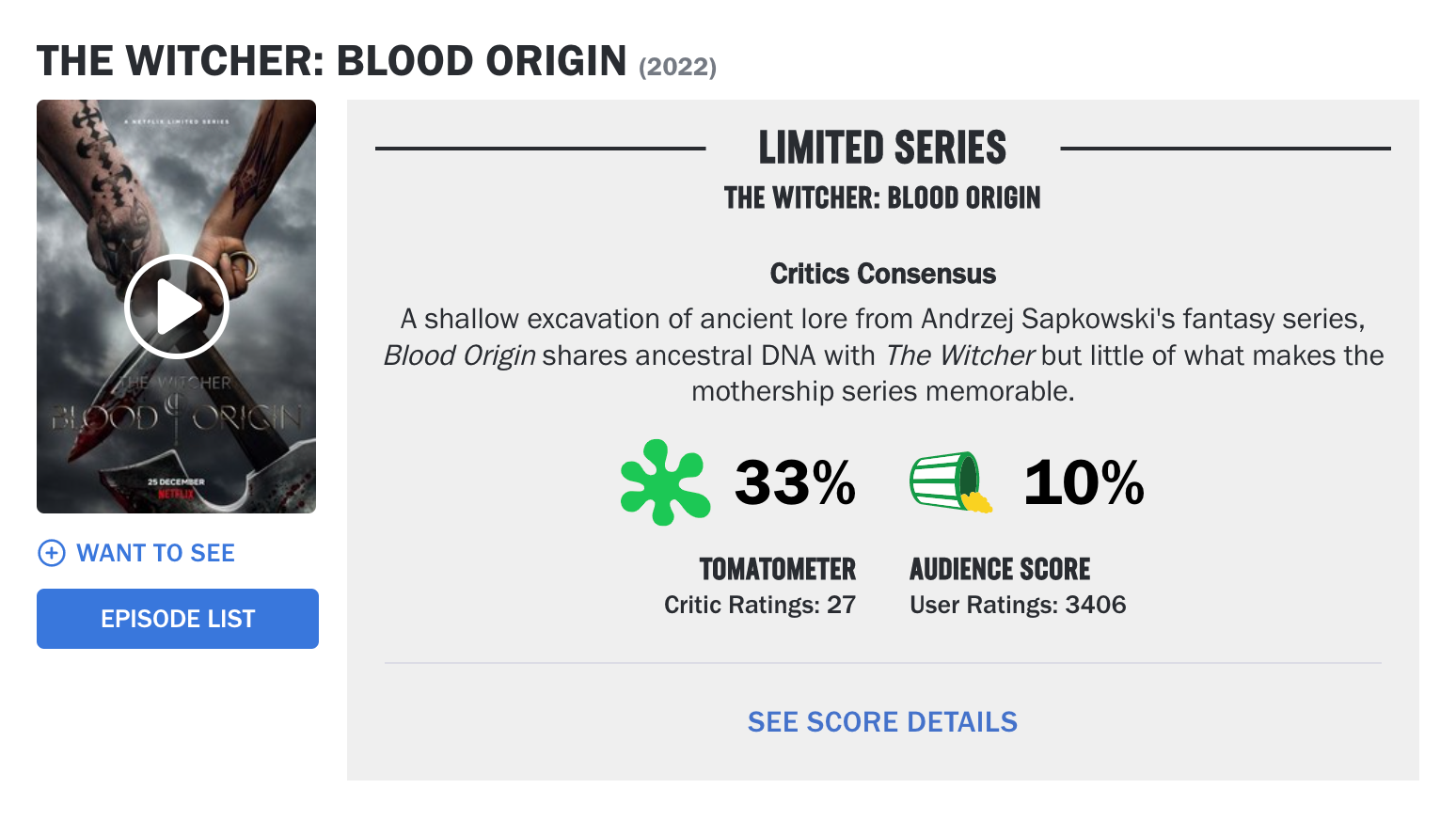 In case you were unaware of some of the latest blockbuster shenanigans happening in Hollywood over the last few weeks, Geralt of Rivia himself, Henry Cavill, recently stepped away from the show to reportedly prioritise on training for his return as Superman.
However, shortly after, it was announced by new DC Studios chairmen James Gunn and Peter Safran that they were dropping the 39-year-old actor as they hoped to pursue a new star to take on the role — you know, the same one he'd just stepped away from his reported £350,000-an-episode deal to focus on.
Yes, we know he's a millionaire, but die-hard Henry stans obviously felt terrible for him, leaving one dream job for another beloved franchise that essentially helped put both himself and modern DC movies on the map, only to find out that he was no longer needed.
Read more:
Furthermore, fans are now speculating that Cavill quit The Witcher after two highly-successful and well-paying seasons following disputes with the showrunners. A relative on-set expert as a genuine lover of the books and the games, Cavill is said to have struggled to "see eye to eye with the producers".
Speaking to Hollywood Reporter, the Man of Steel and Mission: Impossible – Fallout star said "the toughest part for me was finding that balance between the showrunners' vision and my love for the books", even going on to add that "some of the writers were not [interested] or actively disliked the books and games, even actively mocking the source material."
If this is to be believed then it's no wonder that showrunner Lauren Schmidt-Hissrich, who is also overseeing the Blood Origin spin-off, seems to have annoyed not only those who love Henry Cavill but now Witcher fans in general.
While plenty of the Rotten Tomatoes reviews limit themselves to calling out those involved in the production for their 'incompetence' and 'lack of respect', the online consensus beyond the popular review aggregator seems to be that the writing simply isn't up to snuff.
As always, it's worth watching and forming your own opinion before letting other people's takes colour your own impressions but it's fair to say it isn't looking good for the future of the franchise's TV adaptations.
Whether the negativity is being largely driven by review-bombing by the Henry Cavill faithful or not, it looks unlikely that there'll be a resolution as Liam Hemsworth has already been named as the replacement for the main character, Geralt.
Moreover, since Cavill left/was dropped from both projects, he is once again being tipped to play an equally iconic pop culture protagonist in particular. Have a guess…
For all the latest news, events and goings on in Greater Manchester, subscribe to The Manc newsletter HERE.
Featured Image — Netflix