Salford
A free Gruffalo exhibition is coming to Salford for the summer holidays
The exhibition will open on Saturday 22 July at The Lowry and run to Monday 1 January 2024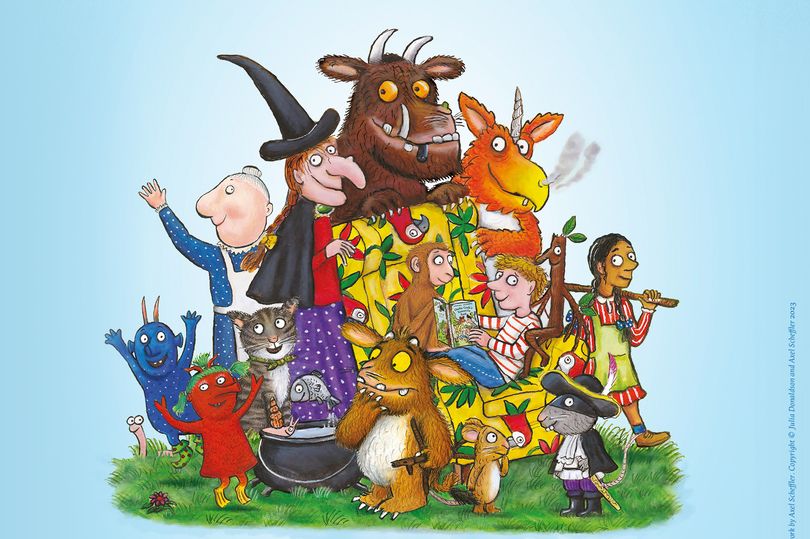 A free exhibition celebrating children's books including The Gurffalo, Zog, Stick Man and Room on the Broom is coming to Salford in time for the summer holidays.
The major new exhibit, which will celebrate author Julia Donaldson and illustrator Axel Scheffler's award-winning partnership, will open at The Lowry arts centre this summer.
Entitled Julia and Axel – Thirty Years of Favourite Stories, it will bring to life some of the best-loved characters in contemporary children's fiction.
Kicking off in July before running through to the end of the year, those heading down can look forward to exploring an interactive "Storybook room", as well as discovering snippets from the animated reimaginings of The Gruffalo, Zog and Snail and the Whale.
The exhibit will also explore how Julia and Axel have collaborated over the years to create some of the most beloved characters in modern children's fiction.
From the terrible tusks and terrible claws of the Gruffalo to the Witch, her cat, and her very tall hat, and Stick Man on his journey home to the 'family tree', the pair's eccentric characters have captured the hearts and minds of children around the world.
Read more: Ramsbottom's beloved Chocolate Cafe has closed for good, saying 'it wasn't meant to end this way'
The exhibition will open on Saturday 22 July at The Lowry and run to Monday 1 January 2024, giving families plenty of opportunities to visit over the course of the year.
Julia Donaldson says: "I am delighted that we are working in partnership with The Lowry on this exhibition and that they are celebrating 30 years of Axel and me working together. It is exciting to be able to share some 'behind the scenes' secrets with our young readers and to show what happens before a finished book is in their hands.
"I hope that it will help them to feel creative and to start writing and illustrating their own stories, so that we have new picture-book creators in the future."
Axel Scheffler says: "I find it hard to believe that it is 30 years since Julia Donaldson and I did our first picture book together with A Squash and a Squeeze. So much has happened since then and many children have now enjoyed our stories over the years.
"I am very pleased that The Lowry is hosting this special celebratory exhibition and that it will give families the chance to discover more about my illustrations and Julia's writing."
Read more: The best record shops in Greater Manchester
Michael Simpson, Director of Visual Arts at The Lowry, says: "This is a unique celebration of the creative partnership of Julia and Axel, whose stories and pictures are loved by children and grown-ups alike. We want every family to think of The Lowry as the place to go for a great day out."
Featured image – Copyright © Julia Donaldson and Axel Scheffler 2023