Audio
The best record shops in Greater Manchester
A wise man once said 'music is the only real magic in life.' Hard to argue with that on Record Store Day.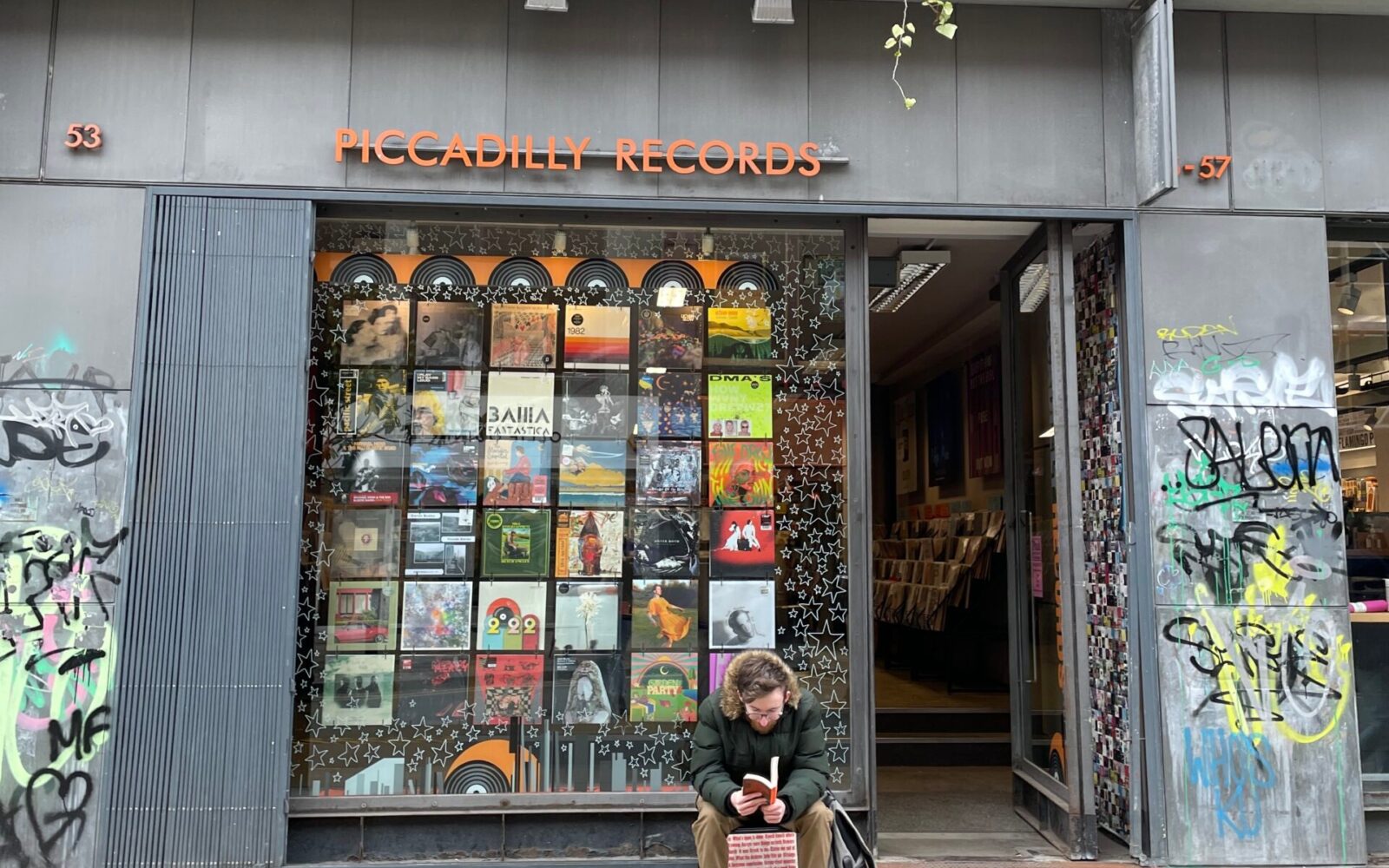 When it comes to listing things that define our city's culture, music and Manchester go hand-in-hand; we're up there with one of the most influential music places on the planet, no exaggeration.
In fact, we're sure you can relate when we insist that some of our earliest memories of coming into town are when we came to shop for new music and flick through old records for hours.
That being said, in the age of streaming and digital music dominating much of how we consume our favourite tunes these days, the record shop is one of the last bastions of that lovely analogue tradition of not just listening to music, but devotedly collecting for decades.
So, for those of you audiophiles that still like to flip through a proper LP or try and find a gem amongst the old, well-thumbed singles from back in the day, we thought we'd put together a list of the best record shops in Greater Manchester. You're welcome.
Sifters Records
The vinyl action around Greater Manchester may be concentrated around the city centre, but you'll find comfortably one of the best record stores out in Burnage.
Even if you've never visited Sifters Records, you'll recognise the name – this is the very shop referenced by Oasis in their tune 'Shakermaker', where Noel Gallagher sings: "Mister Sifter sold me songs, when I was just sixteen."
The musician used to shop here when he was a teenager, way before Oasis started releasing their own records, and their impact on the surrounding community and other local artists is massive.
The shop was opened more than 40 years ago by Mr Sifter himself, Pete Howard, who stocked it with 700 of his own LPs.
Inside now you'll find a massive collection of rare and vintage records.
Piccadilly Records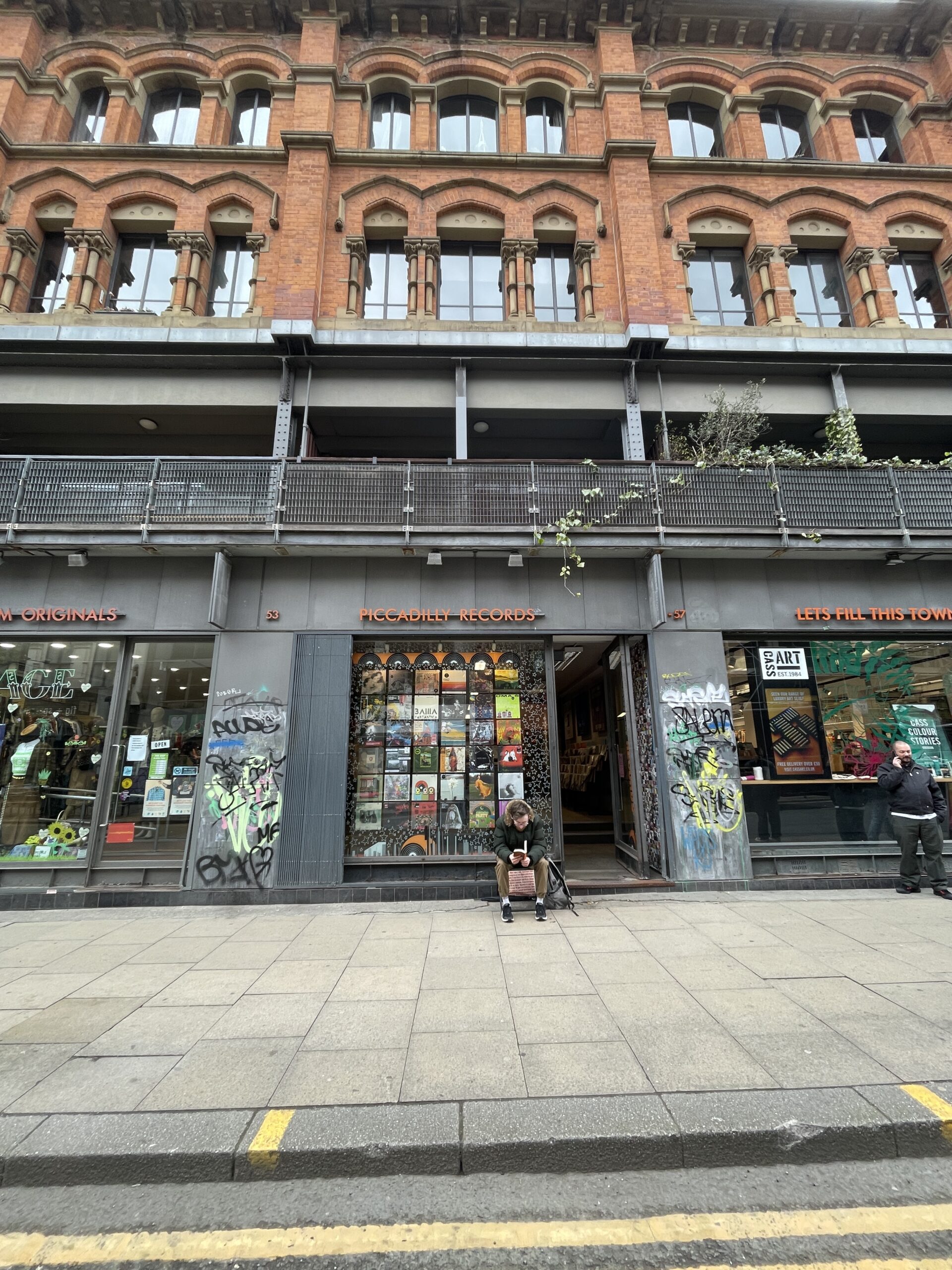 This is arguably the city's best-known (and most-photographed) record store, with its orange sign and pretty patchwork of vinyl covers in the window.
Part of Manchester's music scene since 1978, the shop thrived in the post-punk era of the 1980s.
Following relocation and new management in the 90s, it's widely considered one of the world's best independent record shops — yes, the world — and is always at the heart of Record Store Day with queues forming at least a day before.
You'll find it in the middle of Oldham Street, right in the beating heart of the Northern Quarter.
Vinyl Exchange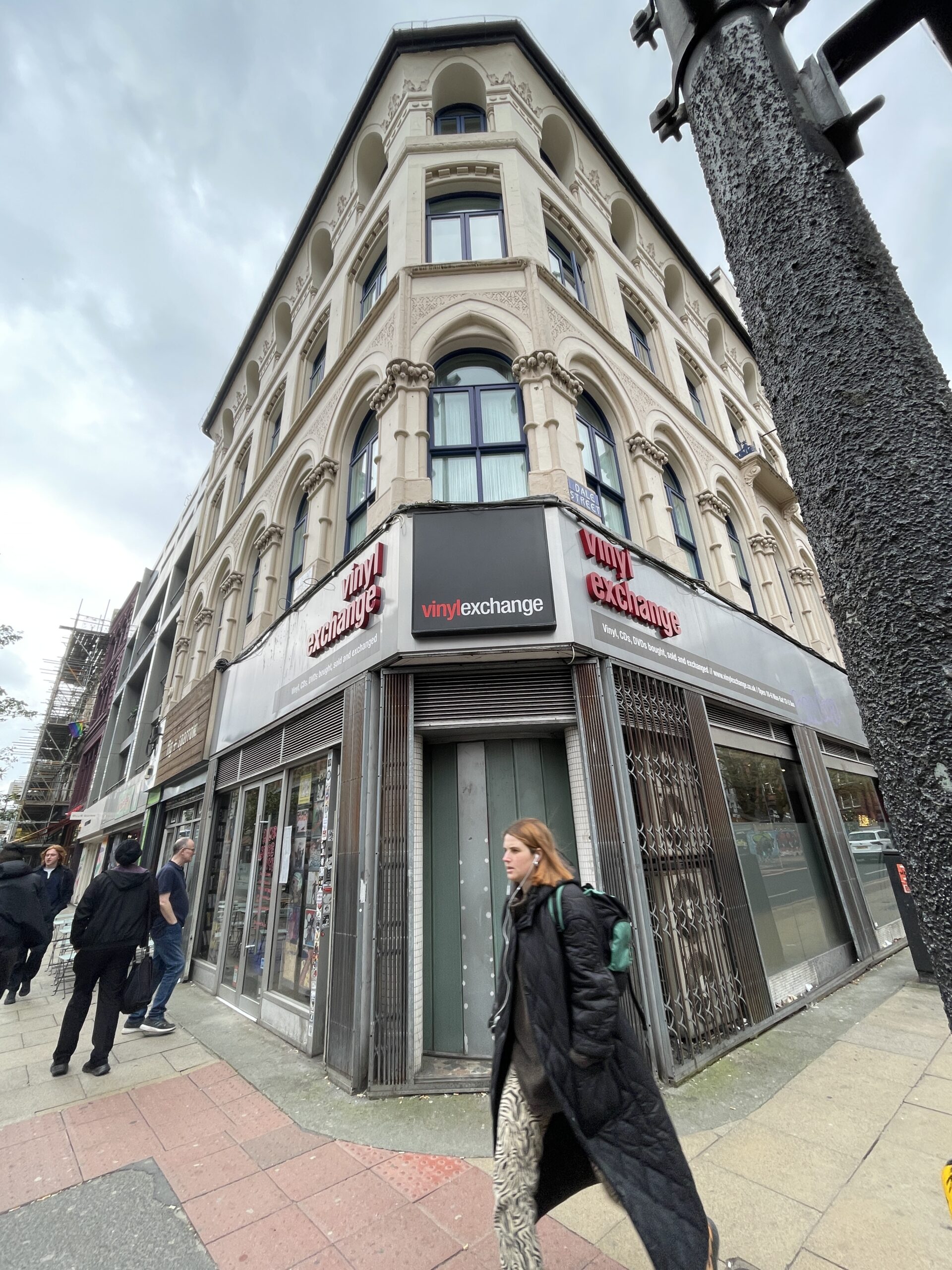 Another Northern Quarter institution is Vinyl Exchange, which has stood on the corner of Oldham Street and Dale Street (give or take a few metres) since 1988.
Its impressive catalogue of collectors' editions and fan favourites makes Vinyl Exchange a popular site with people of all ages – including, apparently, some of the world's most iconic musicians themselves. Regular shoppers have included Tim Burgess, Johnny Marr, and Bez.
Sprawled across two floors are CDs and records spanning just about every genre, from rock and indie, metal, punk, alternative, experimental, industrial, psychedelic and soundtracks.
For Record Store Day 2023, they've also managed to get their hands on a "decent number" of the in-demand special release from Taylor Swift…
Vinyl Revival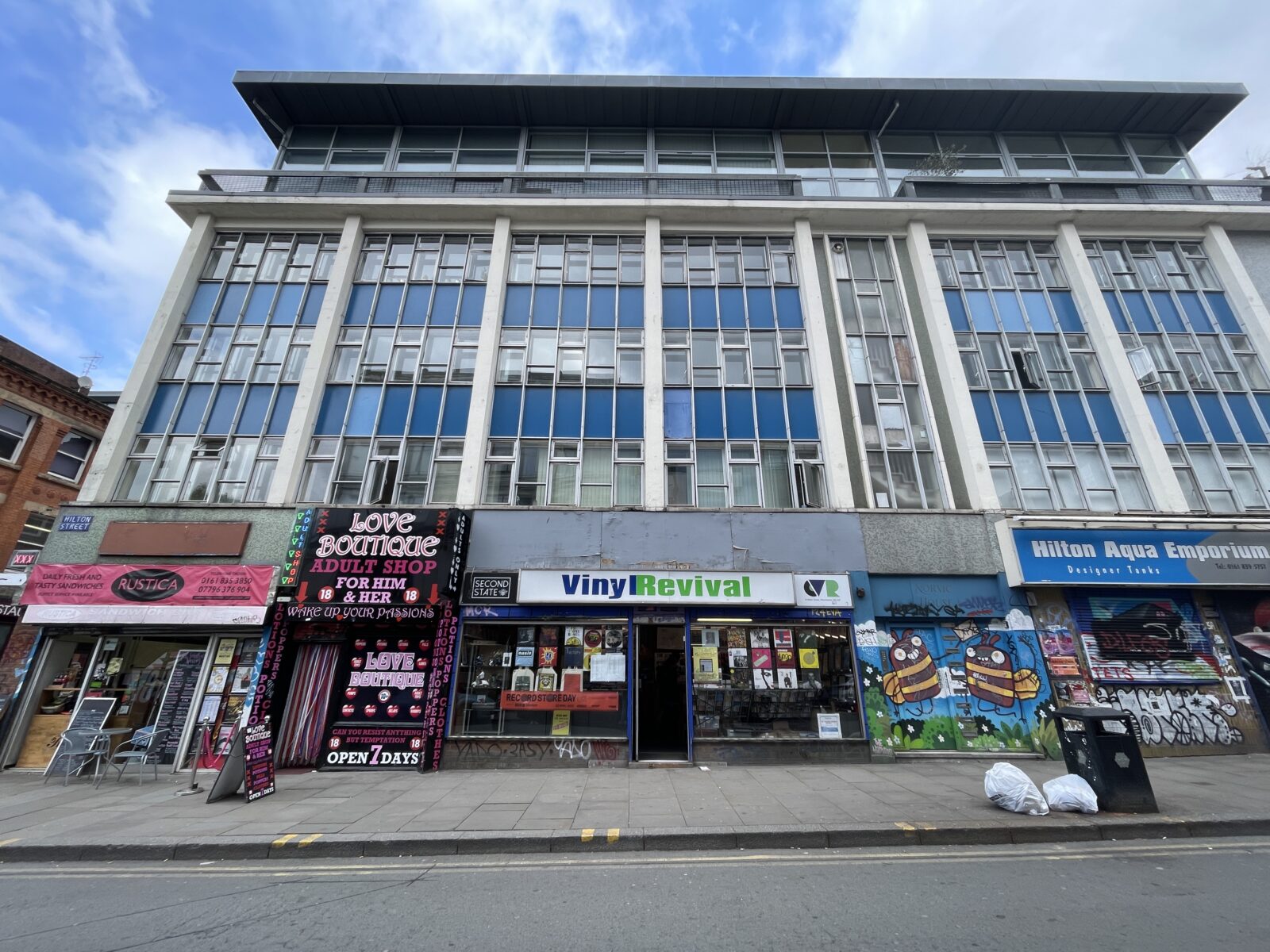 It's all about Manchester's musical history at Vinyl Revival, which proudly toots the horn of the city's local bands from the 1960s to the present day.
Sandwiched in between a sex shop and an old pet store, it's been here for almost 30 years and stocks a massive range of vinyl, CDs, t-shirts and posters.
Their Record Store Day 2023 collection features everyone from Madonna to Happy Mondays to Sam Smith.
Wax and Beans
Bury's only independent record store spans across two floors in a beautiful Grade II-listed building on Market Street in the heart of the town.
As well as its new and used vinyl collection — which you can test out on a turntable and headphones set-up — there's a cafe serving hot and cold drinks, food, snacks and fresh cakes.
It pulls in a lot of live music from some massive names too, with recent intimate gigs and meet-and-greets from The Lathums, Inspiral Carpets and The Cribs.
And the queues for Record Store Day 2023 started a good 20 hours before it opens for the big day…
Kingbee Records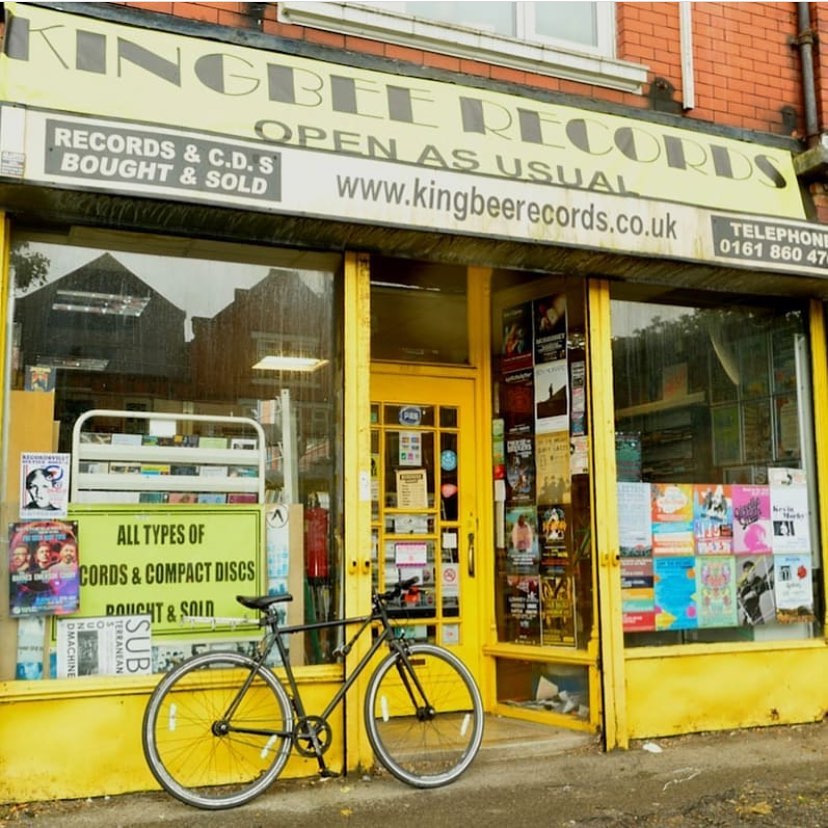 Once again, while many of you living outside the city centre might often complain 'there aren't enough record shops near me', those of you living in Chorlton will know that isn't a problem you have to worry about.
You don't need to hop on a tram into town or wander you way down some miscellaneous backstreet to spot the sunny yellow frontage of Kingbee Records, a place that has been a staple in Chorlton for as long as most of us can remember and owned the entire time by Les Hare.
The shop buys and sells all styles of music, with a stock that changes daily.
Charmingly, their website bio says – and strap in for this: "You can't move in here on Saturday afternoon for errant dads who've been sent out for a loaf and taken a musical detour, indie hipsters discovering krautrock and discovering the 80s on 50p sevens, serious spending collectors eyeing the big pieces on the walls, disco mums with prams in the 12″ racks, reggae obsessives sifting the boxes for super heavyweight ska, still sharp in their 50s chaps in good shoes, evaluating the latest northern stock, Big shot US house DJs in town for the night and doubling up on obscure electro on sale at a snip, king bee WAGs huffing and puffing at the door while their loved ones spend half of next months mortgage on a pile of Cds that remind them of pramless teenage freedom, old fellers in the jazz racks lost in a world of trios, blue note and bossa, Beatle nuts buying different issues of records they already own, mods and sods, pop gods and odd bods – people who know that music is the only real magic in life."
Say no more.
Eastern Bloc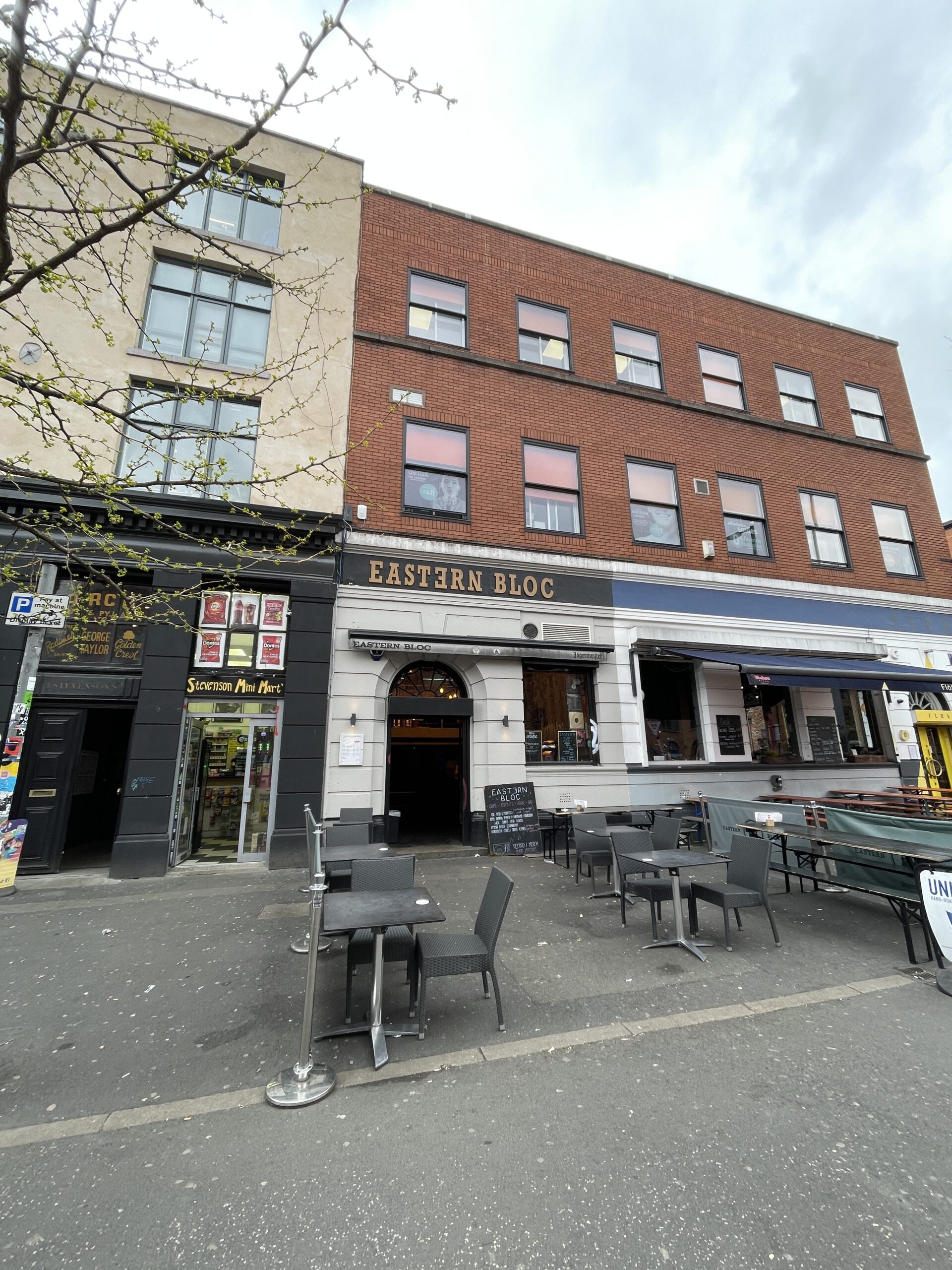 Anyone who's spent time soaking in the sun on Eastern Bloc's benches in NQ come spring and summertime will know that it's one the pure joys in life, however, it surprised us to learn how many people still don't realise there it's much more than that.
If you wander upstairs you find, for our money, one of the best record shops anywhere in Greater Manchester.
Starting out as a record store first back in 1985, 'E Bloc' soon became a cultural institution and music mecca in the Manchester music scene, helping launch bands such as the Inspiral Carpets and hosting many an in-store signing for the likes of The Stone Roses and Happy Mondays.
It's also responsible for breaking plenty of the new dance music back in the day, being one of the only shops in the UK to import dance music from around the globe and with one of the owners even going on to become part of Manc legends, 808 State.
Countless names have come through to here to get their hands on the latest vinyl promos down the years and remains a cutting-edge corner of the electronic scene, especially, to this day.
They might not be taking part in record store day this year but it doesn't mean it still isn't a place to waste an afternoon looking through their catalogue and sinking a couple of pints.
Clampdown Records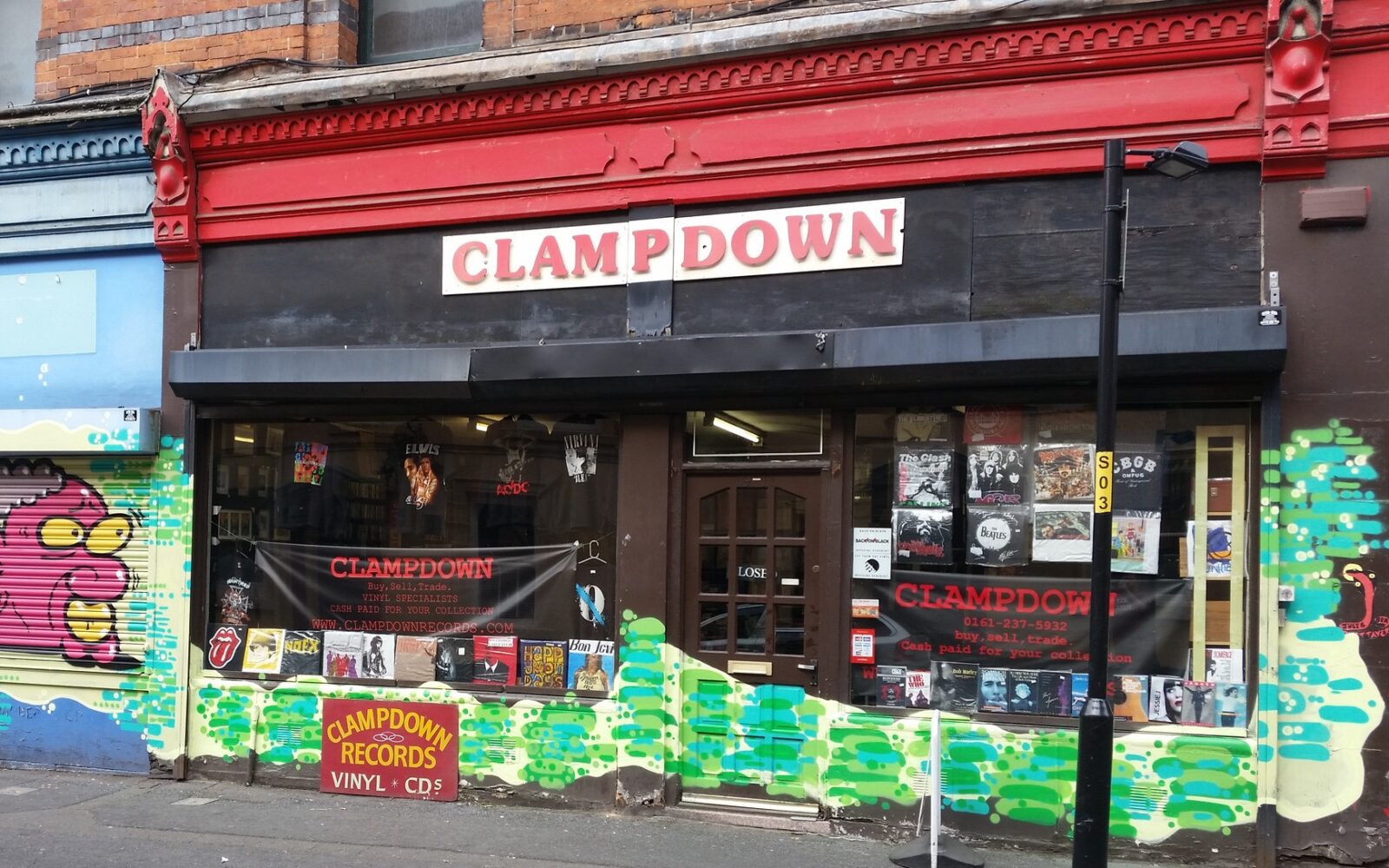 Clampdown Records is another city centre sweet spot located on Paton Street at the back end of Piccadilly.
Not be confused with the record-pressing company, the honest little independent record store has the charm of somehow always feeling quiet but cosy – well, except for when it comes to that one Saturday in April, obviously.
It started out life as a mail-order service only before posting up in the Corn Exchange in 1990. Sadly, following the IRA bombings six years later, they lost most of their stock and had to start again from scratch.
Nevertheless, cut to more than 30 years later and they've been open every day since, stocking some of the best rock, punk, indie, funk, soul and jazz records, both old and new.
Better still, it's also one of the best places to exchange music too, with healthy trade-in prices as owner Neil Clarke is always looking to add big collections to his catalogue.
Vinyl Resting Place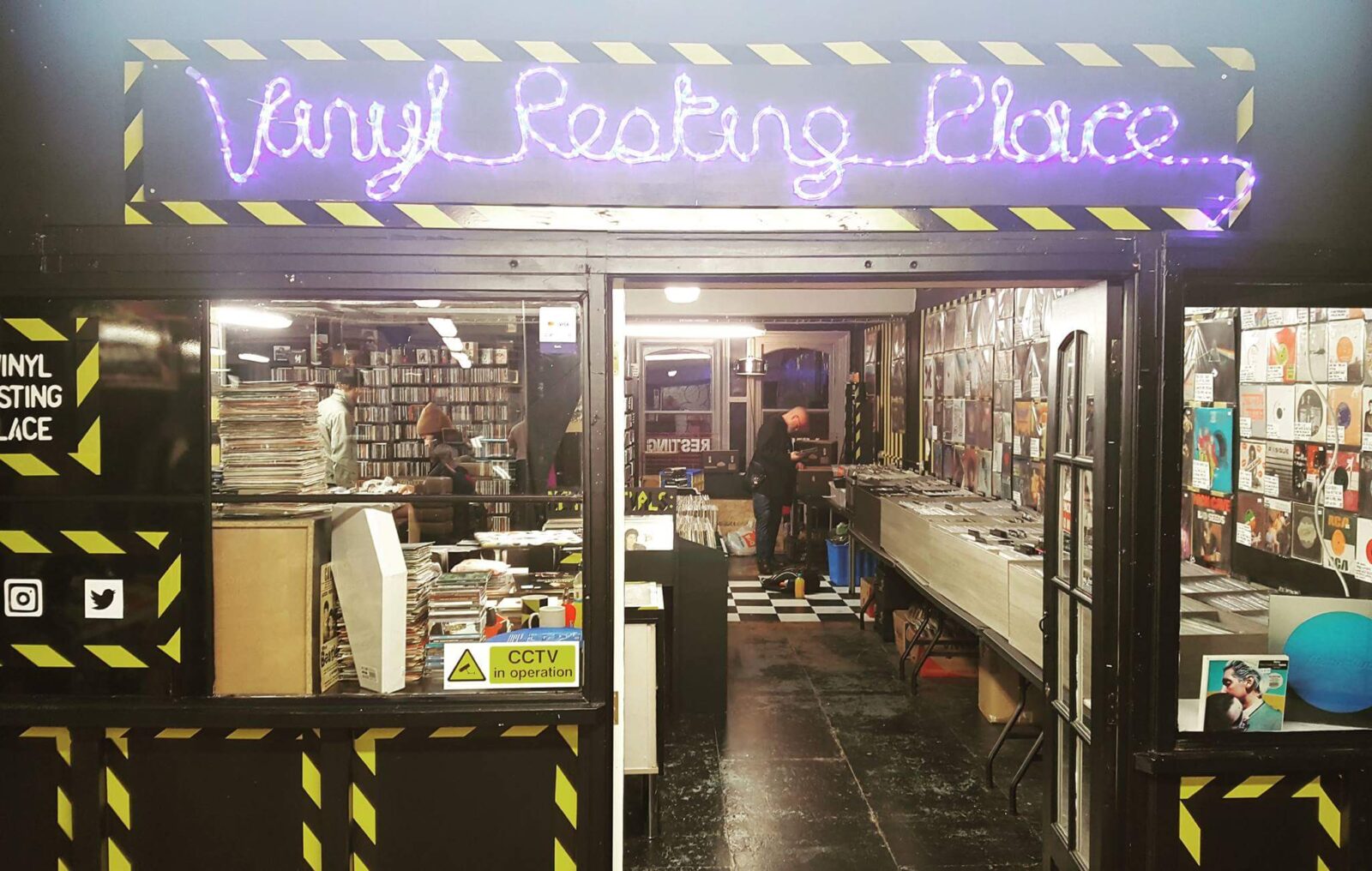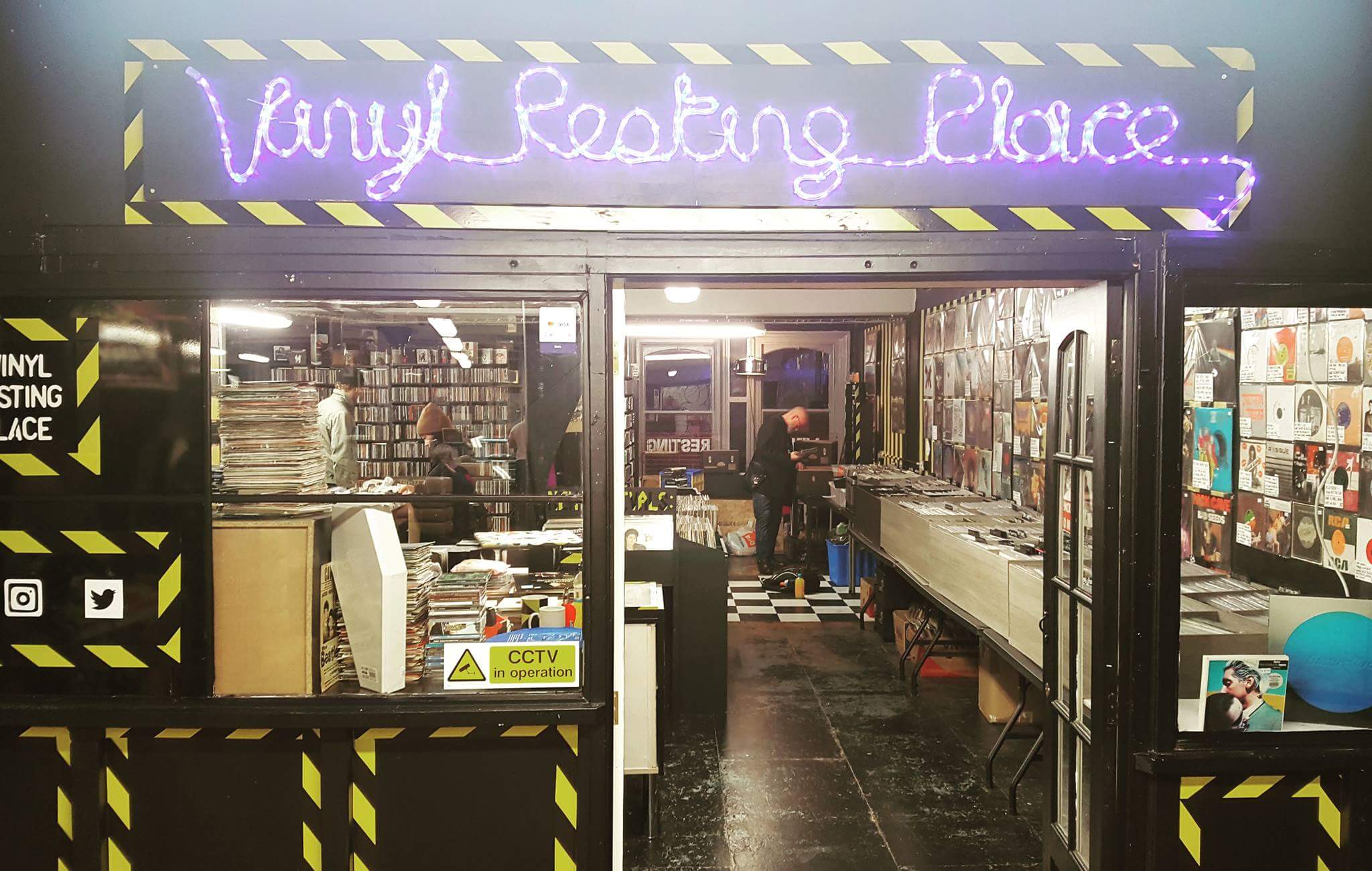 And then, of course, we have Vinyl Resting Place: arguably the greatest name for a shop we've ever come across anywhere in 0161.
Located on the third floor of the ever-enchanting Afflecks Palace, the record store is taped in the Hacienda black and yellow with a sign and might be on the busiest shops in Afflecks on any given day — and that's saying something.
Run by fellow enthusiast Alistair Hall, who makes sure the soundtrack to this site is also on point, Vinyl Resting Place is without a doubt one of the best places to buy and sell records in Manchester, simple as that.
From our experience, he's also a very hands-on owner is always happy to help you sift through as many records as he can stomach in the search for a winner, stocking a wide variety of stuff beyond his go-to classic rock staples.
FOPP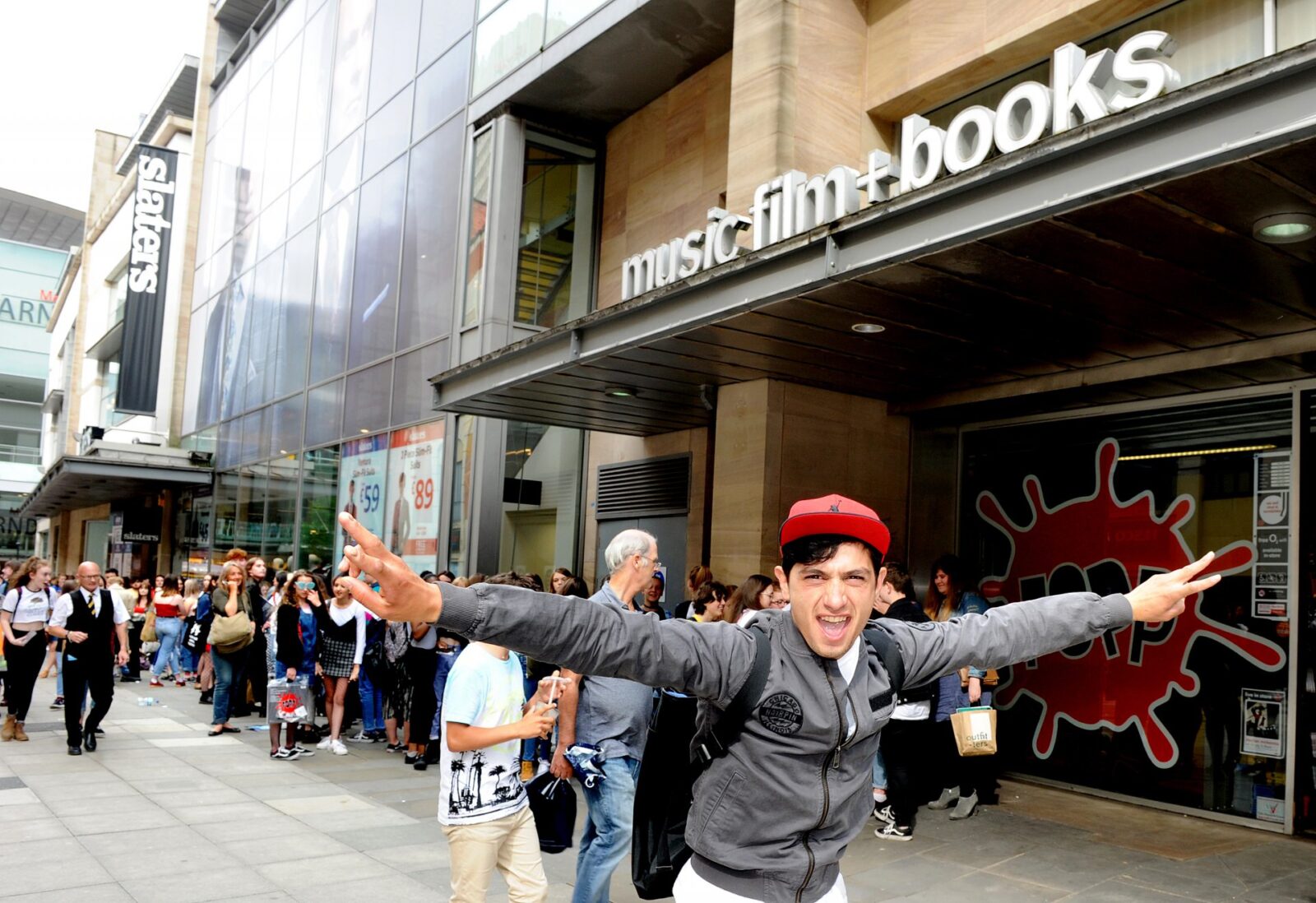 Now, you might be forgiven for mistaking FOPP for a HMV — after all, they are owned by the same people — however, this place is much more and after being rescued by the music and entertainment store chain a few years back, they've downsized and have done better than just steady the ship.
With just six locations across the UK at present (Glasgow, Edinburgh, London, Nottingham, Cambridge and Manchester), this quirky music shop sells everything from vinyls to games and DVDs, books, random merch and more.
Tucked away on Brown Street just across the way from the Arndale, FOPP is like HMV with an added feel of Forbidden Planet and still has plenty of traffic through its doors each and every day.
It's also been the site of some really big signings in recent years, such as the Pixies, Declan McKenna, Idles and countless others. It'll be packed for Record Store Day, so make sure to get there early.
Empire Exchange
Last but not least, we have Empire Exchange, which as they famously note is much more than a record store and is always a joy to wander around.
If you've never come down from the station and towards Piccadilly Gardens without hearing the speakers blaring music out of the front door to passersby all day long, have you ever really been to Manchester?
Empire Exchange on Newton Street sells everything from vintage records and retro CDs to comics, memorabilia and all manner of other trinkets.
Starting out from nothing more than a young stamp collector's obsession, it spawned into two shops (the old one up on Shudehill) before downsizing to this one legendary location over 20 years ago.
It was opened by two mates, John Ireland and Ian Stott, and although Ian sadly passed away in 2021, John and his son Dave have been keeping their love of music and collecting things alive.
Now, if that doesn't sum up how special places like record stores are, then I don't know what does.
For all the latest news, events and goings on in Greater Manchester, subscribe to The Manc newsletter HERE.
Read more:
Now, this is by no means an exhaustive list, we know full well that there are plenty more locations up there that many of you would consider among the best records shops in Greater Manchester — that's what the comments section is for.
But that's what the love of music is all about right? Blindly trying to make your way through all of the incredible records and artists in the world knowing full well it's an impossible task and you'll never listen to it all, as well as sharing it with your mates and getting them onto their new favourite band.
Record shops are one of the perfect places to do that and play your part in the eternal circle of a music lover's life: never even scratching the surface of all the music out there but eagerly awaiting to play it to your friend whilst watching their face light up as they discover a new obsession, and vice versa.
Featured Image — The Manc Group