What's On
Manchester Pride Festival 2023 – parade, tickets, line-up, and travel advice
Here's everything you need to know.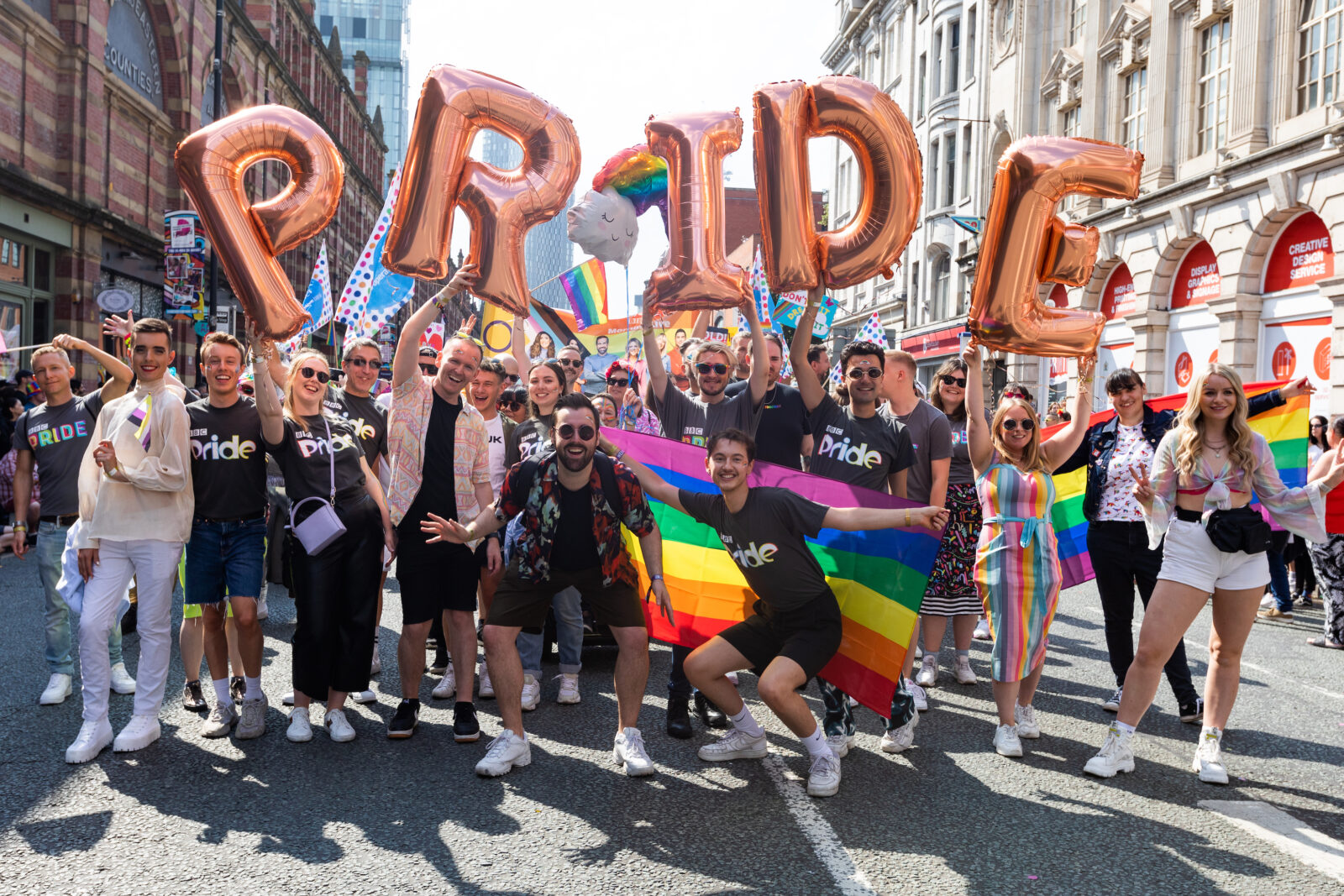 The time has finally come for the return of the much-loved Manchester Pride Festival 2023, with the city ready to welcome a huge parade, a line-up of massive music, and loads of celebrations across the Gay Village.
The charity's annual LGBTQ+ celebration is one of the highlights of Manchester's events calendar, drawing thousands into the city.
This year, there'll be the Gay Village Party, the parade, and loads of smaller events like Superbia Weekend, Family Pride, and more.
If you're heading down to Manchester Pride Festival 2023, here's everything you need to know, from travel to tickets and more.
Manchester Pride 2023 Parade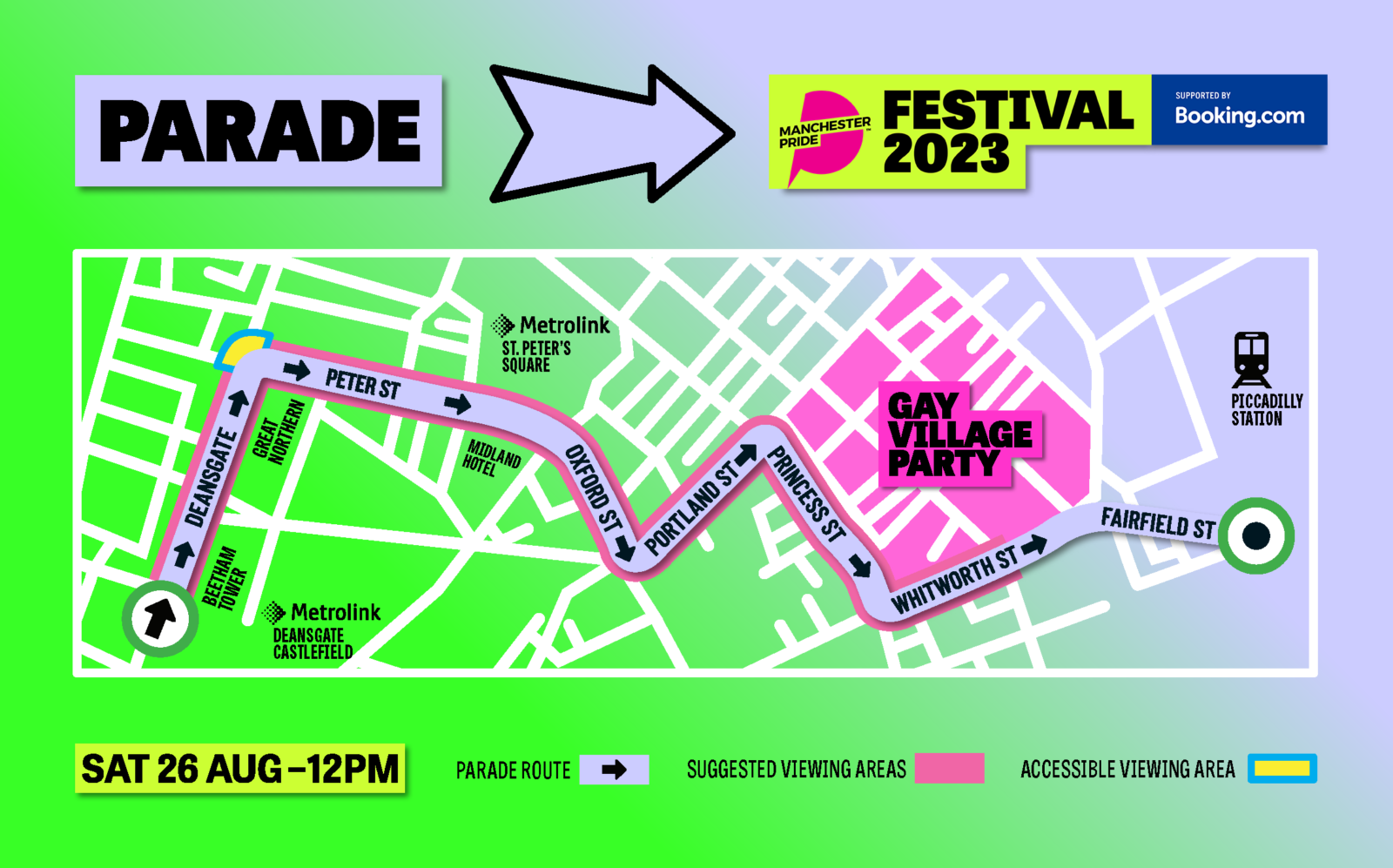 This is arguably the most popular and well-attended part of the entire Manchester Pride Festival weekend – the parade.
Thousands will take part in the march through the city centre, with tens of thousands usually coming to watch.
This year's theme is Queerly Beloved, marking 10 years since gay marriage was legalised in England and Wales.
The parade will set off at 12pm from Liverpool Road, navigating its path through the city centre via Deansgate, Peter Street, Oxford Road, Portland Street, Princess Street, Whitworth Street.
It's expected to wrap up on Fairfield Street around 3pm.
Manchester Pride Festival tickets and wristband exchange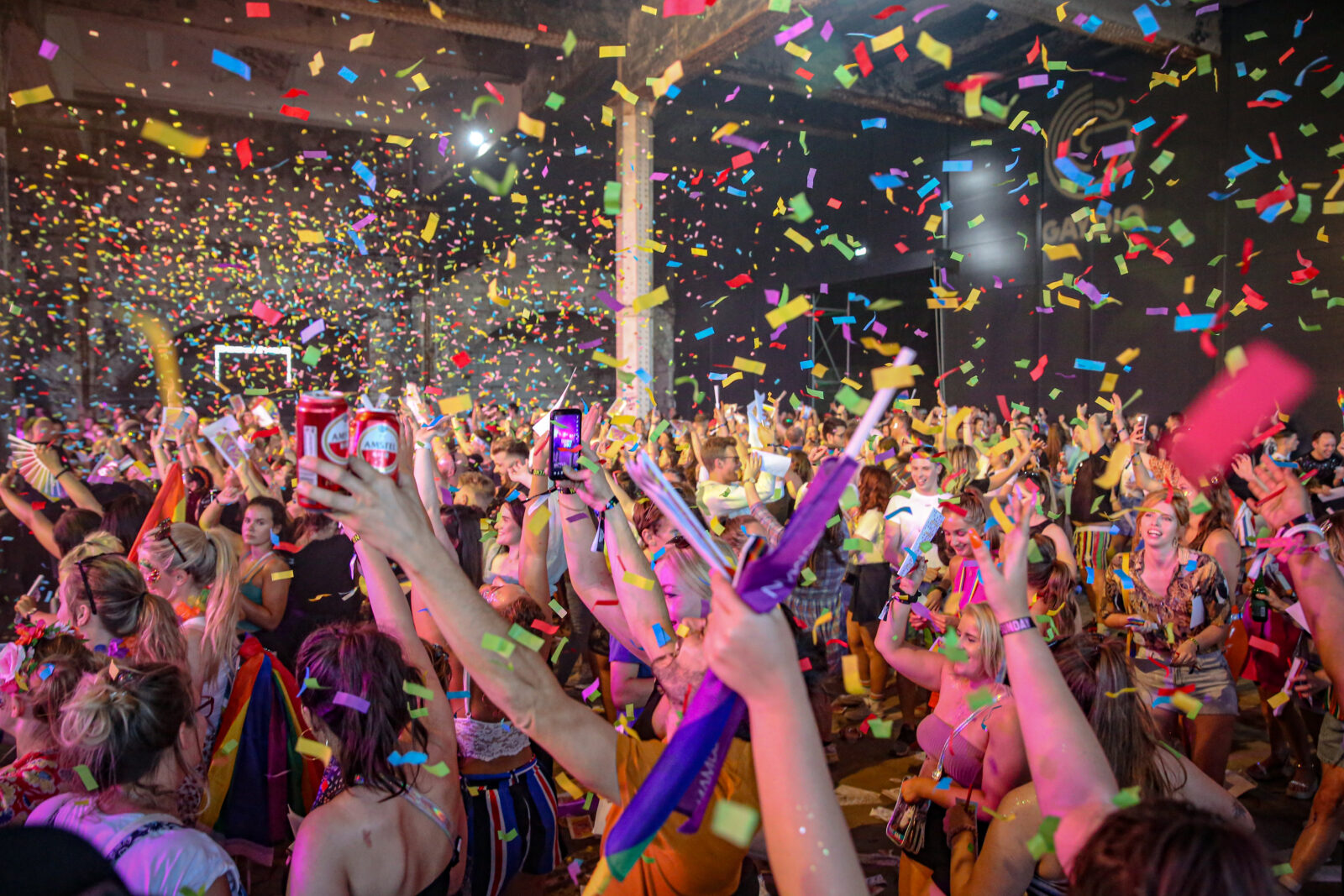 Manchester Pride Festival will run from Friday 25 August until Monday 28 August, with all events apart for the Gay Village Party free to attend.
Weekend and day tickets are still on sale with Ticketmaster, though VIP and low income tickets have sold out.
Manchester Pride ticket prices are as follows:
Saturday day tickets – £33.85
Sunday day tickets – £33.85
Monday day tickets – £2.50
Weekend tickets – £41
You'll need to swap your ticket for a Pledge Band at the Pledge Ban Exchange Point before heading into the Gay Village Party. You can find the exchange point at the Aytoun Street Car Park, with the opening times below.
Friday 25 August: 12pm – midnight
Saturday 26 August: 12pm – midnight
Sunday 27 August: 12pm – midnight
Monday 28 August: 12pm – 6pm
Manchester Pride Festival line-up
This year's line-up is Manchester Pride's most diverse to date, with 96% queer performers; 54% women, 51% people of colour and over 42% from trans and non-binary communities.
The music will take place across three stage; The Village Stage, MancUnity, and the Alan Turing Stage.
Headliners include drag sensation Pabllo Vittar, singer-songwriter and Scissor Sisters frontman Jake Shears, RuPaul's Drag Race UK winner Danny Beard, and electronic music icon Alison Goldfrapp.
The full stage splits and set times are on the Manchester Pride website, but there's a tidy summary below too.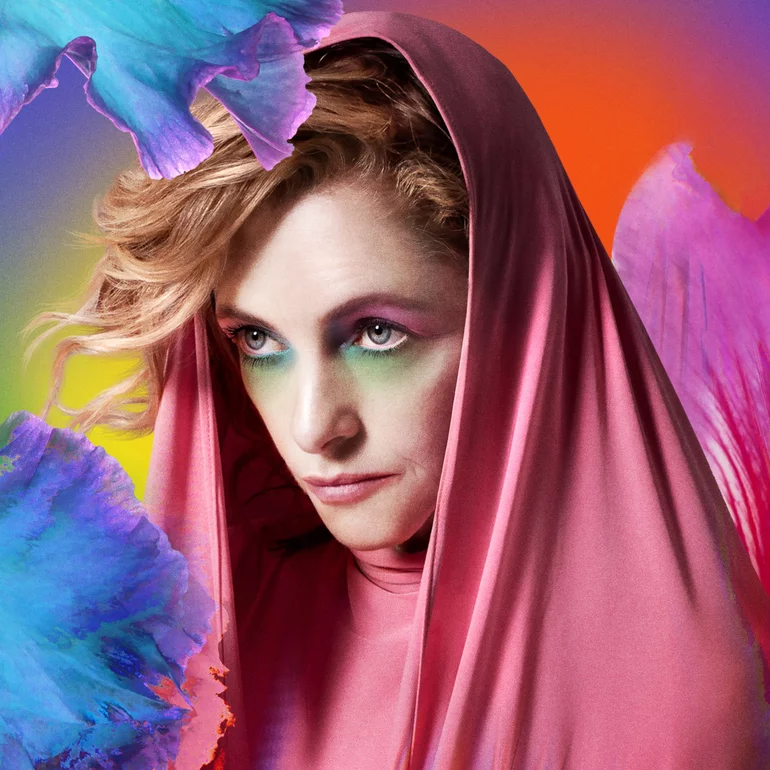 Friday
The Village Stage: Trans Filth & Joy, hosted by Milk Presents and Trans Creative. Featuring BIMINI, Tito Bone, Cyro, The BollyWitch, and more. 18:30-23:00.
MancUnity: Celebrate Fat Pride, in partnership with Gaydio, with artists including The Niallist, Ivy Profemme, The Fat Britney, and Miss Lei-Lei. 18:30-00:00.
The Alan Turing Stage: Hosted by Donna Trump, and includes the Human Rights Forum, La Discothèque Orchestra, Queeriosity Cabaret, and more. 17:00-23:00.
Saturday
The Village Stage: Notable appearances by Alison Goldfrapp, Pabllo Vitar, Jodie Harsh, and more. The stage will open from 12:00 with a Parade screening, with main acts from 16:30-23:00.
MancUnity: Black Pride MCR / Swagga, headlined by Raven Mandella. 13:30-00:00.
The Alan Turing Stage: Queer Asian Takeover, hosted by Lucky Roy Singh, featuring Gok Wan, Gracie T, and more. 12:00-23:00.
Sunday
The Village Stage: Join Danny Beard and Friends, Jake Shears, Natasha Bedingfield, Lisa Scott-Lee, and more. 12:00-23:00.
MancUnity: Queer Women's Takeover, with Monki, Blasha and Allatt, Mix-Stress and Friends, and more. 13:00-00:00.
The Alan Turing Stage: Cutie-poc Cabaret, hosted by Rikki Beadle-Blair, with Oneda, Angie Brown, and more. 12:00-23:00.
Monday
The Village Stage: Revel in community collaboration and enjoy performances from George the Dragon Disabled Queer Joy Cabaret and Cuppa T. 12:00-18:00.
MancUnity: The Runway by Manchester's own 7ft drag artist Banksie, 14:00-17:00.
The Alan Turing Stage: Enjoy the melodies of the Disney Orchestra. 12:00-16:30.
Family Pride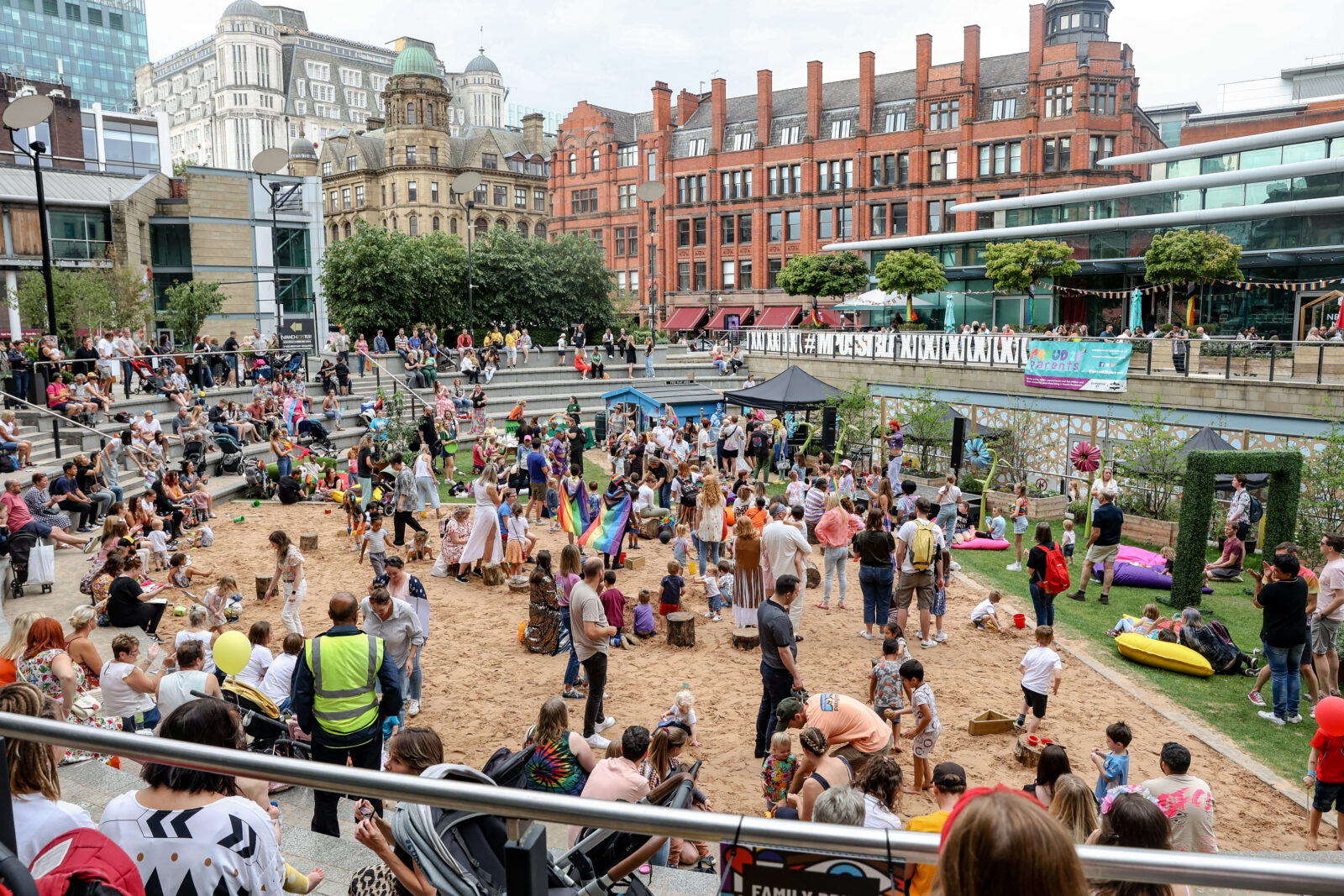 Family Pride is the part of Manchester Pride Festival that aims to provide an exciting, inspiring and celebratory day for LGBTQ+ families, parents/carers, and children alike.
The completely free event will be held at the Great Northern Warehouse on Saturday 26 August, between midday and 6pm.
The programme includes music, crafting, party games and sing-a-longs, as well as a rainbow disco, showcasing performances and artists that champion love, self-expression and individuality.
You can find out more here.
Travel advice
There's a rail strike on this weekend… yep, again. Oh, and there's a First Bus strike on too.
So if you're planning to get public transport in to town, you'll need to plan carefully, especially as the Manchester Pride Festival is on at the same time as a Manchester United game and Noel Gallagher's High Flying Birds' gig at Wythenshawe Park.
Mancs are being urged to leave their cars at home due to the road closures and diversions around the city centre.
The tram will be your best port of call. Here is the latest travel advice from TfGM.
Weather forecast
As per the weather forecast for the entire summer so far, it's not looking like a heatwave is imminent.
According to the Met Office, Friday will have highs of 17 degrees and lows of 12 degrees, and will be cloudy but dry.
On Saturday, there's a 60% chance of a thunderstorm at 12pm (right at the time the parade starts, which is nice), then it will be cloudy with sunny spells after that.
Temperatures will reach 18 degrees, with lows of 11 degrees on Saturday.
On Sunday, there's again highs of 17 degrees and lows of 12 degrees, with a chance of rain showers in the afternoon.
And for the Candlelit Vigil on Monday, it's cloudy and 18 degrees all day.
Featured image: Manchester Pride