What's On
Comic Con Manchester returns for 2023 with big name guests, new attractions, live entertainment and more
We're already planning a different cosplay for each day.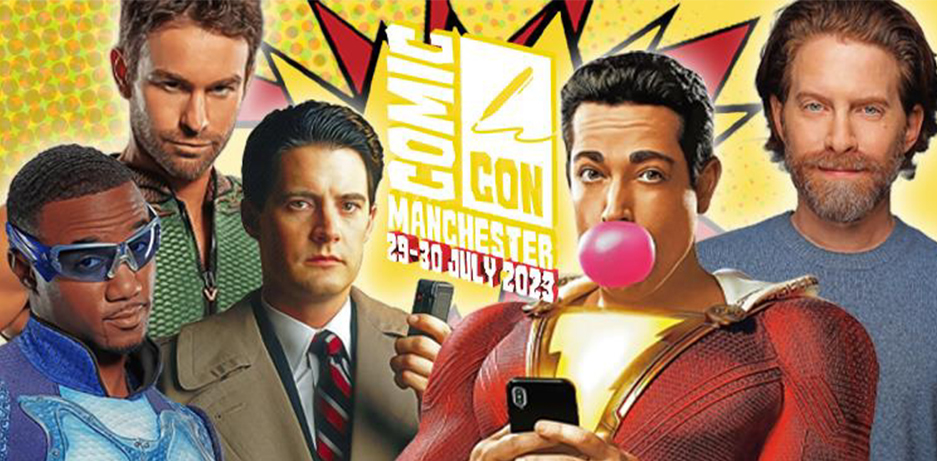 Manchester Comic Con is back for 2023 and while we're sure you've heard this one before, it really is looking bigger and better than ever.
Taking place over at Bowlers Exhibition Centre Arena in Stretford, Mancs will once again get a taste of the world-famous comic book and pop culture convention right here on our doorstep.
Bringing together some of the best from movies, TV and gaming right now, not to mention welcoming a fair few big names through their doors, it's going to be a brilliant weekend.
As if 2022 wasn't a great turnout already, this year's event is selling out fast and with all this stuff to do, it's no wonder. Here's what you can expect from Comic Con Manchester 2023.
Special guest appearances
Last year's MCR Comic Con saw the likes of Zachary Quinto, Lord of the Rings' Gimli himself, John Rhys Davies, The Walking Dead's Chandler Riggs (a.k.a. 'Corrrral') and more, but this year is looking stacked with ever more famous faces.
​The names confirmed for 2023 include Chuck and Shazam! star Zachary Levi, The Walking Dead's Lauren Cohan, Twin Peaks star Kyle MacLachlan; comedy legend Seth Green, Chace Crawford and Jessie T Usher from the hit Amazon show, The Boys, My Name Is Earl's Ethan Suplee and countless others.
You can see the full list HERE but, to be honest, that's more than enough to convince us to come along.
New MCR Comic Con attractions
As for the main attractions on the day itself (you know, other than the pretty celebrities), they're really pulling out all the stops this year.
From a giant Transformers Megatron, a 'Do not open, dead inside' TWD door photo prop, the Tardis from Doctor Who, Del Boy's sofa and Reliant Regal from Only Fools and Horses, to Hopper's truck from Stranger Things, a Lord of the Rings hobbit hole and many more, there's loads to choose from.
There's even a Star Wars-themed Cantina Space Bar where you can grab yourself a drink, not to mention some top-notch scran from Mama's Kitchen just round the corner. Don't mind if we do.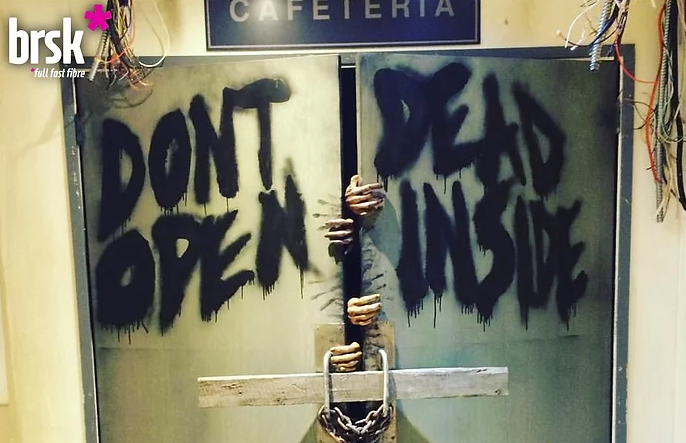 Live music, entertainment and more
But it isn't just things to look at and pose with for a photo, thanks to lead sponsors brsk — the superfast fibre broadband firm based in Greater Manchester — Comic Con Manchester 2023 will also have a massive video game zone for you to play some top titles against your mates and others at the event.
Beyond the other games available on the day, brsk have also put together their own virtual reality experience for this year's convention. You know how we love a bit of VR.
You'll also be able to enjoy fairground rides, get your hands on plenty of official merch (which we're sure will complement your undoubtedly dynamite cosplays perfectly), as well as the chance to grab signed action figures, memorabilia and more courtesy of Action Force Toys.
Last but not certainly least, the event will be treated to a live performance from Yorkshire band, Lina and the Lions, who are absolutely experts when it comes to playing these cons and don't just play some proper good tunes but fully immerse themselves in the culture.
Read more:
Speaking ahead of this year's event, brsk's Regional Head in Manchester, Gareth Cornelius, said: "For us, building a connection goes far beyond our broadband" — which is already providing over 260,000 UK homes with high speeds of up to 900Mbps, by the way.
"At brsk, we believe that sponsoring an event like Comic Con Manchester, in partnership with the team from Bowlers, is an important opportunity to get to know and support the community in which we operate. Also, having fun is part of our company's culture and what's more fun than a day of superheroes and cosplay?"
Comic Con Manchester 2023 at the BEC Arena runs from 9am-6pm on Saturday, 29 July and runs right through until Sunday with the same opening times.
You can grab entry tickets to the full weekend and the afterparty events, or if you simply want to grab a photo and an autograph with some of the famous faces, you can do so HERE.
We hope to catch plenty of you there and we expect to see you in your best cosplay, of course!
For all the latest news, events and goings on in Greater Manchester, subscribe to The Manc newsletter HERE.
Featured Image — Wikimedia Commons/Comic Con Manchester/Lina and the Lions (via Instagram)